Russian Disinformation's Golden Moment: Challenges and Responses in the Covid Era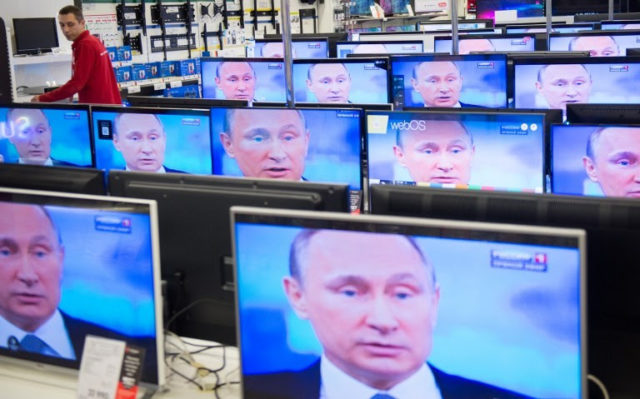 The COVID-19 pandemic provides the ideal environment for malign influence to thrive as it feeds on fear and a vacuum of authoritative information. What are the current challenges posed by Russian disinformation, and how should Western nations be responding to it?
In this discussion jointly hosted by The Jamestown Foundation and the Chatham House Russia and Eurasia Programme, the speakers will consider what best practice looks like in safeguarding Western societies against the pernicious effects of disinformation.
Watch Now 
---
Participants
Speakers:
Anneli Ahonen, Head, StratCom East Task Force, European External Action Service
Keir Giles, Senior Consulting Fellow, Russia and Eurasia Programme, Chatham House
Thomas Kent, Senior Fellow, The Jamestown Foundation & Adjunct Associate Professor, Harriman Institute, Columbia University
Moderators:
James Nixey, Programme Director, Russia and Eurasia, Chatham House
Glen Howard, President, Jamestown Foundation
---
Anneli Ahonen
iHead of East Stratcom Task Force, a team in the EEAS that addresses Russia's disinformation through proactive communication and media support in the Eastern Partnership countries, and exposes disinformation on EUvsDisinfo.eu. Before  joining the East Stratcom Task Force in 2017, Ahonen was working as a foreign reporter in St. Petersburg for eight years and covered, among other topics, St. Petersburg troll factory's activities at its early stages.
Keir Giles
Keir Giles is a senior consulting fellow of the Russia and Eurasia Programme.
Keir spent the early 1990s in the former USSR. With the BBC Monitoring Service, he reported on political and economic affairs in the former Soviet Union for UK government customers. He also wrote for several years as a Russia correspondent for UK aviation journals.
Other professional experience in Russia includes a period with Ernst & Young working on intricate and constantly shifting Russian business law.
While attached to the UK Defence Academy's Research and Assessment Branch (R&AB), he wrote and briefed for UK and overseas government and academic customers on Russian military, defence and security issues; Russia's relations with NATO and with its neighbours in Northern Europe; and human factors affecting decision-making in Russia.
In addition to Keir's work with Chatham House, he leads the Conflict Studies Research Centre, a group of subject matter experts in Eurasian security.
Thomas Kent
Thomas Kent is the former president and CEO of Radio Free Europe/Radio Liberty, and a specialist in Russian affairs and international journalism. In a lengthy career at The Associated Press, he led AP operations in Russia and Iran, served as NATO correspondent in Brussels, and was international editor and standards editor of the AP. In 2016-18, Kent served as president and CEO of RFE/RL, based in Prague. Kent has written and spoken extensively on the geopolitics of information, propaganda, journalistic ethics and press freedom. He has addressed, in English, French, Russian and Spanish, professional forums in more than 20 countries and students of nearly 30 universities. He teaches about the information war and international journalism at the Columbia University's Harriman Institute. He has twice been a member of the Pulitzer Prize jury for international reporting. Kent is a native of Shaker Heights, Ohio and holds a degree in Russian and East European Studies from Yale University.
James Nixey
James Nixey leads the Russia and Eurasia Programme. His principal expertise concerns the relationships between Russia and the other post-Soviet states. He has published papers and articles in books and journals, and commented extensively in the national and global media.
He has also organised hundreds of private expert roundtables on Russian and Eurasian affairs while at Chatham House. Publications include The Long Goodbye: Waning Russian Influence in The South Caucasus and Central Asia, 'Russia's Geopolitical Compass: Losing Direction' in, Putin Again: Implications for Russia and the West, and 'The South Caucasus: Drama on Three Stages' in A Question of Leadership: America's Role in a Changed World.
As the principal fundraiser for his research programme, he has raised money for projects from dozens of corporate sector companies, governments and grant-giving institutions.
James holds degrees in modern languages and international relations and has previous experience in journalism (as a reporter in Moscow in the late 1990s) and the banking sector, for Goldman Sachs.
Glen Howard 
Glen Howard is the President of the Jamestown Foundation, one of the world's leading research and analysis organizations on Eurasia. Based in Washington, D.C., Mr. Howard has overseen the research and analysis activities of Jamestown for the past 16 years and extensively dealt with Russia and Eurasia in his capacity as Jamestown President, working with the regional leaders and national strategists across Eurasia from the Baltic to Central Asia.
An expert on Eurasia and Russia, Mr. Howard is the co-author with Matt Czekaj of the new book Russia's Military Strategy and Doctrine, a collection of writings on Russian military strategy and doctrine by some of the world's leading defense experts. Mr. Howard is also the editor of the book Volatile Borderland: Russia and the North Caucasus, and other words. He has published articles in the Wall Street Journal, Real Clear Defense, the Hill, and other prominent publications.
Mr. Howard is privileged to have worked for the late Dr. Zbigniew Brzezinski from 2002 to 2008 as the executive director of an advocacy organization seeking a peaceful resolution of the second Russo-Chechen war. Mr. Howard worked at the U.S. Embassy Moscow from 1984-1986 and is fluent in Russian and proficient in French, Turkish and Azerbaijani.
Mr. Howard received a Master's degree in Soviet and East European Studies from the University of Kansas (1988) and has an undergraduate degree from Oklahoma State University in Business Management (1984).