Jamestown Releases a New Occasional Paper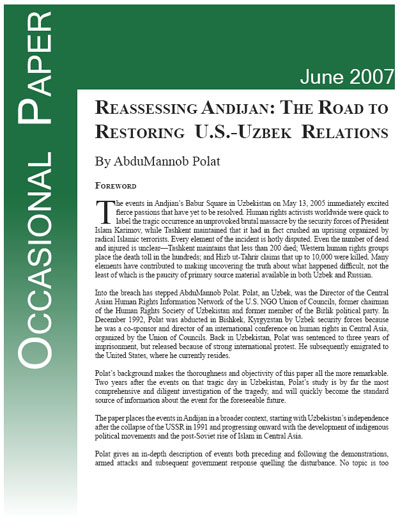 Paper Titled "Reassessing Andijan: The Road to Restoring U.S.-Uzbek Relations"
FOR IMMEDIATE RELEASE — June 27, 2007
WASHINGTON, DC (6/27/07)–The Jamestown Foundation has released a new Occasional Paper titled "Reassessing Andijan: The Road to Restoring U.S.-Uzbek Relations." The paper is authored by AbduMannob Polat, the Director of the Central Asian Human Rights Information Network of the U.S. NGO Union of Councils, chairman of the Human Rights Society of Uzbekistan and a member of the Birlik political party. The paper chronicles the events before and after the May 2005 tragedy in Andijan, unearthing new facts about the uprising and how the United States made a hasty decision to distance itself from an important geostrategic partner, basing its decision upon unclear facts and information surrounding the event that have resulted in the loss of an important ally of the U.S. in Eurasia.
With an uncanny and unusual level of objectivity and diligence, Polat examines the United States' immediate reaction to Uzbekistan's handling of the tragedy in Andijan, calling into question the responses of both U.S. policymakers and the Western media who were quick to mislabel the events there. The rapid condemnation of the Uzbek government ultimately led to a souring in relations when no independent analysis had been conducted by outside independent observers. Being both a human rights activist and a victim of human rights violations, Polat brings seldom discussed facts and positions to light in his paper, and calls for a reexamination of U.S.-Uzbek relations and the adoption of a new creative approach to dealing with a strategically important country in Central Asia.
Founded in 1984, The Jamestown Foundation is an independent, non-partisan research institution dedicated to providing timely information concerning critical political and strategic developments in China, Russia, and Eurasia. Jamestown's research and analysis is available to the public free-of-charge via Jamestown's website, www.jamestown.org.