Jamestown Releases a New Occasional Paper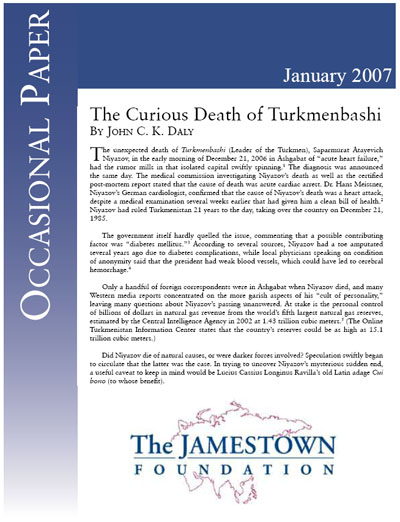 Paper Titled "The Curious Death of Turkmenbashi"
FOR IMMEDIATE RELEASE — January 18, 2007
WASHINGTON, DC (1/18/07)–The Jamestown Foundation has released a new Occasional Paper titled "The Curious Death of Turkmenbashi." The paper was authored by Dr. John C.K. Daly, a regular contributor to The Jamestown Foundation's Eurasia Daily Monitor, Terrorism Focus and Terrorism Monitor.
The new paper discusses the mysterious circumstances surrounding the recent death of Turkmen President Saparmurat Niyazov, or more commonly known as Turkmenbashi. Noting everything from the critical details of Niyazov's health to Turkmenistan's strained regional energy relationships, Dr. Daly sheds new light on a poorly covered subject. With rumors of foul play rife, millions of dollars missing in natural gas contracts and the geopolitics of Caspian energy at stake, there are a number of unanswered questions surrounding Niyazov's death that deserve closer analytical scrutiny in the West.
Founded in 1984, The Jamestown Foundation is an independent, non-partisan research institution dedicated to providing timely information concerning critical political and strategic developments in China, Russia, and Eurasia. Jamestown's research and analysis is available to the public free-of-charge via Jamestown's website, www.jamestown.org.