Press Release – Jamestown Delegation Travels To Minsk, Belarus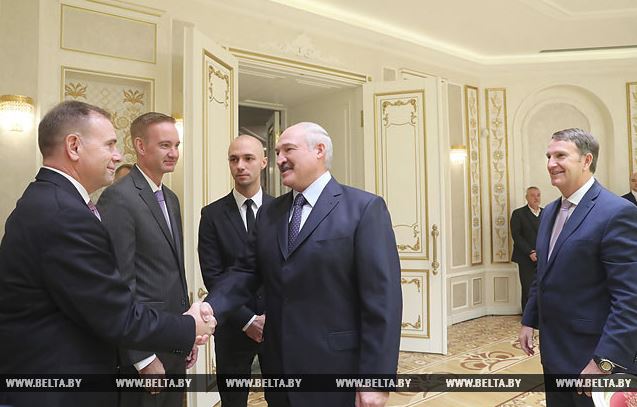 On November 4–6, Jamestown Foundation President Glen Howard led a delegation to the Republic of Belarus on a fact-finding visit to meet with President Alyaksandr Lukashenka and other civilian and military officials. The delegation included: Dr. Michael Carpenter, recently the US Deputy Assistant Secretary of Defense for Russia and Eurasia; retired Lieutenant-General Ben Hodges, former Commanding General of US Army Europe; retired US Air Force Brigadier-General Bruce McClintock; and Jamestown Foundation Senior Fellow Vladimir Socor.
The goal of the visit was to assess the growing importance of Belarus in its critical location between Russia and NATO member countries as well as between Russia and Ukraine. The delegation also took stock of the ongoing rapprochement between Belarus and the United States in the changing European security environment.
During the three-day visit, the delegation met with President Lukashenka, Foreign Minister Uladzimir Makei, Defense Minister Lieutenant-General Andrei Ravkau and Major-General Aleh Voinau, Director of the International Military Cooperation Department at the Defense Ministry. The Jamestown delegation also visited the Suvorov military academy, and participated in an off-the-record discussion on regional security affairs, hosted by the Minsk Dialogue Forum.
During his meeting with the Jamestown group, President Lukashenka emphasized his country's ability to guarantee its security and self-defense with its own forces. While maintaining close economic and military ties of alliance with Russia, as the President reaffirmed, Belarus neither needs nor intends to host a Russian military base in the country. Belarus would regard any increase in military deployments in this part of Europe as a matter of serious concern. President Lukashenka underscored the value of Belarus's state sovereignty and internal stability as a basis for the country's economic and social development. He also outlined Belarus's multi-vector foreign policy of non-zero-sum cooperation with Russia, the European Union, the United States, and China.
Major General Oleg Voinov, Assistant to the Minister of Defense and Director of MOD International Military Cooperation Department, noted that this visit represents the highest-level visit to Belarus by any US Army officials since this European country gained its independence in 1991.
Commenting on the visit, Michael Carpenter noted "right now there's not enough transparency or dialogue between the United States and Belarus, which occupies a strategic geographic location in the heart of Europe. We need to build stronger official as well as non-governmental ties between our countries to increase the understanding both sides have of each other."
Discussing his first ever visit to Belarus, Ben Hodges who holds the Pershing Chair at the Center for European Policy Analysis, stated "I've got a new perspective on Belarus now, they have the potential to add stability to this part of Europe if they can continue to demonstrate sovereignty and the ability to defend themselves."
The Jamestown delegation's trip closely followed the October 30–31 visit to Belarus by US Assistant Secretary of State for European and Eurasia Affairs, A. Wess Mitchell — the highest-level visit to Belarus by any US official in the past ten years. Moreover, Jamestown's fact-finding mission to Belarus followed an October 31–November 1 meeting in Minsk of the Core Group of the Munich Security Conference.  Belarus's relations are clearly warming with the United States and Europe.