Press Release – Jamestown Welcomes Janusz Bugajski as Senior Fellow; Jacob Zenn as Editor of Terrorism Monitor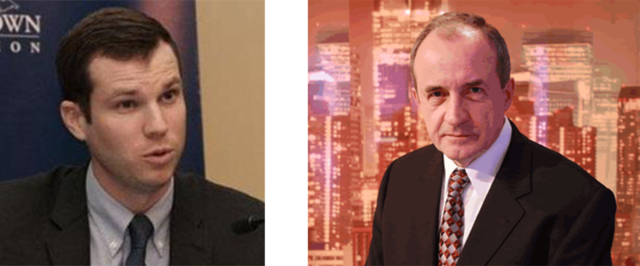 The Jamestown Foundation is proud to announce the addition of two new associates to its team. Janusz Bugajski, a renowned expert on Russia, Europe, the Balkans and trans-Atlantic relations who has published several books with Jamestown, joins the foundation as a Senior Fellow. Jacob Zenn, Senior Fellow on African and Eurasian Affairs, has taken over responsibilities as editor of Terrorism Monitor, Jamestown's renowned biweekly publication covering international terrorist groups.
Janusz Bugajski is formerly a Senior Fellow at the Center for European Policy Analysis (CEPA) in Washington, DC. He is the host of the television show "New Bugajski Hour" broadcast in the Balkans. Bugajski has authored 20 books on Europe, Russia, and trans-Atlantic relations and is a columnist for several media outlets. His recent books include Eurasian Disunion: Russia's Vulnerable Flanks (with Margarita Assenova) (2016); Conflict Zones: North Caucasus and Western Balkans Compared (2014); Return of the Balkans: Challenges to European Integration and U.S. Disengagement (2013); and Georgian Lessons: Conflicting Russian and Western Interests in the Wider Europe (2010).
Bugajski has been a consultant for the U.S. Department of Defense, the U.S. Agency for International Development (USAID), and a course chair for South Central Europe Area Studies at the Foreign Service Institute, U.S. Department of State. He has testified before several Congressional Committees, including: Helsinki Commission, Senate Foreign Relations, Senate Armed Services, House Foreign Affairs, and House Defense Appropriations. He is also a columnist or contributor to media outlets in the United States, the United Kingdom, Albania, Bosnia-Hercegovina, Bulgaria, Croatia, Georgia, Kosova, and Ukraine.
Jacob Zenn is an adjunct assistant professor on African Armed Movements and Violent Non-State Actors in World Politics at the Georgetown University Security Studies Program (SSP) and editor of Terrorism Monitor and Senior Fellow on African and Eurasian Affairs for The Jamestown Foundation in Washington, DC. He authored the book, Unmasking Boko Haram: Exploring Global Jihad in Nigeria, which was published in April 2020 by Lynne Rienner in association with the Handa Centre for the Study of Terrorism and Political Violence, University of St Andrews. Zenn has also written on international security for academic journals such as Studies in Conflict and Terrorism, Terrorism and Political Violence, Small Wars and Insurgencies, African Conflict and Peacebuilding Review, The Journal of Modern African Studies, Journal for De-Radicalization, African Security, and the International Journal of Not-for-Profit Law. He has also drafted several reports and monographs on Boko Haram, including editing a multi-authored report for the West Point Combating Terrorism Center in 2018 called 'Boko Haram Beyond the Headlines: Analyses of Africa's Enduring Insurgency." He also co-authored a book (in Russian) in 2017 with Erlan Karin called "Between ISIS and Al-Qaeda: Central Asian Foreign Fighters in the Syrian War" and a book chapter with Svante Cornell called "Religion and the Secular State" in Uzbekistan's New Face, which was edited by S. Frederick Starr and Svante E. Cornell and published by Rowman & Littlefield in 2018. Zenn graduated as a Global Law Scholar from Georgetown Law and from the Johns Hopkins School of Advanced International Studies (SAIS) Nanjing Center for Chinese-American Studies in Nanjing, China and has studied Uighur and Persian at Xinjiang University and Samarkand State University. He can be followed on Twitter @BokoWatch.
The addition of Bugajski and Zenn to the Jamestown team illustrates the foundation's unique ability to provide policy makers and the broader community with unbiased information on those areas strategically important to the United States. Zenn and Bugajski bring years of expertise on African and Eurasian affairs to Jamestown, and will bolster the foundation's ability to provide excellent analysis without political bias or agenda.
*     *     *
Founded in 1984, The Jamestown Foundation is an independent, non-partisan research institution dedicated to providing timely information concerning critical political and strategic developments in China, Russia, Eurasia and the world of terrorism. Jamestown produces three periodic publications: Eurasia Daily Monitor, Terrorism Monitor and China Brief. Jamestown research and analysis is available to the public free-of-charge via Jamestown's website, www.jamestown.org.