Sterilizations, IUDs, and Mandatory Birth Control: The CCP's Campaign to Suppress Uyghur Birthrates in Xinjiang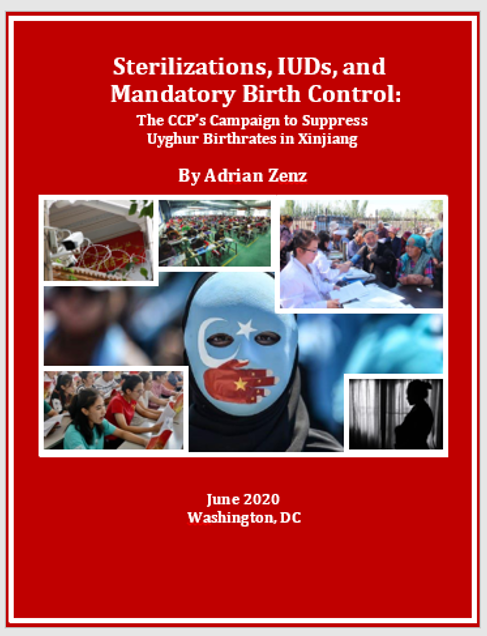 Dr. Adrian Zenz is one of the world's leading scholars on People's Republic of China (PRC) government policies towards the country's western regions of Tibet and Xinjiang. Research performed by Dr. Zenz in 2017-2018 played a significant role in bringing to light the Chinese government's campaign of repression and mass internment directed against ethnic Uyghur persons in Xinjiang (China Brief, September 21, 2017; China Brief, May 15, 2018; China Brief, November 5, 2018). Dr. Zenz has also testified before the U.S. Congress about state exploitation of the labor of incarcerated Uyghur persons (CECC, October 17, 2019), and was the author earlier this year of an in-depth analysis of the "Karakax List," a leaked PRC government document relating to repressive practices directed against religious practice among Uyghur Muslims (Journal of Political Risk, February 17, 2020).
In this special Jamestown Foundation report, Dr. Zenz presents detailed analysis of another troubling aspect of state policy in Xinjiang: measures to forcibly suppress birthrates among ethnic Uyghur communities, to include the mass application of mandatory birth control and sterilizations. This policy, directed by the authorities of the ruling Chinese Communist Party (CCP), is intended to reduce the Uyghur population in Xinjiang relative to the numbers of ethnic Han Chinese—and thereby to promote more rapid Uyghur assimilation into the "Chinese Nation-Race" (中华民族, Zhonghua Minzu), a priority goal of national-level ethnic policy under CCP General Secretary Xi Jinping.
Based on research in original Chinese-language source materials, Dr. Zenz presents a compelling case that the CCP party-state apparatus in Xinjiang is engaged in severe human rights violations that meet the criteria for genocide as defined by the U.N. Convention on the Prevention and Punishment of the Crime of Genocide.
*To download a free copy of this report, please click on the PDF link below.
Zenz–Internment Sterilizations and IUDs (UPDATED July 21–Rev2)