5G Technologies in Latvia Advance Military Capabilities and National Economy
Publication: Eurasia Daily Monitor Volume: 17 Issue: 178
By: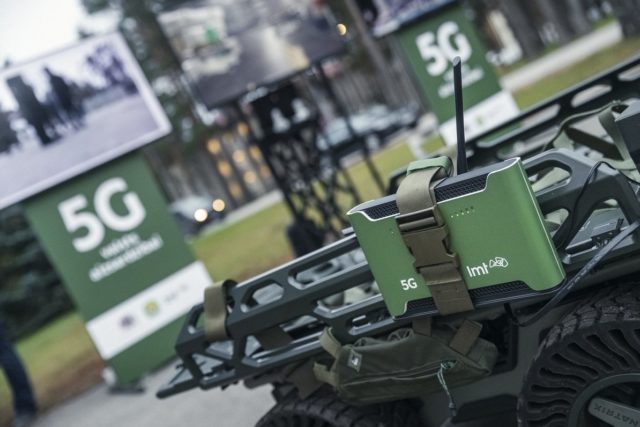 In mid-November, Latvian officials inaugurated a 5G test site at the Ādaži military base, near Riga. The facility is the first of its kind not only in Latvia but throughout Europe. The 5G testing area will provide an opportunity for Latvian and allied armed forces to develop and assess various new sensors, defense systems and platforms utilizing the emerging high-speed, low-latency cellular network technology, including autonomous vehicles, unmanned aerial vehicles (UAV), as well as various innovations in healthcare and remote communications (Tvnet.lv, November 13).
To date, 5G ("fifth-generation") networks operate, in some capacity, in more than 25 countries around the world. And with its ceremonial "launch" of 5G in July 2019, Latvia became one of the first European states to begin implementing this next-generation communication network for commercial and public use (Mfa.gov.lv, July 24, 2019).
The new technology represents an important advancement: "nodes" (units) on a 5G network are able to communicate with each other with a delay of only about one millisecond. According to Neils Kalniņš, the director of the Electronic Communications Development and Customer Management Department of the state-owned enterprise Electronic Communications, fifth-generation cellular broadband, therefore, promises to be a high-performance mobile network with sufficient multi-functionality and (with the right technological safeguards in place) better security. These characteristics make 5G particularly valuable for the defense industry (Sargs.lv, November 12, 2020).
5G technologies can provide the basis for new artificial intelligence and machine-learning solutions for autonomous supply chains (i.e., ones that make resource and logistics decisions automatically) in the defense industry and beyond. And they will improve links between soldiers on the battlefield and command elements, with lower network latency and higher network speeds bringing massive real-time data-transmission boosts. Finally, this new technology will reduce the size and weight of platforms that utilize it—such as backpack base stations carried by individual soldiers.
The Ādaži military base now owns a 5G network with a portable base station, thus creating an ecosystem for developing and testing new-generation wireless technologies. Latvian Defense Minister Artis Pabriks emphasized that with such new technologies being deployed to the Armed Forces, Latvia is showcasing itself as an innovative military force in the European Union and the North Atlantic Treaty Organization (NATO). For instance, the testing ground was used last month to demonstrate the remotely controlled ground vehicle NatriX, created and developed in Latvia, which can undertake tactical battlefield tasks such as transporting wounded soldiers under fire or delivering ammunition to the front line. The military also featured advanced sensor solutions for surveillance and reconnaissance—including, a computer-connected "smart" camera able to recognize people and objects (Delfi.lv, November 12).
These new 5G-linked developments are important not only for military purposes. By publicly pursuing this high-technology space, Latvia seeks to show other countries as well as multinational corporations its ability to participate in large international projects and to attract outside investment in the modern telecommunications sector. "This advancement benefits not only national security but also the wider Latvian economy in the form of new jobs, technological development and growth of the export sector," Minister Pabriks declared (Sargs.lv, November 12). The next-generation mobile network protocol will additionally be useful for deeper and more intelligent cross-sectoral cooperation: for example, in managing the nexuses of military logistics and civilian traffic, defense procurement and the economy, or defense infrastructure and regional environmental development.
The transnational or cross-border principle is important for the development of 5G technologies and related businesses as well. Namely, because of the highly complicated nature of introducing 5G from the bottom up, it will be necessary for Latvia to actively involve entrepreneurs, research institutions and effective public administrators at all steps of the process. Electronic Communications director Kalniņš noted last year that it will be crucial to understand in the initial period what are the biggest challenges facing not only entrepreneurs but also legislators in introducing the new technology. Moreover, he argued, the Latvian government—the Ministries of Transport, Economy, Environment and Regional Development—should cooperate with their foreign counterparts throughout the Baltic Sea region in order to generate more opportunities to attract additional EU infrastructure development funding to Latvia and the Baltic States (Forbes.lv, October 29, 2019).
5G technologies will be particularly useful in improving machine–machine communication and to connect artificial intelligence tools to the coming so-called Internet of Things (IoT). In the future, modern cities can also expect to see improvements in urban infrastructure, such as industrial facilities (water and electricity grids) and public transit networks managed directly over 5G. Intelligent traffic-management systems could reduce congestion and accidents, as traffic light signals would change based on real-time road-usage data collected by smart sensors and cameras all connected to the 5G network. No less important would be improvements in telemedicine made possible by superior data transfer rates over 5G, even allowing urgent surgical procedures to be performed remotely via a remote-controlled robot.
Latvia has a track record of success in developing high-technology products as well as cultivating advanced expertise, such as mechatronics engineering. "Latvian drone manufacturers, in cooperation with mobile operators, may create products that will compete on a global scale," Kalniņš optimistically predicted. In fact, at the political level, there seems to be robust understanding in Riga of the possible benefits of using 5G technologies for the country. And Latvia has established an effective platform for local and international cooperation. This conducive environment in the high-technology arena thus opens up new business opportunities for both Latvian universities and aeronautical companies to, for example, plan autonomous drone corridors in the country's airspace (Forbes.lv, October 29, 2019).
However, when it comes to purposeful state support for the development of 5G technologies, Latvia has room to grow, Kalniņš posited. It is necessary to motivate national and local government institutions into giving priority to 5G technological solutions created natively in Latvia. Such institutionalized preferences will not only benefit the Latvian economy but also direct resources to domestic firms to facilitate the development of internationally competitive products and solutions for the military and society as a whole (Forbes.lv, October 29, 2019).
With a military 5G testing site now online and in use, Latvia has acquired a great advantage when it comes to introducing 5G technologies in the national security space. At the same time, however, this initiative paves the way for broader Latvian leadership in advanced technologies in Europe.