A BLACK TUESDAY FOR WESTERN ENERGY COMPANIES IN RUSSIA
Publication: Eurasia Daily Monitor Volume: 3 Issue: 230
By: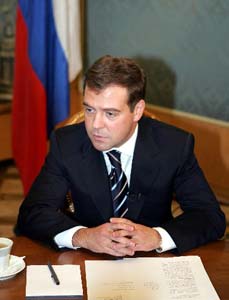 An unprecedented flurry of warnings by top Russian energy officials on a single day, December 12, may mark that date as a Black Tuesday for Western energy companies investing in Russia. First Deputy Prime Minister Dmitry Medvedev, Gazprom president Alexei Miller, Energy and Industry Minister Viktor Khristenko, and the unleashed "environmental" scourge Oleg Mitvol targeted mainly Royal Dutch Shell; but they also threatened the interests of ExxonMobil, Chevron, BP, and other companies with heavy investments — or, as may turn out, exposure — in Russia.
Under the threat of suits by the Russian government for "environmental damages," Shell is being forced to yield control of its giant oil and gas project Sakhalin-2 to Gazprom. The consortium developing that project since 1994, Sakhalin Energy, currently consists of Shell as project operator with a stake of 55% and the Japanese companies Mitsui and Mitsubishi with 25% and 20%, respectively. Moscow is now forcing a redistribution along the following lines: 50% plus one share for Gazprom, 25% for Shell and another 25% for the two Japanese companies.
The Russian side is not clarifying whether its input would come in the form of investment in the project or a swap of assets. Meanwhile, Gazprom declares that irrespective of any redistribution, the environmental claims to Shell must be resolved first.
In his news conference yesterday, Nature Inspectorate (RosPrirodNadzor) deputy chief Oleg Mitvol, a medium-level bureaucrat fronting for the Kremlin, threatened Shell with legal claims amounting to $30 billion for "environmental damages." The Nature Inspectorate — a division of the Natural Resources Ministry — had in September threatened a $10 billion suit and upped that figure to $15 billion by late November. Mitvol's explanation for the sudden jump to $30 billion is "advice from [unnamed] Western lawyers." His governmental agency is preparing to file suits in Russian courts as well as in British, U.S., and Japanese courts and the Stockholm Arbitration Court against project operator Shell for "full compensation of the damages" and plans to hire Western law firms for that purpose. The court cases would go ahead, he warned, even if Gazprom joins the project as intended. The Natural Resources Ministry's spokesman confirmed those intentions on the same day (December 12).
Moreover, the Nature Inspectorate is announcing a new series of checks next month on the ExxonMobil-led Sakhalin-1 project. Recent checks by the Technical Inspectorate (RosTekhNadzor) have already delayed the start of full-scale exports from that project to Asia-Pacific countries. Mitvol's agency now seems set to raise environmental damage claims against that project as well. Natural Resources Minister Yuri Trutnev publicly chastised Mitvol's nominal superior, Nature Inspectorate chief Sergei Sai, for not checking oil firms more often for violations (Moscow Times, December 12).
ExxonMobil, Chevron, and several European companies are also being squeezed on the Caspian Pipeline Consortium (CPC) line that carries oil from Kazakhstan to Russia's Black Sea port Novorossiysk. The U.S. companies built this pipeline in order to avoid control by Russia's state pipeline monopoly Transneft. In his December 12 news conference, however, Khristenko called for transferring this pipeline to Transneft in trust management. Meanwhile, the Russian government is blocking the expansion of the CPC pipeline's capacity through extortionate preconditions, even as U.S. companies in Kazakhstan urgently need this outlet for their expanding production.
The Russian government is also set to buy out the private TNK company, partner to BP in the giant West Siberian Kovytka gas field. Environmental claims and license revocation threats have been looming there as well in order to force a transfer to either Gazprom or Rosneft. Apparently confident of the outcome, the Russian government is reserving for itself the ultimate decisions about production schedules and the destination of gas deliveries from Kovytka.
Misuse of state environmental inspections in Russia is beginning to affect large Western investors beyond the energy sector as well. The Nature Inspectorate is now targeting the Peter Hambro company, one of the world leaders in metals mining. It threatens to sue the company's fully owned subsidiary in Russia, Yamalzoloto, with a view to canceling its licenses on two gold fields and also to conduct checks on other Hambro projects. The announcement in late November, reiterated on December 12, has caused the company's shares to tumble on the London stock exchange.
(Interfax, RIA Novosti, Itar-Tass, Moscow Times, December 12)