A Bump in the Road for Taiwan and Japan but Little More
Publication: China Brief Volume: 12 Issue: 22
By: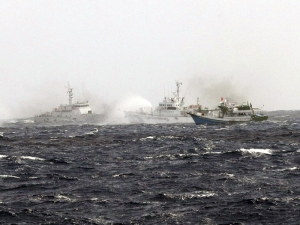 Although its voice is often ignored in the escalating spat over the disputed Diaoyu/Senkaku islands in the East China Sea, Taiwan reacted with uncharacteristic bombast to the Japanese government's purchase of three islets in the disputed island chain in September. The response reached unprecedented levels with a high-profile "sea protest" involving dozens of Taiwanese fishing vessels, accompanied by several Coast Guard Administration ships, during which CGA officers engaged in a water cannon battle with their Japanese counterparts (Taipei Times, September 26). The sequence of events, combined with the hardened rhetoric in Taipei, has raised fears of souring relations between Taiwan and Japan, and attracted speculation about possible co-operation between Taipei and Beijing in "defending" territory they both claim as their own. A closer look at Taiwan's idiosyncratic role in the triumvirate, however, shows that, rather than clearly taking sides, Taipei is playing a difficult, and perhaps perilous, balancing act.
Even at its height, Taiwan's reaction to Japan's purchase of Uotsurijima, Kita-Kojima and Minami-Kojima on September 11 never descended into the sometimes-violent mobilization seen across China, nor did Taipei threaten to use force against Japan to defend its sovereignty claims. Aside from the sea protest on September 25, which involved about 40 fishing vessels and eight CGA ships , a rally was held in downtown Taipei two days earlier , followed by a smaller one in Toucheng Township, Yilan County, on September 30 (Taipei Times, October 1; Reuters, September 25; China Post, September 23). Meanwhile, the inscription "the Diaoyutai Islands belong to us" in Chinese characters on an Mk-82 500lb bomb carried by an F-16 aircraft taking part in a bombing exercise received some media attention, but the matter was downplayed by the Ministry of National Defense and was soon forgotten (Liberty Times, September 19). At the diplomatic level, Taiwan's actions were limited to the summoning of the Japanese representative in Taipei by the Ministry of Foreign Affairs and the temporary recall of Taipei's representative in Tokyo. Since then, relations have returned to near normalcy, and both governments appear to have agreed to resume talks on fishing rights near the Senkakus before the end of the year (Taipei Times, October 8) [1].
Despite his administration's insistence on the sovereignty aspects of the dispute, Taiwanese President Ma Ying-jeou has been severely constrained in his ability to protest at the perceived change in the status quo caused by Japan's purchase of the islets. Some of the main constraining factors include the lack of interest in the dispute among general Taiwanese and a muted nationalist sentiment in stark contrast with that seen in China, which fueled the large protests. Attempts by the Taipei City Government to rally Taiwanese to the cause during National Day celebrations on October 10 backfired when participants showed little enthusiasm for the subject beyond collecting stickers proclaiming the Republic of China's sovereignty over the islets.
Another crucial element limiting Ma's room to maneuver has been Beijing's insistence that the two sides of the Taiwan Strait work together to counter Japan's claims in the East China Sea. Among other things, the State Council's Taiwan Affairs Office has stated Chinese marine surveillance vessels, which have been conducting regular "law enforcement" patrols near the islets, will provide protection to Taiwanese fishermen in surrounding waters (CCTV, September 26). China's complex relationship with Taiwan has forced the Ma administration to play its card carefully lest it appear to be cooperating with Beijing—a development that would risk alienating Japan, the United States and the majority of Taiwanese, who remain wary of any sign of political rapprochement with China. This point was driven home during the rally in Taipei on September 23, where approximately 1,500 people converged on the Japanese Interchange Association, Taipei, Tokyo's mission in the absence of official diplomatic ties between the two countries. Ma's Kuomintang (KMT) stayed clear of the protest and immediately distanced itself from the organizers, some of whom belonged to minor parties supporting unification with China, such as the People First Party and fringe groups calling for cooperation on the Diaoyu islands [2]. Divisions also emerged among the protesters, who clashed on whether Taiwan and China should cooperate on the issue or whether it was proper for some of the protesters to carry the flag of the People's Republic of China (Taipei Times, September 24). Facing this, the Ma administration has denied repeatedly it has any intention to cooperate with China on the dispute.
Within local fishing communities in Yilan County, officials from both Ma's KMT and the opposition Democratic Progressive Party (DPP) have acted in support of fishermen's right to fish in waters near the islands, highlighting the possibility of practical considerations behind the protests rather than political ideology or anti-Japanese sentiment. For them, the resumption of fisheries talks between Taipei and Tokyo, and ultimately the signing of a code of conduct, is essential to protect Taiwanese fishermen from continued harassment by Japanese ships in waters off the islets.
Those constraints notwithstanding, Ma, whose public approval level dropped to 15.2 percent in October—its lowest since the beginning of his first term in May 2008—has led the charge in emphasizing the political aspects of the dispute, often against the wishes of other senior members of his cabinet. Consequently, the extent of Taiwan's pragmatic approach to the 17th round of talks with Japan will be contingent on how much latitude Taiwanese negotiators are given by Ma.
The tug of war between Ma and senior officials has already become apparent with Foreign Minister David Lin announcing a proposal whereby Taiwan and Japan would jointly control an area off the Senkaku and allow fishermen from both countries to fish in each other's overlapping Economic Exclusion Zones (EEZ). The proposal has reportedly received a "very positive" and "flexible" response from Tokyo (Kyodo News, November 7).
Conversely, the Ma government has signaled it could emphasize Taiwan's claims of ownership of the islets at the expense of achieving a fisheries agreement prior to the resumption of negotiations with Japan, which could undermine efforts to resolve the dispute or abort the talks altogether (Asahi Shimbun, November 7). "There will be no fishing rights without sovereignty over the islands," Ma said during an interview on local television, comments that would appear to contradict his East China Sea Peace Initiative announced earlier this year under which all sides would be called upon to agree to shelve disputes and establish a mechanism for cooperation on exploring and developing resources (Taiwan Today, August 28). Japan, which contends that the islands have long been part of its territory, denies a dispute exists. Taipei's rationale for emphasizing the sovereignty aspect of the dispute seems to be that it risks being sidelined should a bilateral agreement on fisheries be reached with Japan, leaving the sovereignty dispute to China and Japan. By keeping the sovereignty issue alive, Taipei may hope to ensure it can retain its seat at the table.
Despite his stance on the Diaoyutai, Ma has rejected the feasibility of landing on the islets to settle the matter, which he admits are not under Taiwan's control (Focus Taiwan, November 9). Taiwan's president has said a plan by former premier Hau Pei-tsun to dispatch a team of commandos to the islets in the 1990s, which was cancelled subsequently by then-President Lee Teng-hui, would have left the problem "unresolved" (Want China Times, November 4).
Intentionally or not, the Ma administration's decision to focus solely on Japan in the sovereignty dispute has helped fuel speculation that Taipei and Beijing may be planning to work together against Japan (Taipei Times, November 12; Daily Yomiuri, September 27;). Since Ma came into office, there have been 13 incidents involving CGA and Japanese coast guard ships. Conversely, the CGA has never attempted to chase off Chinese ships entering the area, which prima facie seems to strengthen the theory that the "two Chinas" are cooperating to counter Japan.
The context of the dispute along with the nature of the antagonists, however, could help debunk that theory. Two key aspects stand out. First, the Ma government is in the process of improving relations between Taiwan and China, and since 2008 there have been several instances where Taipei chose to downplay or ignore belligerent action by Beijing, such as its continued military buildup targeting the island. For strategic considerations, Taipei may have decided that ensuring the continued development of cross-Strait ties is far more important than sovereignty over the islets—abundant fish resources and possible natural gas notwithstanding—even if this temporarily causes strains in its otherwise stable relations with Tokyo. The second and related factor is the fact that Japan poses no military threat to Taiwan's security, while China has the capabilities and perhaps the intent to use force against the island. As such, Taipei may have concluded it can get away with the occasional, albeit calculated, saber rattling toward Japan without risk of a sharp deterioration in bilateral relations. Left unmentioned in the criticism against Ma is that the CGA was involved in five incidents with Japanese coast guard vessels during Chen Shui-bian's DPP administration from 2000 to 2008. Consequently, prior minor clashes between Taiwanese and Japanese vessels created a precedent along with a blueprint on how to deescalate the situation. How clashes between Taiwanese and Chinese vessels would turn out remain in the realm of speculation, and it is hard to imagine how skirmishes at sea would affect overall cross-Strait relations.
Fears of worsening relations between Taiwan and Japan as a result of the dispute therefore may be premature. Although an unexpected 1.18-percent drop in tourist arrivals from Japan in September may be attributed to the crisis, relations between the two people remain cordial with Japanese tourism to Taiwan up 15.75 percent from 2011 (Focus Taiwan, November 6). Unlike China, where there were several instances of violent attacks on Japanese nationals and firms, Japanese face no such threat in Taiwan—a fact that points both to the favorable perception of Japanese citizens among Taiwanese and the failure of the dispute to awaken nationalist sentiment in Taiwan. A case in point: The general hostility in China has prompted Japanese firms to seek friendlier investment destinations, leading to a marked increase in cooperation between Japanese and Taiwanese small- and medium-sized enterprises in the past nine months (China Economic News Service, November 9). Ultimately, historical ties with Japan and disinterest among Taiwanese in the Diaoyutai issue will make it very difficult, if not impossible, for the Ma administration, which faces growing discontent over a moribund economy and important seven-in-one elections in 2014, to take a course of action that threatens to harm the relationship.
Notes:
Since 1996, Taipei and Tokyo have held 16 rounds of talks on the issue with little success in resolving the dispute.

Author's on-site observation of the protest and subsequent interview with a senior advisor to the KMT.