A Cold Wind Blows from Moscow to Chechnya
Publication: Eurasia Daily Monitor Volume: 9 Issue: 113
By: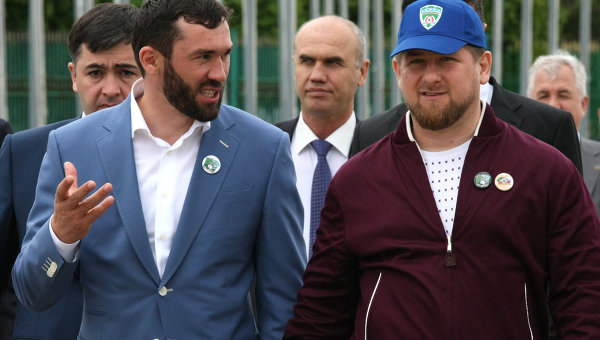 Ramzan Kadyrov explained his sudden dismissal of the Chechen government on May 17 by pointing to the new challenges he said the republic was facing (www.vesti.ru/doc.html?id=796442). However, no one in Chechnya has any doubts that dismissing the government was used only as a pretext for sacking the republic's prime minister, Odes Baisultanov, who is also Kadyrov's cousin (www.newsland.ru/news/detail/id/960950/). Rumors that Baisultanov would be dismissed were rife in Chechnya a month before it happened (www.rosbalt.ru/federal/2012/04/21/972632.html). Moreover, few doubted the new prime minister would be a Moscow appointee, and some even named the possible candidate – Oleg Zhidkov (https://novoteka.ru/seventexp/11930820). This appointment would have been a nuisance for Grozny since any Moscow appointee would have been a more autonomous figure than a local one. Yet, Moscow did not end up appointing a Chechen prime minister, nor was Baisultanov named first deputy to the presidential envoy to the North Caucasus Federal District, Aleksandr Khloponin. Baisultanov was made a mere deputy to Khloponin (www.rosbalt.ru/federal/2012/05/31/987337.html), and this new appointment should be regarded as decrease in his status. The role of deputy in Khloponin's administration is nominal, since this structure has not managed to subdue republican leaders in the region, who habitually reach out to Moscow over Khloponin's head. Rather, Odes Baisultanov's new position reflects his ostracism in Chechnya.
To avoid possible complications should Moscow choose to appoint a Chechen prime minister later, Kadyrov reformed the joint administration of the head of the republic and the government, amending Chechnya's constitution and placing the republican joint administration over the republican government (www.regnum.ru/news/polit/1533163.html). It was therefore not surprising when Kadyrov appointed one of his closest associates, Magomed Daudov, to head the joint administration. Nearly all Russian media concluded after Daudov's appointment that he would be the real new Chechen prime minister (www.webground.su/topic/2012/05/21/t324). As the head of the administration, Daudov indeed will oversee all economic, social and political questions in the republic. The republic's new prime minister, Abubakar Edelbeyev, was named only after Daudov's appointment. Edelbeyev, however, has no team of his own or any significance as a politician (https://top.rbc.ru/politics/24/05/2012/652005.shtml).
Kadyrov himself formed the new government, and almost half of the incumbent officials retained their positions. Still, this government should be regarded as a transitional body that was formed under severe time constraints. The short-lived appointment of Isa Tumkhadzhiev – prior to Edelbeyev – as the republic's prime minister is one indicator of the government's transitory character (www.bbc.co.uk/blogs/russian/northcaucasus/2012/06/post-70.html). Tumkhadzhiev remained in that capacity only for a day and a half. It can be guessed that a phone call from Moscow may have caused Tumkhadzhiev's swift replacement – his father, Abubakar Tumkhadzhiev, problematically occupies the position of republican minister for roads. Moscow may have regarded the appointment of a close relative of a minister as a sign that an indecent clan-driven government was being formed in Chechnya. By decreasing the importance of the government and increasing the weight of the administration, Kadyrov thus solidified all power in his hands.
It is no surprise that local authorities are frantically searching for mechanisms to bypass federal legislation and prolong their tenure. To everybody's surprise – and probably without realizing that he is living in the second presidential epoch of Vladimir Putin – the speaker of Chechnya's parliament, Dukvakha Abdurakhmanov, made an unexpected statement at a conference in Moscow on May 31. Abdurakhmanov called on the Russian government not to limit all of the country's regional heads to just two terms in office (www.ria.ru/politics/20120531/661419915.html). "There is the notion of the leader of the nation," he said. "We do not intend to support or pass such legislation [limiting regional governor's terms]." Abdurakhmanov explained that he would not support anyone else other than Kadyrov, even after Kadyrov's term expired. Thus, the Chechen parliament announced publicly that its members are prepared to stage a "riot" against the federal authorities for the sake of keeping Ramzan Kadyrov in office. At first, the tactic seemed to have worked, because the speaker of the Russian Federation Council, Valentina Matvienko, hastily supported her Chechen colleagues (www.nakanune.ru/news/2012/5/31/22275900).
However, Kadyrov's reaction to the initiative, which came a week later, indicated that Moscow deemed it impossible this time to make an exception for the Chechens. On June 8, speaking on Chechen TV, Kadyrov stated that "some experts who appear in Russian Federation media say that Chechnya is asking for additional concessions on the question of the [number of] terms for the republic's governor." Kadyrov unequivocally brushed aside these claims, stating that "Chechnya did not and is not asking for any exclusive conditions for the election or tenure [of the head of the republic]" (www.grozny-inform.ru/main.mhtml?Part=8&PubID=34356). Kadyrov referred to "experts" possibly because he did not feel comfortable admitting that the initiative to extend his rule came from those close to him, in particular the Chechen parliamentary speaker. Thus, Abdurakhmanov's scandalous overture resulted in Moscow warning that the time for special conditions for Chechnya's development was over and it was high time for the republic to integrate into the Russian Federation on an equal footing with everybody else.
Therefore, history has repeated itself once again. As soon as Moscow felt comfortable in its ability to control the situation in the region, it immediately withdrew support for its own local proxies and started looking to replace them. The same trend took place during the Russian conquest of Chechnya in the 19th century and during the installment of Soviet rule in Chechnya after the demise of the Russian Empire in 1917. So this should come as no surprise. Chechen officials have long stated that the recovery phase of the republic's shattered economy has ended (www.newsland.ru/news/detail/id/938594/), that a normal process of development is under way like in the other regions of the Russian Federation, and that Moscow is thus ready to end special relations with Chechnya (https://expert.ru/2012/06/9/zreloe-grazhdanskoe-obschestvo-chechni/). It is likely, therefore, that the era of fantastic cash infusions into Chechnya's government is over or may be over soon.