A Potential Rapprochement with the West and the Prospects of Economic Liberalization
Publication: Eurasia Daily Monitor Volume: 10 Issue: 27
By: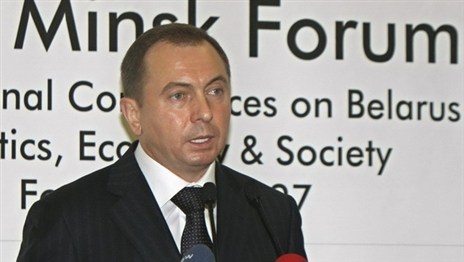 Belarus's Ministry of Foreign Affairs has generated a flurry of activity on the country's western flank. In charge of this ministry from late August 2012, Vladimir Makei held meetings with the heads of the diplomatic missions of European Union states and the United States (January 18) and with the head of the Private office of the secretary general of the Council of Europe (January 14). Makei also had consultations with the representatives of the foreign ministries of Lithuania (January 18) and Sweden (January 22), a telephone conversation with the foreign minister of the Czech Republic (December 21, 2012), and a meeting with the Latvian ambassador (February 7). On February 12–13, Makei will lead the Belarusian delegation to the EU's Eastern Partnership meeting in Tbilisi, Georgia (news.belta.by, January 15; mfa.gov.by, January 18, February 11; ctv.by, January 23; FPS Research Center, January 18).
Negotiations with the World Bank are underway regarding its funding of the modernization of two thermo-electric plants in Mogilev. Currently, the World Bank is funding two projects worth $125 million and $30 million, respectively. The first of these projects enables the modernization of three boiler houses and the construction of two combined heat and power plants (CHP). The second project pursues the construction of natural gas pipelines to rural villages and repairs of heating systems at secondary schools and hospitals (https://www.belta.by/ru/all_news/economics/Vsemirnyj-bank-vydelit-90-mln-na-modernizatsiju-dvux-belorusskix-TETs_i_623451.html).
In early February, a team headed by Belarus's Finance Minister Andrei Kharkovets spent a week in Brussels conducting the so-called "road shows" of the ensuing third issuance of Belarus's Eurobonds worth $600 million. In 2010 and 2011, Belarus issued Eurobonds for a total of $1.8 billion. Those were priced below their nominal value, thus yielding a high profit to investors. The new release of Eurobonds is a way to borrow money to repay current debts. In 2013, these repayments will peak at $3.1 billion (https://naviny.by/rubrics/finance/2013/02/05/ic_articles_114_180732/print/).
This entire "Western offensive" of Minsk has hit an obstacle in the face of new US sanctions on two Belarusian enterprises, which develop and produce optical and radio navigation systems for ballistic missiles. The sanctions decision was taken on December 20, 2012, and was enacted on February 5 for a two-year term (news.tut.by/politics/334146.html).
Regarding the current Belarus policies pursued by the West, Anatoly Rubinov who chairs the Council of the Republic, the upper chamber of Belarus's parliament, said that "they treat us as some untamed animals that one has to train by withdrawing and limiting food. This policy has no prospects as we are people with our own history and pride. One has to abandon sanctions. I am, for example, on the visa ban list. Are they afraid of me visiting them and swaying them to my creed?" Rubinov sees a contradiction: on the one hand, "they think that we misbehave, violate somebody's rights and consequently have to be influenced" but on the other hand, "how are they going to influence us by banning contacts?" (https://news.tut.by/politics/332001.html).
In their quest to explain the flurry of Belarus's diplomatic activity in Europe, independent analysts reached a consensus on the Prague Accent, a talk show aired on the Belarusian Service of Radio Liberty on February 4 (www.svaboda.org/content/article/24892748.html). According to Pavel Usov, a Belarusian commentator based in Warsaw, there is a confluence of circumstances favoring the improvement of relations between Belarus and the West. Belarus feels insecure in the face of Russia's economic aggression, and at the same time there is a growing conflict between Washington and Moscow culminating in the Magnitsky law. Usov believes that Washington could make its potentially friendlier relations with Minsk a useful irritant much like it (Washington) uses the authoritarian Islam Karimov regime in Uzbekistan. Sergei Bogdan, a commentator now based in Berlin, agrees. "Belarus's major asset is its transit location between Russia and the West," and Alyaksandr Lukashenka has learned how to extract benefits from it. Also, according to Bogdan, "the law of the jungle rules in Belarus's relations with Russia," and Lukashenka and his team "realize they will be devoured if left one-on-one with Russia." Responding to the talk show host's question about the prospects of economic liberalization in Belarus, Usov opined that in Belarus tight governmental control over the economy enables a redistribution of profits in favor of social programs. In contrast, in Russia and Azerbaijan, redistribution of profits is hindered by high levels of corruption, not by a more liberal economic climate. According to Bogdan, President Lukashenka can thus risk a partial economic liberalization and still survive politically. The analysts agree that Lukashenka is ready to release the remaining political prisoners in exchange for some friendly steps from the West.
The analysts also concur that nobody in the opposition poses a threat to Lukashenka's rule. Whether this is entirely due to squelching the opposition, as Sergei Bogdan avers, appears to be debatable. For example, a poll of Belarusian software developers by Dmitry Galko flies in the face of a well-worn cliché that the current political regime is supported primarily by people with an archaic mindset and low incomes. Software developers earn on average $1,500 a month, which is triple Belarus's average earnings. They are in their thirties and say that their profession enables their self-affirmation. And yet they are not socially active and support the socio-political status quo (www.news.tut.by/society/333880.html). Although an unscientific poll of just over 20 programmers, it matches the results of Yury Drakakhrust's analysis of the December 2012 representative national survey by the Independent Institute for Socioeconomic and Political Studies (see EDM, February 1).
Given such attitudes, it is little wonder that out of 133 measures of economic liberalization announced on December 31, 2010, only 25 have been fully implemented, and 24 only partially. For example, individual entrepreneurs (IE) were promised the ability to purchase the premises they have been renting from the state for more than three years, but they still cannot do so. Also, IEs receive only half of the maternity leave benefit guaranteed by the state to wage earners (https://naviny.by/rubrics/economic/2013/02/06/ic_articles_113_180745/). It is unlikely, however, that the root of all evil ought to be seen in the corridors of power in Minsk. Contrary to what many Western observers believe, there is still a great deal of harmony between Belarus's political regime and many ordinary Belarusians. Belarus defies clichés. Also, Western attempts to base its relationships with post-Soviet countries on a putative community of values have apparently exhausted their potential. All too often we see things not as they are but as we are. This has to change, if only in the name of reason.