A Russian-Belarusian Friendship Thriller
Publication: Eurasia Daily Monitor Volume: 10 Issue: 155
By: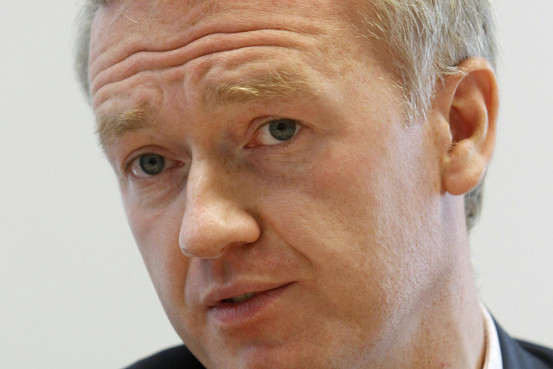 On August 26, Vladislav Baumgaertner of Russia was arrested in Minsk and placed in the KGB prison popularly known as Amerikanka while criminal proceedings have been launched against him by the Belarusian Prosecutor's Office. An ethnic German, born and raised in the Urals (www.comnarcon.com/index.php?id=454?), Baumgaertner is the CEO of Uralkalii, Russia's major producer of potassium (potash) and the chairman of the Supervisory Board of the Belarusian Potassium Company (BPC), a trader jointly established in 2005 by Uralkalii and Belaruskalii, the Belarusian producer of potassium. Together, these two firms controlled 43 percent of the world's potash market (belpc.by, accessed September 2).
As was reported earlier (see EDM August 5), Uralkalii withdrew its export operations from the BPC in late July. Immediately thereafter, several high-ranking associates of the BPC, delegated to it by the Russian side, left Minsk without making arrangements concerning their abandoned apartments (https://finance.rambler.ru/news/economics/134048833.html). Aside from the political symbolism of the BPC's collapse—that is, demonstrating Russian-Belarusian discord during the run-up to the creation of the Eurasian Union—the event had profound economic implications. First, Belaruskalii was deprived of a trader while its own export operations network was never built up. Second, the world price of potassium plummeted, and Uralkalii's shares lost 21 percent of their value. In just one day, Suleiman Kerimov, a Russian tycoon with close ties to Dmitry Medvedev and Uralkalii's biggest shareholder, lost $565 million (https://izvestia.ru/news/556143).
It appeared, however, that this was a carefully thought-out gambit on the part of Kerimov and his people in the BPC's and Uralkalii's management teams. Their ultimate goal may have been to buy Belaruskalii at a discounted price. President Alyaksandr Lukashenka has not wanted to sell this major contributor to the Belarusian budget. He set its selling price at $30 billion, and Kerimov's multiple attempts to talk Lukashenka into selling it cheaper did not succeed. Throughout 2012, Uralkalii repeatedly offered some international buyers a price discount on potash in exchange for their agreeing to buy directly from Uralkalii, not from the BPC. These actions were not made public. So when, in December 2012, Lukashenka signed a decree depriving the BPC of its exclusive export rights in Belarus, it looked like it was Lukashenka who let down the Russian partner, not the other way round. In reality, however, Lukashenka was provoked, which became clear in late July when Uralkalii withdrew from the BPC altogether, ostensibly in retaliation to Lukashenka's move (https://izvestia.ru/news/556143).
Throughout August, some overt attempts at reconciliation were made. Thus, following a telephone conversation between the Russian and Belarusian prime ministers invitations were sent to Alexander Voloshin, chairman of Uralkalii's Board of Directors; Kerimov; Russia's Deputy Prime Minister Arkady Dvorkovich who supervises the chemical industry; and Baumgaertner to come to Minsk. Of those invited, only Baumgaertner came, which, according to some sources (https://naviny.by/rubrics/politic/2013/08/27/ic_articles_112_182807/), simplified what followed for both Moscow and Minsk. After futile talks with Prime Minister Mikhail Myasnikovich, Baumgaertner headed to the airport where he was arrested and charged with abuse of power and with willfully inflicting financial damage on Belarus. On September 2, a similar accusation was brought against Kerimov (in absentia) and he was put on the international wanted list through Interpol (https://news.tut.by/economics/364220.html?utm_source=main_page&utm_medium=first_news_block&utm_campaign=tutby_links).
Dozens of opinions circulated by the media seem to fall into three groups. According to the first set of opinions, the Belarusian law-enforcement agencies actually lent a helping hand to Russia by weeding out mega swindlers. Aside from Vadim Gigin, the Belarusian pro-government voice, this opinion is shared by Russian pundits Kirill Benediktov (https://izvestia.ru/news/556143) and Stanislaw Belkovsky (https://news.tut.by/politics/363419.html).
The second set of opinions pins the blame squarely on Lukashenka. Harsh statements by two Russian deputy prime ministers, Arkady Dvorkovich and Igor Shuvalov, are in this category, as well as that by Russia's ultra-patriot Mikhail Leontyev who called Lukashenka a Somalian pirate (https://nsn.fm/2013/08/28/mihail-leont-ev-lukashenko-somalijskij-pirat/).
The third group of opinions is most nuanced. It may be summarized as follows. Yes, Lukashenka is impulsive, but he ordered the arrest because he cannot possibly make his international reputation worse; he is a master of asymmetric warfare; but although this time he took more risk than usual, it was calculated to pursue several achievable goals at the same time. Sending a message that he cannot be duped and staving off a brazen attack of Russian oligarchs eyeing Belarus's lucrative assets are just the two most obvious goals. Boosting his own ratings at home in advance of the 2015 elections is the third goal, and at least three knowledgeable Minsk-based experts—Alexander Klaskovsky of Naviny.by (https://naviny.by/rubrics/politic/2013/08/27/ic_articles_112_182807/), Vitaly Tsyhankou (https://www.svaboda.org/content/article/25088702.html) and Valer Karbalevich of Radio Liberty (https://www.svaboda.org/content/article/25089381.html)—opined that Lukashenka's rating will rise as a result of Baumgaertner's arrest. The fourth goal is boosting Lukashenka's popularity in Russia itself as ordinary Russians hate oligarchs.
Finally, driving an even wider wedge between ordinary Belarusians and the Belarusian opposition is an achievable goal. This is the effect of blindsiding an adversary whose major guiding principle is "the enemy of my enemy is my friend." That is, Russian oligarchs hated by ordinary Belarusians are now "friends" with the Belarusian opposition because they are both at loggerheads with Lukashenka. "Are you for Lukashenka or for Russia?" is the question posed on many opposition websites. However, according to Tsyhankou, there is nothing more misleading than mulling over a question like this (https://www.svaboda.org/content/article/25088702.html). Importantly, Yury Drakakhrust of Radio Liberty believes that the risk Lukashenka took in arresting Baumgaertner is limited simply because Vladimir Putin can hardly be derailed from his Eurasian integration track. As Ukraine was not forced onto this track, losing Belarus is out of the question (https://www.svoboda.org/content/transcript/25086999.html).
But while Putin himself is still keeping mum (though his aide Yury Ushakov has already made a stern statement [vz.ru/news/2013/8/30/647941.html]) some retaliatory moves have already been announced. First, Russia will limit its delivery of oil to Belarus in the fourth quarter. Second, Russia's peculiar vigilante, its chief sanitary inspector, Gennady Onishchenko, has issued a demand to pay special attention to Belarusian dairy products crossing the Russian border (https://naviny.by/rubrics/politic/2013/08/29/ic_articles_112_182830/).
By all accounts, Russia-Belarus tensions have suddenly developed into a thriller. As befits a true thriller, suspense is palpable and real, whereas the denouement is not clear at all.