Putin Ridicules US While Defending Russia's Democracy, Human and Gay Rights Record
Publication: Eurasia Daily Monitor Volume: 10 Issue: 156
By: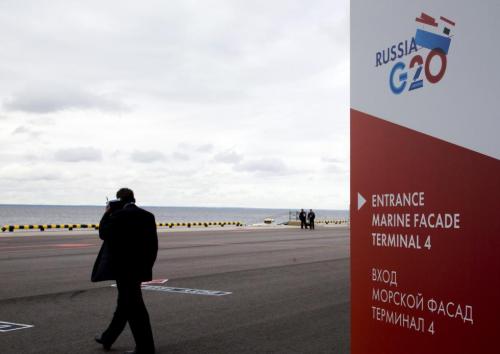 Last month, the White House canceled President Barack Obama's visit to Moscow in the first week of September for a summit with President Vladimir Putin because of mounting deadlock in bilateral relations and the Russian decision to grant fugitive United States National Security Agency (NSA) contractor Edward Snowden official refuge in Russia (see EDM, August 8). Though the summit did not happen, Putin still granted a prolonged joint interview to the Associated Press news agency and Russian state-controlled Channel One TV, which was preplanned to provide the Kremlin's take on US-Russian relations. With no Obama in Moscow, Putin used the interview to push back Western criticism of Russia's human rights record and ridicule Obama over Snowden and Syria.
The G20 economic summit begins this week in St. Petersburg on September 5, and Obama will be attending. The preplanned agenda of the G20 does not reference any discussion of the conflict in Syria, but Putin agreed that "the situation is very serious" and it may be discussed by the world leaders. Putin expressed regret that the Moscow summit with Obama was canceled, but said he still hopes to a meet with the US president in St. Petersburg on the sidelines of the G20 (http://www.kremlin.ru/news/19143). In St. Petersburg, Obama will be meeting with a select group of Russian human rights activists on September 5. The Kremlin expressed disappointment and dismay at the US president's meeting with Russian opposition figures, while Obama continues to avoid meeting with Putin (Kommersant, September 4). It is highly important for Putin—while not conceding anything on Syria or Snowden, or any other issue of substance—to clinch a meeting with Obama. And in his interview, Russia's head of state did offer some bait: Moscow "may approve" military action against the forces of Syrian president Bashar al-Assad, if "convincing" evidence is presented that Syrian government forces indeed used chemical weapons on August 21 in Damascus (http://www.kremlin.ru/news/19143).
Putin added that the use of weapons of mass destruction is a crime. In the West, this statement was interpreted as a possible softening of the Russian stand on Syria. But in Russia, experts insist Putin's remarks are "a form of diplomatic deceit." Moscow may allow Washington to spend time presenting evidence of the al-Assad forces using chemical weapons but will never find them "convincing." Russian diplomats have accused the Syrian rebels of using chemical weapons; and Putin, in fact, offered to use force against the rebel forces, not al-Assad (http://ria.ru/politics/20130904/960642994.html).
Russia's president insists no concrete evidence exists that any nerve gas was used in the Damascus suburbs on August 21. Rather, he argues that the al-Assad forces "are winning, destroying the opposition and there is no sense for them to use chemical weapons" (http://www.kremlin.ru/news/19143). Moreover, Putin publicly accused US Secretary of State John Kerry of "lying" in Congress by saying there was no al-Qaeda presence in Syria (a statement Kerry did not make). Putin insists the US Congress does not have the legal right to approve military action in Syria and that any such action would be an act of "aggression," which would destabilize the region (http://ria.ru/arab_riot/20130904/960795467.html).
Putin has refused to specify what action Moscow may take if the US eventually takes military action to punish al-Assad. Meanwhile, however, the Russian navy has been expanding its military presence in the Eastern Mediterranean: An intelligence-gathering ship "Priazovye," has joined the flotilla to monitor possible US actions, and the missile cruiser "Moskva" and two landing craft ships are on their way. According to Russian naval sources, there is, apparently, at least one Russian nuclear attack submarine in the Mediterranean. Russia's most powerful battle ship—the huge, cruise and S-300F anti-aircraft missile carrying nuclear-powered cruiser "Pyotr Veliky"—is also reportedly heading to the Mediterranean. The Russian naval command hopes its naval presence may possibly deter the US from going into action (Interfax, September 4).
On September 3, the Russian defense ministry created a commotion on world stock exchanges by publicly announcing that "two ballistic missiles were launched at Syria from the Mediterranean," presumably by a US submarine (http://ria.ru/world/20130903/960420038.html). The Russian early warning radar near Armavir in the North Caucasus apparently mistook a small Israeli Sparrow decoy missile that was test launched by a jet over the Mediterranean for a US submarine ballistic missile launch. Before the mistake was clarified, the defense ministry told journalists that its chief, Sergei Shoigu, had personally reported the launch to Putin (http://www.interfax.ru/print.asp?sec=1446&id=326758). Deputy Defense Minister Anatoly Antonov told journalists the Russian central nuclear command in the General Staff was placed on heightened alert on September 3. Antonov advised Israel "not to fan the flames" in the future by unannounced missile launches, "since the US submarines in the region may be carrying conventional as well as nuclear missiles" (http://ria.ru/world/20130903/960522356.html).
While raising the stakes on Syria to a nuclear threshold, Putin ridiculed Washington over Snowden. In particular, he officially disclosed that Snowden had a meeting with Russian diplomats in Hong Kong last June before flying to Moscow and, according to Putin, "simply left" without apparently reaching any solid agreement on refuge in Russia. Putin mocked the "unprofessionalism" of US diplomats and spies, who instead of creating a world-wide fuss demanding extradition, could have quietly allowed Snowden to transit to some Latin American or other country from which it would have been possible to kidnap the defector. "Now he is safe," the Russian leader stated, adding, "We will not hand him over" (http://www.kremlin.ru/news/19143).
On September 8, Muscovites will be electing the city's mayor, who is the governor of the richest, most populous and politically most important subject of the Russian Federation. Muscovites are free to elect anyone they choose, said Putin and added, that the Kremlin-appointed incumbent Sergei Sobyanin is a wonderful mayor and "is supported by a 60-percent majority," while the leading opposition candidate, anti-corruption activist Alexei Navalny, is a thief and a convicted felon (http://www.kremlin.ru/news/19143).
Putin continued on and on, announcing "Ukraine and Russia are really one nation" and will eventually reunite despite all odds and attempts by the European Union to pull the two apart. Contrary to Western press reports, he went on, gays are tolerated in Russia and foreigners will not be arrested during the 2014 Sochi Olympics for exhibiting rainbow badges, while "in some US states" (Oklahoma and Texas, according to Putin) gay intercourse between adults is a felony (http://www.kremlin.ru/news/19143). And these people attempt to teach us human rights, democracy and what to do in Syria, exclaimed the frustrated authoritarian ruler—a sentiment any communist or feudal Russian tsar of the past could easily share.