A 'Russian Bomb' for Belarus
Publication: Eurasia Daily Monitor Volume: 11 Issue: 107
By: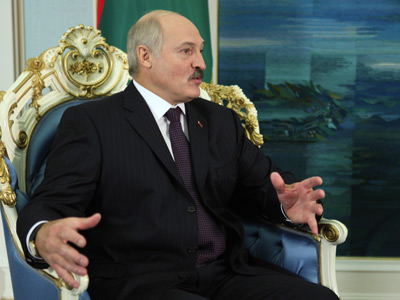 Belarusian President Alyaksandr Lukashenka's balancing act (see EDM, April 2) includes his ability to make statements that defy unequivocal interpretation and may please two mutually hostile parties at the same time. After the June 7 inauguration of newly elected President Petro Poroshenko of Ukraine, Lukashenka responded to several questions posed by Ukrainian journalists.
To the question "What to do with the terrorists in eastern Ukraine?" Lukashenka replied that "those terrorists that kill have to be exterminated. But you first need to sort out who the terrorists are and who are not; otherwise you will end up killing your own people." To a question on Crimea—specifically, if he believes Crimea is part of Ukraine—Lukashenka replied that "it is not the right time and place to discuss this problem." He added, though, that "as far as the unity of Ukraine is concerned, you have heard the statement of the president of Ukraine, and I think that he will keep his word. Ukraine should be a single and indivisible state, and it will be such a state." When asked about Crimea yet again, Lukashenka admonished the journalist: "Why would you, a Ukrainian, ask me a question like that? Just go to Crimea and negotiate so that Crimea becomes Ukrainian. Do not lose it [yourself]." To the question if he would like to be an intermediary between the warring parties, Lukashenka responded that he would hate performing such a function; only those who want to gain political dividends and inflate their significance would love to do that, he argued. "I do not need those [extra credentials], I already have it all. After all, you are talking to Europe's major dictator," Lukashenka added jokingly (tut.by, segodnya.ua, June 7).
Lukashenka had arrived in Kyiv with his youngest son, Nikolay, in a motorcade consisting of 11 cars. That he would actually participate in President Poroshenko's inauguration ceremony became known only on the morning of June 7.
Meanwhile, publications devoted to the actual and potential effects of the Ukrainian crisis on Belarus continue to flow freely. One of these publications deserves particular attention. Yury Drakakhrust of the Belarusian Service of Radio Liberty published an extensive research piece whose major question is about the potential for the idea of "the Russian world" to take root in Belarus (svaboda.org, June 11). While "Russian inspiration for the Ukrainian crisis cannot be denied," writes Drakakhrust, only some regions of Ukraine proved to be vulnerable to that inspiration, i.e., those with relevant sociopolitical conditions.
Does Belarus or some of its regions possess such conditions? To respond to this question, Drakakhrust analyzes reputable national surveys by the Independent Institute for Socio-Economic and Political Studies (IISEPS) and by the Novak lab, both of which receive Western funding. It appears that, on the one hand, the events in Ukraine have resulted in an increase in the number of Belarusians willing to integrate with Russia at the expense of those willing to join the European Union. On the other hand, however, when asked which of the three forms of integration with Russia—merger into one state, a union of independent states, or just a Commonwealth of Independent States (CIS) relationship—only 13 percent of Belarusians were in favor of the first option, and as many as 54 percent of respondents favored the second one (IISEPS, June 2012). According to Novak, however, 63 percent of Belarusians claimed they would be better off in some kind of union with Russia, and only 18 percent asserted they would be better off within the EU (Novak, March 2014).
A widespread opinion persists that Lukashenka is "the principal conduit of Russian influence in Belarus" and that, moreover, "it is due to him that Belarus is de facto Russia." Indeed, surveys show that the majority of those who trust Lukashenka favor a union with Russia, and the majority of those who do not trust the president instead favor Belarus's accession to the EU. But there is no perfect match in either case. Of particular importance is the group that distrusts Lukashenka but is still in favor of union with Russia. According to Drakakhrust, this group would make up the true base for a "Russian party" in Belarus.
It appears that the group in question accounts for 16 percent of adult Belarusians (IISEPS, March 2014). And at the height of the 2011 financial crisis, it accounted for as much as 22 percent. The members of the group are middle-aged (30–59 years old); they lead in terms of Russian being their sole communication medium (66 percent); they work for private enterprises or are independent entrepreneurs themselves; they have a low level of trust in both the Belarusian state and the opposition; they are less prone to root for a Belarusian sports team; and they are disproportionally represented in the city of Minsk and in Minsk and Vitebsk Oblasts. Considering, however, that in Minsk and Minsk Oblast this group is rivaled in strength by proponents of Belarus's European choice, there is no geographic concentration of a possible Russian party anywhere in Belarus that would be on a par with the Russian supporters in Ukraine's Donbas, let alone Crimea. According to the data of the Kyiv-based International Sociology Institute, the root cause of the Donetsk-Luhansk rebellion has been not so much the pro-Russian leanings of the residents of those regions as their extreme distrust of the current Kyiv authorities. Thus in April, over 70% of those residents considered either Oleksandr Turchynov (interim Ukrainian president) or Arseniy Yatsenyuk (interim prime minister) to be illegitimate (svaboda.org, June 11).
From this, one can conclude that the only way an activist Russian party could be actualized in Belarus is if the government in Minsk loses its legitimacy in the eyes of Belarusians. President Lukashenka is definitely seen as a legitimate leader by a critical mass of his fellow countrymen (see EDM, October 11, 2013). If, however, he abruptly leaves the political scene or loses his legitimacy due to an economic downturn or some other reason, the Ukrainian crisis could possibly be replayed in Belarus.
The classic novel "Sign of Trouble," written by Belarusian author Vasil Bykau, ends with the words "The bomb was waiting to go off." Drakakhrust suggests, "The Russian bomb in Belarus is also waiting to go off. It depends upon the wisdom of Belarusian politicians—both in the opposition and those vested with power—that this bomb never explodes" (svaboda.org, June 11).