A Thaw With the West and Its Underpinnings
Publication: Eurasia Daily Monitor Volume: 11 Issue: 173
By: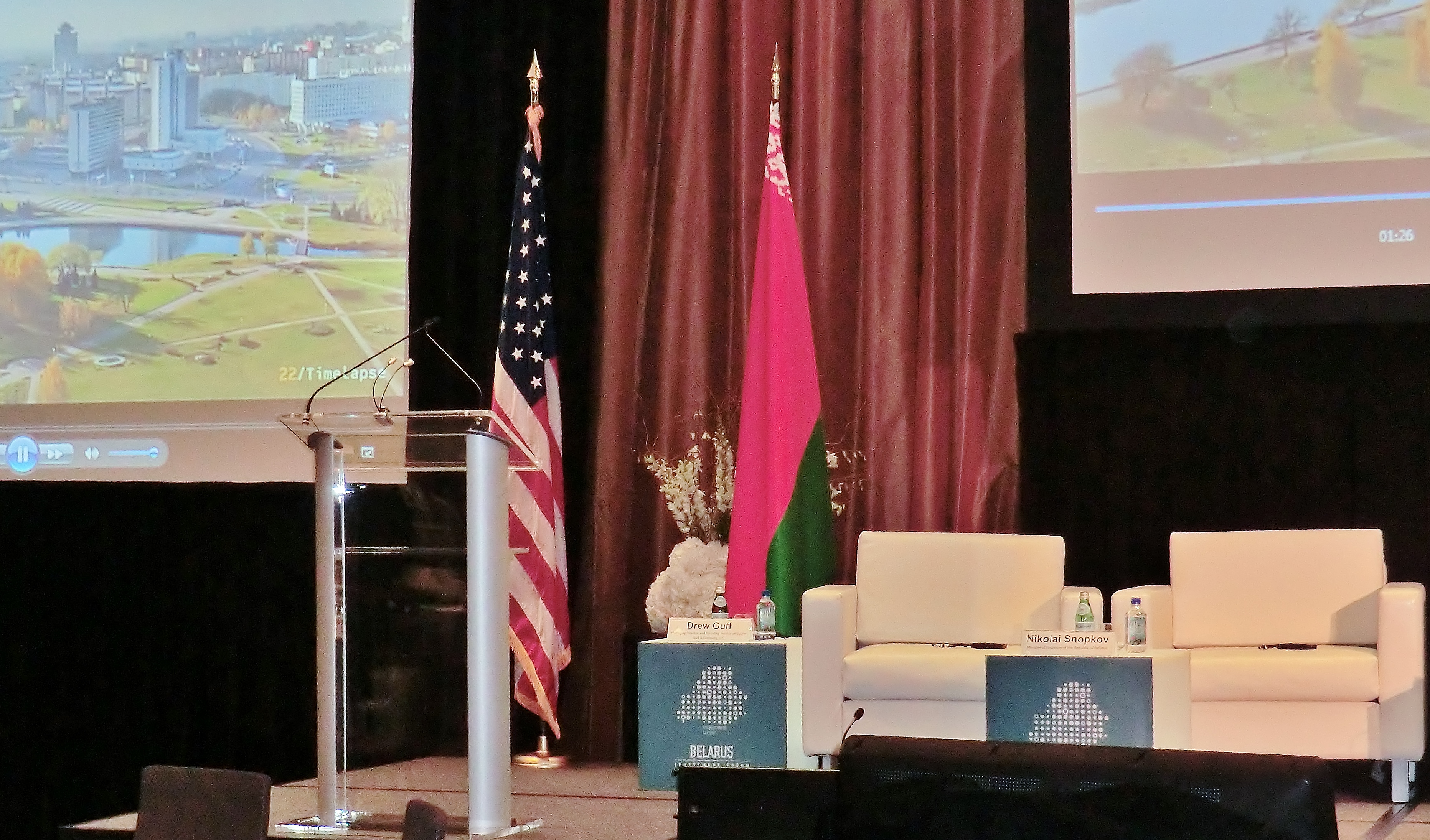 On September 22, the Belarus-USA Investment Forum was held at the Grand Hyatt hotel in midtown Manhattan. The forum featured speakers such as Belarusian Prime Minister Mikhail Myasnikovch, Economy Minister Nikolay Snopkov, Development Bank chairman Sergei Roumas, as well as Minsk-based High Tech Park Director (and former Belarusian ambassador to the United States) Valery Tsepkalo, who informed representatives of the US business community about Belarus's assets. Additionally, US investors who had already gained experience in Belarus shared their impressions, and one of them, Drew Guff, the managing director of Siguler, Guff & Co, even moderated much of the forum. Other American businessmen who presented at the event included Scott Lawson from Culligan International, Robert Pepper from CISCO, and Arkady Dobkin, the president of American high-tech firm EPAM, which is also a major company-resident at the High-Tech Park in Minsk (park.by, March 7, 2013). A common refrain of both Belarusian and US speakers during the Forum was that Belarus has highly skilled, while still relatively inexpensive labor force; government-assured contracts are reliable; the quality of the local infrastructure is high; taxes are low; a new business is easy to register; and the benefits of selling products and services within the entire Eurasian Union are promising (Author's observations, September 22).
While any direct consequences of the Belarus-USA Investment Forum are yet to be seen, the event could represent a breakthrough in US-Belarusian relations. The fact that Deputy Assistant Secretary of State Eric Rubin warmly greeted the participants while standing side-by-side with Prime Minister Myasnikovich gave some food for thought to analysts. After all, the US Congress extended the Belarus Democracy and Human Rights Act in 2012; travel restrictions on a number of Belarusian officials were reauthorized just in June 2014 (Belorusskie Novosti, June 11); and some Belarusian companies remain under economic sanctions. Furthermore, the two countries have maintained only small (five-person) embassy staffs headed by their respective charges d'affaires since March 2008. Against this backdrop, the investment Forum indeed looked like a breakthrough (Belorusskie Novosti, September 24).
Besides Rubin's participation, further evidence of such a breakthrough came from statements made by Myasnikovich in his opening speech. In particular, he expressed his belief in a big-time reset in the relations between Belarus and the US, arguing that the two countries would soon sign an agreement on mutual investment protections; and he noted that the two sides are negotiating the expansion of their embassy personnel (tut.by, September 22). Also, under discussion is a possible resumption of the International Monetary Fund's (IMF) credit line for Belarus (Belorusskie Novosti, September 24). The Belarusian analyst Andrei Fedorov provided a more restrained assessment of the Forum, but he agreed that Washington gave its stamp of approval to this event (Belorusskie Novosti, September 29).
Some analysts link the improvement of Belarus's relations with the West to Minsk's peacemaking role regarding the conflict in Ukraine. Such an opinion was effectively, if awkwardly, backed by Maira Mora, the head of the European Union's Delegation to Belarus. "Belarusians, you are peaceful people. Support your president so that there will be no more war in your neighboring country!" she exclaimed, during a September 22 talk show on Belarusian state-television channel ONT (Belorussky Partizan, September 26). Considering that President Alyaksandr Lukashenka is under European travel sanctions and that the EU continues to question his 2010 election, Mora's statement upset the Belarusian opposition. Consequently, she had to justify herself by saying that all she meant was Lukashenka's peacemaking activity, whereas the EU's stance regarding human rights in Belarus remains unchanged (Belorussky Partizan, September 26).
It seems, however, that Valer Karbalevich, of the Belarusian Service of Radio Liberty, is on target when he claims that the West's milder treatment of Belarus has less to do with Lukashenka's peacemaking effort, as with the change in Europe's geopolitical landscape resulting from the crisis in Ukraine. "During a sharp confrontation, when the relationship between the West and Russia becomes aggravated, geopolitics comes to the fore in international relations; whereas value-laden issues (human rights, democracy) become somewhat sidelined. When a big war looms, concern over political prisoners becomes less topical" Karbalevich said (svaboda.org, September 28). This was indeed the case in the wake of the Russian-Georgian war in 2008. Also, in 2010, the IMF increased its credit limit for Belarus precisely at a time when Russia reneged on its own loan promise.
Today, a somewhat downgraded replica of those same developments may be occurring as tensions emerge and disappear on Belarus's eastern flank. Now, Russia is ready to impose a natural resource tax on its oil producers, which will make oil more expensive for Belarus. As a result, in 2015, Belarus's losses will amount to $250 million and in 2017, to $370 million. Second, Russia has repeatedly declined Belarus's requests to deliver top-of-the-line military aircraft and weaponry. But whenever such a delivery is carried out, the respective equipment comes with the Russian personnel—as was the case with fighter jets now stationed in Baranovichy and in Bobruisk. In this regard, Alyaksandr Lukashenka insisted that Belarus must control the full production cycle of its armaments. "Nobody will give or sell to you even for big money what we need today—the prospective types of weaponry. Case in point is Ukraine," Lukashenka said on September 23 at a governmental meeting devoted to the development of new weaponry. While openly alluding to the "perfidy" of the North Atlantic Treaty Organization (NATO), in his usual less-than-subtle manner, he tacitly applied this analogy to Belarus's relations with its major partner and sponsor, Russia (Belorusskie Novosti, September 24).
Therefore, geopolitical maneuverings will, objectively speaking, remain the modus vivendi of the countries ensconced between the major centers of global power. And it is safe to say that resource-poor Belarus has, so far, succeeded in that art much more than its vastly better-endowed and bigger southern neighbor.