A TRAP FOR MEDVEDEV IN THE TNK-BP CONFLICT
Publication: Eurasia Daily Monitor Volume: 5 Issue: 120
By: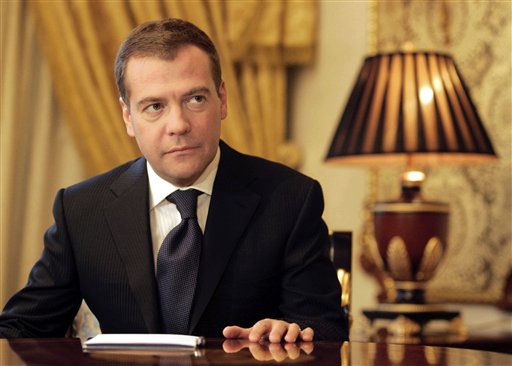 Political salons in Moscow are bubbling with rumors about President Dmitry Medvedev's liberal agenda, but in a peculiar way, with Russia's sports victories in ice hockey and football adding credibility to these expectations. Medvedev himself generates new hope daily, meeting tirelessly with all sorts of people from textile workers in Ivanovo to King of Spain Juan Carlos I to Henry Kissinger and missing no opportunity to emphasize his devotion to the rule of law (New Times, June 16; www.polit.ru, June 15). The promises to curb corruption may not be very serious and the initiative on an all-European non-aggression pact may be entirely irrelevant but the discourse on reducing the state's role in the economy is indeed refreshing (www.gazeta.ru, June 4). There is, however, one developing story that reminds us that the Russian economy operates with a very special code of conduct, the escalating conflict inside the TNK-BP oil company.
This company was established in early 2003 as a joint venture of British BP and a group of Russian owners but has never lived up to its initial promise of a model of partnership between Western energy "majors" and home-grown business. The TNK-BP has always had more that its fair share of being elbowed out of the most attractive projects, but since the start of this year the company has succumbed to a bitter internal quarrel driven by the expiration of the clause prohibiting any sell-out of shares (Ezhednevny zhurnal, June 18). Almighty Gazprom has expressed interest in acquiring a part of the third largest company on the Russian oil market, but the three Russian partners, Mikhail Fridman, Viktor Vekselberg and Leonard Blavatnik, have decided not to wait for the offer they would not be able to refuse. Their plan for a preventive strike apparently involved an option for exchange of the 50% stake in the TNK-BP for 7.6% of BP shares, but the British company would have none of that (Kommersant, June 16). Vexed by that rejection, the Russians have launched a noisy information war demanding the replacement of the TNK-BP CEO Robert Dudley (RBC Daily, June 19).
The substance of the accusations that Vekselberg and Fridman eagerly reveal to various newspapers does not quite justify the bitterness of the quarrel, but corporate conflicts often are less than entirely rational (Gazeta, June 17). What makes this one very particular, however, is the series of attacks from various "power structures," from the FSB to the Tax Service, which have specifically targeted the British part of the joint company. There was a "spy scandal" in March, then some visa violations were discovered, then Dudley personally was called for an "interview" by the State Prosecution, which last week reported about "minor administrative irregularities" (www.newsru.com, June 20). The perfect coordination of these investigations with the maneuvers of the Russian owners prompted Peter Sutherland, the chairman of BP, to complain about the "corporate raiding" that the authorities had no intention of checking: "This is bad for us, bad for the company, and, of course, very bad for Russia" (Financial Times, June 13).
Since the transfer of power in the Kremlin, comments from high-level officials have followed the line that the state has no position in this corporate conflict and puts no pressure whatsoever on the foreign investors. Most recently, Deputy Prime Minister Igor Sechin expressed satisfaction about a "positive movement" toward resolving the dispute without selling any part of the company (RIA-Novosti, June 20). Prime Minister Vladimir Putin, however, has taken a different approach and confided to French journalists that he had warned from the very start that the fifty-fifty scheme was a recipe for disaster since the company had to have a "master" (Le Monde, May 31). This essentially means that Gazprom would not be satisfied with the role of an equal partner and would demand control over the company's strategy.
Medvedev, in the meantime, has remained silent about this affair, understanding perfectly well that any expression of support for BP would be seen as "unpatriotic," while a "non-interference" statement could imply that he has no control over the over-zealous siloviki. In a similar way, he abstains from expressing any opinion in the suddenly emerged debate on restoring the elections of regional governors, perhaps assuming that a deviation from Putin's centralization would be too risky (Vremya novostei, June 19). The most sensitive case is certainly granting a pardon to Mikhail Khodorkovsky, and Chancellor Angela Merkel, greeting Medvedev in Berlin, made it clear that this awkward question would not evaporate. The problem here is that the stubborn prisoner maintains his innocence and, if set free, would start a campaign for releasing his associates, and if their cases would start falling apart in courts (emboldened by Medvedev's particular attention), many of Putin's particular friends would become very unhappy (Vedomosti, June 16; Ezhednevny zhurnal, June 19).
Finance Minister Aleksey Kudrin asserted that the conflict around the TNK-BP had not affected the investment climate in Russia, and the steady inflow of foreign capital kept the Russian stock exchange at record heights (RIA-Novosti, June 17). There are, nevertheless, signals that Medvedev's passivity is beginning to disappoint Western partners. One of the strongest was the recent demand from Germany to fix Gazprom's status as a "state trade organization" that would make it subject to special regulations in the World Trade Organization (Kommersant, June 19). The new president certainly needs time to strengthen his authority, but reshuffling ministers and aids is a far easier task than attempting to break the ties connecting the siloviki and Putin's oligarchs, like Fridman and Vekselberg (Nezavisimaya gazeta, June 18). Prominent presence on Russian TV screens is helpful but not sufficient for earning public confidence and at least a modicum of trust from Western counterparts, but Medvedev has already gone through the first half of his "100 days" with little to show in terms of deeds.