Abkhazia Seeks Membership in International Soccer Association
Publication: Eurasia Daily Monitor Volume: 13 Issue: 112
By: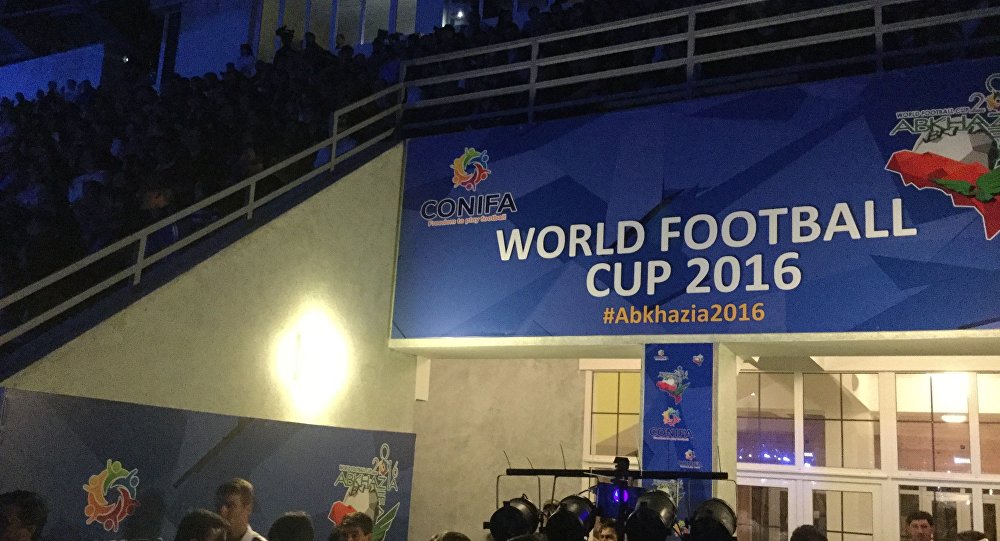 In late May–early June, the "world championship" of the Confederation of Independent Football Associations (CONIFA) took place in the breakaway Georgian territory of Abkhazia. Twelve soccer teams from internationally unrecognized territories participated. CONIFA is a federation of football associations that was established in 2013 (Sputnik-abkhazia.ru, May 28) and is made up of teams representing nations, dependencies, unrecognized states, minorities, stateless peoples and regions. CONIFA claims it does not "judge if our members deserve political independence. We want to put them all on the world map by showing their members and people to the world and give them the chance to represent themselves." It also says it is "100 percent neutral" politically (Conifa.org, accessed June 22). Territories such as Padania, which is the name often used by Northern Italian separatists, India's Punjab, Somalia's Somaliland, Northern Cyprus, and several others participated in the championship in Abkhazia (Ekhokavkaza.com, June 6).
Despite the claim to hold a depoliticized athletic contest, at least some members of CONIFA—certainly Abkhazia—regard it as quite political. Abkhazia's president, Raul Khajimba, closely watched the championship and announced June 6 to be a holiday after Abkhazia's team won (Kavkazsky Uzel, June 6).
A representative of Abkhazia, Dimitri Pagava, is the vice-president of CONIFA. The connection between politics and soccer also emerged when CONIFA decided to hold its European championship in Hungary. Hungarian authorities refused to issue visas for the Abkhazian and South Ossetian soccer teams. Moreover, they threatened to deploy the police if the players arrived in Budapest via other countries. In 2014, CONIFA held its European contest in Sweden, and teams from both breakaway Georgian regions, Abkhazia, and South Ossetia, managed to travel there and participate. Both the Abkhazian and South Ossetian "foreign ministries" condemned the Hungarian authorities for "politicizing" athletic events and barring their soccer teams from traveling to Hungary (Kavkazsky Uzel, June 17).
Abkhazia is hoping to gain greater recognition in the soccer world and become more credible on the international stage as a self-governing territory. Following the CONIFA championship in Sukhumi, the Abkhazian authorities appealed to the international soccer association, FIFA, to accept the territory into the organization. Abkhazian experts argue that it will be hard for FIFA to justify rejecting Abkhazia's claim for membership. Indeed, membership in FIFA has not perfectly coincided with the nationhood of its members. Currently, 209 associations are members of FIFA, while only 193 countries hold membership in the United Nations. The United Kingdom has traditionally been represented by four separate soccer associations in FIFA—England, Northern Ireland, Scotland and Wales. More recent cases have also caused controversy among FIFA's members. Kosovo and Gibraltar recently became members of the organization, despite the fact that neither Kosovo nor Gibraltar is a UN member. Gibraltar is still a territory hotly contested by Spain and the UK. An autonomous region of Denmark, the Faroe Islands, also is a member of FIFA, even though it is not an officially recognized independent country (Onkavkaz.com, June 13).
Granting Abkhazia membership in FIFA, however, would open a Pandora's box in the Caucasus region. South Ossetia, Karabakh and Russian republics in the North Caucasus could also potentially seek FIFA membership. Hence, Abkhazia's patron, Russia will probably stand against granting Abkhazia such rights.
Following the short but bloody war between Russia and Georgia in August 2008, Abkhazia has so far been recognized only by Russia, Venezuela, Nicaragua and Nauru—after Tuvalu and Vanatu retracted their recognition. Georgia and its Western allies have strongly opposed legitimizing the breakaway Georgian territories. Russian-Abkhazian relations are also quite complicated. Having recognized Abkhazia and South Ossetia as "independent" states, Russia soon began a slow-motion process of annexing them that it believed would not draw the same attention of the international community the way Crimea's annexation did in 2014. In 2015, Moscow signed special treaties with Abkhazia and South Ossetia that paved the way for gradually depriving the two territories of their military and police forces. Although both resisted the change and softened the initial Russian proposals, Moscow indicated that it intended to press ahead with annexing Abkhazia and South Ossetia. Under Moscow's pressure, the South Ossetian authorities decreed holding a referendum in 2017 on accession to the Russian Federation. Abkhazia's Prime Minister Artur Akvabia recently reiterated that Abkhazia would not hold a referendum on accession to Russia, and the Abkhaz president's spokesperson confirmed that the republican authorities "did not discuss the question of holding a national referendum on joining Russia" (Nation-news.ru, June 10).
As one of the most popular sports in Europe, soccer and membership in soccer associations have an impact on politics, and soccer is inevitably a political sport. Abkhazia's quest for greater recognition by international organizations, however, is likely to be thwarted not only by Georgia and the West, but by Russia, which certainly would not like to see its North Caucasian republics follow the lead of Abkhazia in gaining greater international visibility.