Afghan General Abdul Rashid Dostum Meets With Ramzan Kadyrov in Grozny
Publication: Eurasia Daily Monitor Volume: 12 Issue: 183
By: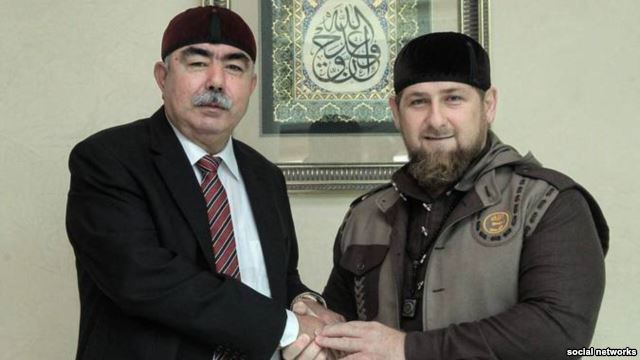 The vice president of Afghanistan, General Abdul Rashid Dostum, made an unexpected visit to Grozny earlier this month. Dostum attended celebrations for the birthday of Chechnya's ruler, Ramzan Kadyrov, surprising all analysts who follow developments in the North Caucasus (Ridus.ru, October 5). The official press release said that the two men discussed "issues pertaining to economic, trade and cultural cooperation." Precisely what types of goods would be traded between Chechnya and Afghanistan was not disclosed. It is also unclear what a cultural exchange between Chechnya and Afghanistan would entail. However, news reports quickly changed after Kadyrov stated he was prepared to help Afghanistan fight terrorists. Russia's foreign ministry stated that Chechnya set a good example for volatile Afghanistan, which has been torn by conflict for decades.
Dostum is a highly controversial figure in Afghan society. The fact that he studied in the Soviet Union and started his career as an agent of the Afghan KGB under Afghanistan's pro-Soviet government has probably had an impact on his present behavior. Dostum made alliances with a variety of other leaders and later abandoned and betrayed them at his convenience. The general created a special zone in his ethnic stronghold in Afghanistan's Jowzjаn province, which is populated by Uzbeks and not controlled by Kabul. In 2014, Dostum embarked on a series of secret visits to Uzbekistan and Kazakhstan in an attempt to find allies in anticipation of the withdrawal of the United States' forces from Afghanistan (see EDM, March 10, 2014). Some experts fear the country could fall apart along ethnic lines after US troops leave (Regnum, January 31, 2014). Dostum most likely found a way to Vladimir Putin via official channels in Astana. Officials in Moscow, however, must have decided that he should first meet with Kadyrov before developing closer relations. In an interview with a Russian TV channel, Dostum said that his visit to Chechnya was interesting and helpful because Kadyrov "has a close relationship with Mr. Putin" (Lifenews.ru, October 5).
At the meeting with Dostum, Kadyrov emphasized that his government paid special attention to combatting terrorism in general and the Islamic State in Syria and Iraq in particular. Chechnya's governor lined up his special forces for Dostum in Grozny (Instagram.com, October 6). During his meeting with Kadyrov, Dostum said the Islamic State was trying to gain a foothold in Afghanistan (Kavkaz.versia.ru, October 5). Russian media portrayed Dostum's statement as if Kabul was asking for Russian assistance to prevent the Islamic State's expansion. Kadyrov said he was confident that Russia's leadership would extend support to the Afghan government (Rosbalt, October 5). The Afghan visitor tried to be diplomatic in his statements and said that "Russia and the US must leave aside their minor differences and try to prevent this conflict by political means" (Regnum, October 5).
Moscow does not emphasize this side of Kadyrov's activities, but for the past two or three years, the governor of Chechnya has become an intermediary connecting Moscow and the Islamic world. First the war in Afghanistan, followed by two wars in Chechnya, dramatically diminished Moscow's influence in the Arab and Muslim world due to the brutality of their "cleansing operations." The Kremlin values Kadyrov for advancing Moscow's interests among Arab countries. Chechnya's leader maintains close relationships with various Arab leaders, including the Saudi royal family. He also has friendly relations with the emirs of the United Arab Emirates and Qatar. The Chechen leader calls his relations with the King of Jordan "brotherly." Senior Middle Eastern officials often stop off in Grozny on their way home from Moscow. Kadyrov is allowed to do many things that his neighbors cannot even dream of. He frequently opens mosques, hafiz schools and madrassas. He also introduces dress codes and behavior codes for the republic's Muslims. The arrival in Grozny of an Afghan general of Uzbek origin and with a Soviet background can best be interpreted as part of Moscow's bid to revive ties with the Muslim world that were lost in previous decades.
Moscow is signaling that the tripartite union of Russia with Bashar al-Assad's regime and Iran is open to other members. Afghanistan, North Korea or even far-away Venezuela could also join. Russia's leadership is also trying to show the Russian population that the country is a global power and that no problem in the world can be solved without taking Russian interests into account. Moscow could be contemplating the notion of deploying Kadyrov's Chechen special forces for a ground operation in Syria to work alongside Russian forces operating there. Ramzan Kadyrov is prepared to send his special services (see EDM, September 18, October 8). However, this step will certainly deepen the conflict in the Middle East and alienate the region's Sunni Arab majority from Moscow.