Afghanistan Deployment puts Germany in al-Qaeda's Crosshairs
Publication: Terrorism Focus Volume: 6 Issue: 3
By: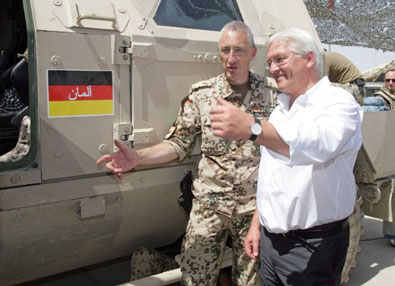 Speaking in accented but fluent German, Abu Talha al-Alamani made al-Qaeda's most direct threat to the German nation yet in a recent video, saying that Germans were "naive and gullible" if they thought they could "emerge unscathed" from being the third-largest troop provider in the NATO alliance in Afghanistan (al-Faloja.info, January 19). The video, released by al-Qaeda's al-Sahab media wing and entitled "Das Rettungspaket Fuer Deutschland" (The Rescue Package for Germany), first emerged on jihadi websites on January 17 (though it is dated October 2008). The video showed a turbaned individual identified as Abu Talha al-Alamani (Abu Talha the German) brandishing weapons in a rocky environment, before switching to a direct picture of him preaching to the camera. In the half-hour video, Abu Talha declares that it has been his "wish to blow myself up for Allah since 1993," and provides a nuanced overview of the German political environment highlighting the nation's involvement in Afghanistan. [1] Germany currently provides over 3,300 troops to the International Security Assistance Force (ISAF) in Afghanistan and has agreed to increase the size of its deployment to 4,500 troops.
The speaker in the video was identified by Germany's Interior Ministry as Bekkay Harrach, a 31-year-old Moroccan-born German citizen from Bonn who is a long-term jihadi. Injured by Israel Defense Forces in the West Bank in 2003, Harrach has been in a training camp in the Afghanistan-Pakistan border region since 2007 and was already on the radar of the Bundesnachrichtendienst (BND, the German external security service) (Der Spiegel, January 24; Bild, January 19). German authorities have verified that they believe the recording is authentic and stated that Harrach is believed to be in contact with the higher echelons of al-Qaeda, with further contacts to militants in Frankfurt, Brunswick, and Ulm (Munich Focus Online, January 22). There are reports that Abu Talha is part of the cross-border Haqqani Network, living in Waziristan under the personal protection of Siraj Haqqani, noted for his extensive use of suicide tactics (Spiegel Online [Hamburg], January 25). As Interior Ministry State Secretary August Hanning put it, Harrach is a "very serious Islamist" and the direct targeting of Germany in this way "is a cause for concern" (AFP, January 20, 2009).
The video release came as a suicide car bomber struck near the German Embassy in Kabul, killing four civilians and an American soldier. In a subsequent claim of responsibility, the Taliban declared that the mission was carried out by a local named Shum-ul-Rahman and claimed that the attacker was targeting vehicles carrying German forces near the Embassy (Dawn [Karachi], January 17; Daily Times [Lahore], January 17, The Times, January 18). An unspecified number of suspects in the Embassy attack were seized in overnight raids on January 23 by Afghan troops supported by ISAF forces (AFP, January 23).
In propaganda terms, Germany has long been a rhetorical and ideological target for other groups based in the Pakistani border regions. The Islamic Jihad Union (IJU), an off-shoot of the Islamic Movement of Uzbekistan (IMU), has been operating out of Waziristan with direct tentacles into Germany. [2] The group releases videos with German, Russian, Uzbek, Turkish, and Arabic translations and has claimed responsibility for a group of plotters called the "Sauerland Group," who were arrested in Germany in September 2007 while planning a bombing campaign timed to coincide with a Bundestag (German Parliament) vote on whether to extend the German military's mandate in Afghanistan (Der Spiegel, September 4, 2008; and see Terrorism Monitor, November 8, 2007). A few months later, the group also claimed responsibility for sending young Turkish-German Cüneyt Ciftci to carry out a suicide bombing that killed two U.S. soldiers in Afghanistan (Der Spiegel, March 15, 2008). Another German convert active with the group, Eric Breininger (who was a roommate to one of the Sauerland plotters), has released videos taunting the German intelligence services who claimed that he was on his way back to Germany to carry out an attack (Bild, September 26, 2008). Breininger (a.k.a. Abdul Ghafar al-Alamani) remains at large.
More recently, in the week before Harrach's video surfaced, the IJU released another video which showed forces fighting in Afghanistan, including an attack on a helicopter. In the same week, a further video was issued by the IMU in German, in which four individuals who appeared to be Arab and spoke good German called upon their German brethren to come and join the fight in Afghanistan. Since the release of Harrach's video, al-Sahab has re-released a previous video showing the June 2008 attack on the Danish Embassy in Islamabad with German subtitles. A recent statement from the German Ministry of the Interior warned, "Attacks in Afghanistan are increasingly targeting Germans. Germany is being named more and more in warnings published on the Internet. The latest threat explicitly warns Germany only" (AFP, January 18).
This rhetorical escalation comes as more details emerge of the threat to Germany from al-Qaeda and affiliated groups in the Afghan-Pakistan region. The IJU's increased use of German in videos, the presence of German nationals (both converts and second generation immigrants of Turkish or Arab descent), and clear evidence that a network appears to exist to send individuals back and forth from Germany to "jihad lands." The connective tissue between these young Germans and al-Qaeda's core has been provided by individuals like 45-year-old Pakistani-German Aleem Nasir, who is currently on trial in Germany on charges of supporting terrorism. Nasir was picked up by Pakistani intelligence services while seeking to board a plane back home from Lahore on June 18, 2008, and claims he was beaten in Pakistani custody (Pak Tribune, August 31, 2007; IHT, September 23, 2007). Nasir has also been identified as Bekkay Harrach's contact with al-Qaeda (Der Spiegel, January 24).
For German authorities, the specter of the 2004 Madrid bombings hangs in the air. In that instance, al-Qaeda claimed a strategic victory when they ascribed the defeat of the Aznar administration (which had sent Spanish forces into Iraq) by the current Zapatero administration (which subsequently withdrew the forces in line with a campaign promise) to the Madrid bombings. Public reaction to terrorist attacks can be unpredictable and the known public antipathy in Germany to their forces' deployment in Afghanistan is something that al-Qaeda has likely identified as a possible target. With this new targeting of a German audience by al-Qaeda's media wing, rather than the IJU's, the pressure is clearly being ratcheted up further.
Notes:
1. For a complete open source translation, please see: https://www.nefafoundation.org/<wbr></wbr>miscellaneous/FeaturedDocs/<wbr></wbr>nefasahabgerman0109.pdf.
2. For a detailed analysis of the IJU, please see, Guido Steinberg, "The Islamic Jihad Union," SWP Comments, (German Institute for International and Security Affairs – Stiftung Wissenschaft und Politik), April 2008: https://www.swp-berlin.org/en/<wbr></wbr>common/get_document.php?asset_<wbr></wbr>id=4883.