After APEC Summit in Vladivostok, Moscow Declares War on EU
Publication: Eurasia Daily Monitor Volume: 9 Issue: 166
By: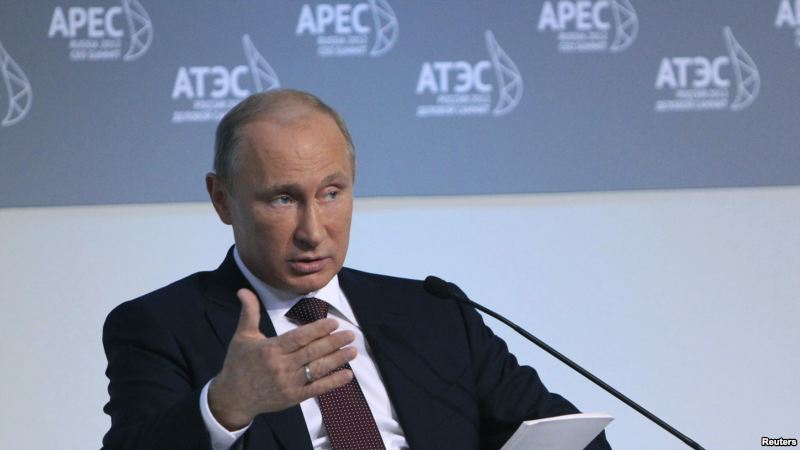 The Asia-Pacific Economic Cooperation (APEC) forum summit last week in Vladivostok has been declared to have been a resounding success in Moscow. The Kremlin has been criticized by the Russian press for spending well over $20 billion on hosting the APEC forum to show off to foreigners. At the same time, local authorities have been accused of massive misappropriations of funds to build roads, bridges, hotels and a brand new local university campus on Russky Island opposite of Vladivostok, used to accommodate delegations and journalists during the forum (Vedomosti, September 3). At a press conference after the APEC summit in Vladivostok, President Vladimir Putin dismissed accusations of overspending as false, announcing that some $10 billion were spent to build a gas pipeline from Sakhalin Island to Vladivostok; the rest was used to build much needed infrastructure in Vladivostok itself (Kommersant, September 10). Indeed a lot has been built in Vladivostok recently, though the quality of the newly erected infrastructure has been questionable: according to journalists in the Russky compound, which will soon be handed over to the university, roofs leaked and doors refused to open properly (Izvestia, September 9).
President Barack Obama skipped the APEC summit because of the Democratic Party National Convention and sent US Secretary of State Hillary Clinton instead, who had private meetings with Putin and Foreign Minister Sergei Lavrov. Both sides seemed to have tried to put some positive gloss on their bilateral relationship: Contentious issues like the proposal to introduce a targeted visa ban and the asset freeze for Russian officials "responsible for the detention, abuse, or death of Sergei Magnitsky" were not, according to Putin and Lavrov, discussed in talks with Clinton (Kommersant, September 10). Last month, Russia has officially become a member of the WTO, and in public statements both Putin and Clinton emphasized the need to fight protectionism in international trade. This was something of a novelty, since for many years Putin has been a champion of protecting the Russian internal market against foreign competition by levying hefty tariffs (Kommersant, September 10).
The overall theme of the commentary in the Moscow press was that Russia is turning away from the West, which is in crisis, and reorienting toward the Asia-Pacific region where the economy is growing (Kommersant, September 10). At the APEC summit, Putin accused the European Union of attempting to force Russia to subsidize Central European (former Communist) nations by cheap gas "to maintain United Europe's political influence." Gazprom's gas export chief, Alexander Medvedev, followed the president's statement by branding the EU Commission as "thieves." The Commission had on September 4 announced an official probe into the natural gas giant Gazprom for alleged abuse of its dominance of the European gas market. The Commission suspects Gazprom of hindering the free flow of gas by dividing markets, of "[preventing] the diversification of the supply of gas," and linking oil and gas prices in long-term contracts. If Gazprom is found guilty, which is highly probable, the gas monopoly may face a multi-billion dollar fine and may be forced to abandon its abuse-of-dominance practices, which may in turn be costly. Linking gas prices to oil and not to the natural gas spot market allows Gazprom to charge extremely high prices under long-term contracts that force consumers to buy or be penalized (Kommersant, September 12).
The Kremlin has decided to fight the EU on Gazprom's behalf, and this week Putin apparently hurriedly signed an ukaz forbidding Gazprom or any other state-controlled Russian corporation, officially listed as "strategic" and performing business abroad to cooperate with foreign regulators or provide them with any information. The decree also prevents such "strategic" Russian companies from changing the prices it charges and buying or selling any assets without the Russian government's official approval. According to the ukaz, the Russian authorities may forbid these "strategic" corporations "or their subsidiaries" from giving out information, changing contracts, and selling or buying assets, "if this could harm Russian economic interests." Gazprom CEO Alexei Miller announced that European companies asking Gazprom to discount the price of gas "must not ask us anymore," while Putin declared: "Asia is awaiting us" (Kommersant, September 12).
A de facto gas war on the EU seems to have been declared. The Russian government intends to directly negotiate export gas prices and demand political concessions for any discounts. Minster of Energy Alexander Novak has demanded that Moldova officially denounce its ratification of EU energy agreements, or no gas price discount will be possible. Moscow wants Chisinau to join the Customs Union of Russia, Belarus and Kazakhstan and get a gas price discount "as Belarus [did]," or else face the present price of $392 for 1000 cubic meters of gas—much higher than present spot prices in Western Europe (Kommersant, September 13).
Putin's ukaz concerns not only Gazprom but many other state-controlled "strategic" corporations like Rosneft, Zarubezneft, Transneft, the airline company Aeroflot, VTB bank, the Sovcomflot shipping company and many others that now cannot reply to apparently any information requests by foreign regulators or comply with their demands without specific government approval. Former Deputy Finance Minister and First Deputy Central Bank Chairman (now member of the board of Aeroflot) Sergei Aleksashenko has written in his blog that Putin's ukaz is unreasonable; that the cumbersome Russian government will drag its feet to approve the prompt release of any information, not knowing how Putin may react; and that VTB or Aeroflot foreign operational licenses may soon be in jeopardy (https://saleksashenko.livejournal.com/162185.html). Putin's ukaz apparently disregards international agreements signed by Russia, as well as its own national legislation (Kommersant, September 12).
For Putin, Gazprom's monopoly over gas supplies to Europe, and specifically to neighboring former Soviet nations he evidently hopes to once again dominate, is essential. The abuse-of-dominance probe is apparently seen in the Kremlin as part of a bigger conspiracy to undermine Gazprom as a tool of Russian dominance and is seen in conjunction with plans to channel Turkmenistani and Azerbaijani gas to Europe through the South Caucasus and Turkey (see EDM, September 11). Putin seems ready to severely push back. Gas supply shutoffs to Europe may follow, as may an invasion of the South Caucasus to change the regime in Georgia and, by implication, take over control of all existing or prospective oil and gas pipelines from Central Asia or the Caspian leading into Europe that bypass Russia.