Al Qaeda's Nuclear Scientist? The Case of Adlene Hicheur
Publication: Terrorism Monitor Volume: 7 Issue: 32
By: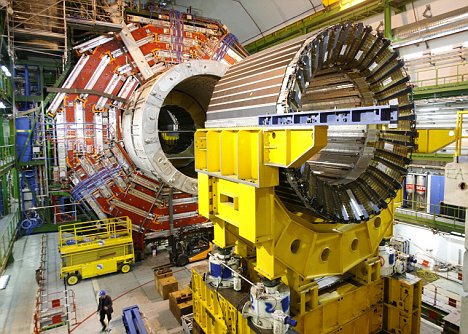 Amidst much furor, French anti-terrorism judge Christophe Tessier announced that year-old Algerian-French scientist Dr. Adlene Hicheur had been brought up on charges of "association with terrorists" on October 12. Allegedly in contact with al-Qaeda's North African affiliate, al-Qaeda in the Islamic Maghreb (AQIM), Dr. Hicheur was arrested with his 25-year old brother (later released) in Vienne, France on October 8 after an 18-month investigation headed by France's internal security service, the Direction centrale du renseignement intérieur (Central Directorate of Interior Intelligence – DCRI) (Le Monde, October 14).
A scientist involved in the Large Hadron Collider project (also known as the European Organization for Nuclear Research or CERN), Dr. Hicheur's arrest was met with a wave of speculation in the press that he might be at the center of a nuclear-focused al-Qaeda plot. [1] In an attempt to dampen such speculation, CERN published a press release which admitted that Dr. Hicheur was an employee, but categorically stated: "CERN does not carry out research in the fields of nuclear power or nuclear weaponry." [2]
The investigation into Dr. Hicheur was apparently initiated as a result of an American tip which had turned up on the periphery of a separate investigation into Afghan support networks in France (Le Monde, October 14). Having been alerted, the DCRI launched an extensive bugging operation tracking Hicheur's online activity to a degree described by the former Interior Minister as being on a par with "reading over someone's shoulder" (Independent, October 11). In his email traffic, watchers noticed messages apparently passing from Dr. Hicheur to known high-level contacts in AQIM in which he offered to assist them in plotting in France, though it was unclear whether these offers had anything to do with his work at CERN (Le Figaro, October 11).
Born in Seif, Algeria in 1976, Dr. Hicheur's family moved to France when he was two. A bright pupil, he obtained a Ph.D. in particle physics in 2003 from the University of Savoie in Annecy, France, which involved research in 2002 at Stanford University in the United States (Le Monde, October 14). British intelligence agencies investigated his possible links in the UK after a period of employment in 2005 at the sensitive Rutherford Appleton Laboratories in Oxfordshire and trips to universities in London, Manchester, Durham, Edinburgh, and St. Andrews (Times, October 13). Investigations into the case continue, though there has been some level of tension within the French security establishment that the arrest may have been premature, potentially driving Dr. Hicheur's contacts in AQIM underground before they can be intercepted.
As speculation around his "nuclear" connections died down, focus instead turned to the fact that a seemingly well integrated member of French society could be attracted to AQIM's violently anti-Western rhetoric. Unlike many of the other individuals incarcerated or otherwise detained in France on terrorism charges, Dr. Hicheur was a prominent and active member of the European scientific community, respected by his colleagues and part of a large, religious and well integrated family. In his home of Vienne, France, he was apparently held up as something of a local celebrity thanks to his impressive academic achievements.
While the man described by colleagues as a "shy but brilliant young physicist" has reportedly confessed to some level of activity to French investigators, his family continues to protest his innocence, including his older brother Hashim who gave an interview to the academic journal Nature in which he stated that the high volume of email traffic back and forth with Algeria is normal for a family which retains deep connections to their homeland. He also stated that a recent large money transfer was intended for the purchase of land in Algeria, but was the likely cause of police interest in his brother (Nature, October 14). While the outcome of the case remains uncertain, the evidence of AQIM activity and the charge that a seemingly well-integrated member of French society could be so deeply involved in terrorist activity suggests that France remains at risk to al-Qaeda affiliated networks.
Notes:
1. As established in 1954, the original name of the organization was Conseil Européen pour la Recherche Nucléaire (CERN). Though this was soon changed to Organisation Européenne pour la Recherche Nucléaire, it was decided to retain the original acronym, CERN.
2. CERN Press Release, https://press.web.cern.ch/press/, October 12, 2009