Al-Shabaab Leader's First Audio Message Suggests Morale Is Low Among Somali Militants
Publication: Terrorism Monitor Volume: 14 Issue: 16
By: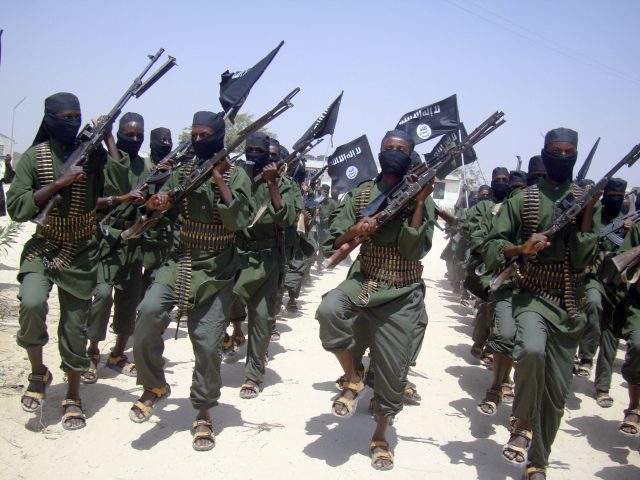 After nearly two years of silence, al-Shabaab leader Sheikh Ahmad Umar Abu Ubaidah has released his first audio message, a fiery rant that appears aimed at motivating his beleaguered fighters as they battle African Union (AU) troops in southern Somalia.
The 44-minute audio recording, released on July 12 in time for the Eid al-Fitr holiday, comes nearly two years after Umar took over as emir of al-Shabaab.
Delivered in Somali and titled "Sharia or Martyrdom" (two areas supposedly highly valued by al-Shabaab members), the message has been widely circulated on social media and broadcast on Radio Andalus, a channel associated with the militant group.
The message singled out the African Union Mission in Somalia (AMISOM), the firepower of which has been destroying the group's bases, killing thousands of fighters and sending others fleeing across the southern region. Umar also specifically threatened Turkey, the first time the country has been explicitly named as an enemy in a media message from the Somali militants.
Ahmad Umar Abu Ubaidah
Umar, a member of the minority Dir clan, is believed to be in his early 40s and is known to be a hardliner within the movement (WardheerNews, September 10, 2014). He was born in the Kalafe area of the Ogaden region before moving to southern Somalia, where he helped establish Islamic schools. He also served as al-Shabaab's governor for the Bay and Bakool regions (Somali Current, September 6).
A religious hardliner who goes by a number of aliases, including Ahmad Diriye and Abu Ubaidah, Umar took over the leadership of al-Shabaab following the death of the group's supreme leader, Ahmed Abdi Godane, on September 6, 2014. Godane, a supporter of global jihad, had been killed in a U.S. airstrike a few days earlier (Daily Nation, September 5, 2014). The statement declaring Umar as the new leader of al-Shabaab and also restated al-Shabaab's allegiance to al-Qaeda leader Ayman al-Zawahiri.
Before he gained the leadership, Umar was a little known cleric and allegedly a member of the amniyat, a secret intelligence group Godane formed to expose and eliminate dissidents within al-Shabaab. He is also believed to have participated in a purge of dissidents ordered by Godane.
While analysts expected the cleric to leap into the saddle with his finger on the trigger, there was an uncomfortable silence in the weeks and months following his appointment, sparking speculation that the poorly educated cleric lacked the leadership skills to establish himself (Sabahi, October 31, 2014).
In 2015, the United States offered a $6 million bounty for information that could lead to the capture of Umar (Hiiraan Online, November 11, 2015).
Taking on Turkey
In his message, Umar referred to Turkey as the "enemy nation." He charged that Turkey had invaded Somalia economically and brought about economic collapse. Turkey's aim, according to Umar, is to keep the war-torn horn of Africa nation in poverty.
Umar's attack on Turkey is a result of increased Turkish involvement in Somalia. Turkey has significantly increased its activities in the country, funding reconstruction work and providing aid for thousands of people displaced by the fighting.
In June, Turkish President Recep Tayyip Erdogan travelled to Mogadishu as part of an African tour, where he signed key investment deals with the Federal Government of Somalia and opened one of the country's largest embassies (Daily Nation, July 13). Al-Shabaab appears to have taken exception to these actions, with the group consequently heightening its attacks on Turkish interests in the country.
A day before Erdogan's arrival in Mogadishu, suicide attackers, believed to have been sent by Umar, blew-up a vehicle near a hotel where Turkish delegates were staying. Two police officers were killed in the attack, their deaths claimed by the group. (Somtribune, June 2, 2016)
Earlier this year, gunmen from the militant group opened fire on vehicles transporting doctors, killing two Turkish and three Somali medics.
Al-Shabaab has targeted Turkish interests before. In 2013, al-Shabaab militants drove a vehicle loaded with explosives into a business premises accommodating Turkish embassy staff. The attack, claimed by the group, left three people dead (Africa.tvcnews.tv, July 28, 2013).
Weakened but Still Deadly
In his audio message, Umar also turned his attention to AMISOM, describing the AU troops as an occupying force, invaders and "Christian crusaders" that Somalis had accepted only after being "deceived" by the international community into believing it was a peacekeeping force. He added that the troops aim was to plunder Somalia resources.
AMISOM's 22,000-strong force includes a police unit, but the main military component is made up of 5,432 troops from Burundi, 1,000 from Djibouti, 3,664 from Kenya, 850 from Sierra Leone, 4,395 from Ethiopia and 6,223 from Uganda. It is the biggest combat force ever deployed by AU, and it has a number of successes against al-Shabaab in the nine years it has been deployed.
Until AMISOM's intervention in 2007, al-Shabaab had controlled large swathes of central and southern Somalia, including strategic towns and ports on the Indian Ocean, which allowed the group to earn revenue (Namibian Sun, September 30, 2015).
Al-Shabaab's major sources of income include taxation and extortion in the areas and towns it controls. With territorial control came control of commerce, illegal charcoal export, and import of contrabands through the seaports. Relief agencies working in Somalia have also been targets in the group's extortion rackets. Al-Shabaab also receives contributions through the hawalas (an informal system of transferring money) and support of groups following a similar Islamist ideology, such as, al-Qaeda (Kenya Today, September 30, 2013; SomaliaReport July 24, 2011).
Weakened by persistent AMISOM attacks, as well as its own internal divisions, al-Shabaab has lost ground, including strategic towns and seaports along the Indian Ocean like the lucrative port of Kismayo. The loss of these towns has been a big blow to the group's finances (New Vision, December 1, 2015). It has also been hit by desertions, in particular by foreign fighters who are have recently been leaving to join Islamic State (The Star, April 28).
Now, it can be argued the group is feeling the squeeze, as AMISOM troops take control of the towns, cutting off trade routes and ending the illegal taxation system in its towns (Daily Nation, July 7, 2014).
Suicide Attacks
Nonetheless, with Umar at the helm, al-Shabaab has executed some of its most deadly attacks. It has turned to suicide and surprise attacks on government interests and allies, with a fair degree of success (Shabelle News, July 13; Daily Nation March 10).
Al-Shabaab's suicide attacks have been concentrated in the capital Mogadishu, where AU troops forced out al-Shabaab fighters in 2011. In the latest incident, a twin car bomb attack killed 13 people near the entrance of Mogadishu's airport on July 26. At present, an attack occurs in the capital nearly every day (Africanews, July 26, 2013).
In July 2015, nearly a year after gaining the leadership, Umar made public his intention to escalate al-Shabaab attacks beyond Somalia, just like his predecessor Godane. In an Eid message in July 2015, he called on new recruits to help "lift the pain of Muslims" across East Africa (eNCA, July 17, 2015).
He had warned that the "mujahedeen's swords" were drawn and welcomed attacks against the enemy countrywide, but called for further attacks against the "infidels." He singled out Kenya, warning of further attacks and promising that the militants would continue to help their brothers living under "colonization" in Kenya.
This is also the first time he mentioned the Garissa University College attack, one of the most deadly in Kenya's history. Umar praised the attack in which four militants armed with AK47s stormed the college, killing 148 people, the majority of them Christian students. He sought to justify the attack, calling it revenge for what he claimed was the organized killing of Muslim clerics and disappearance of Muslim youth in Kenya (eNCA, July 17, 2015).
Tactical Shift
Despite AMISOM's hard-won gains, al-Shabaab has seen some recent successes, due in part to a change in its tactics. About a year ago, al-Shabaab started using vehicle-borne improvised explosive devices (VBIEDs) to breach AMISOM camps. The strategy was first seen June 2015, when al-Shabaab successfully broke into a base manned by Burundian soldiers in Lego village, in Lower Shabelle region. Similar attacks have since been used to target bases hosting Ugandan, Kenyan, and Ethiopian troops.
The latest raid on foreign troops occurred in June of this year, when the militants targeted an Ethiopian army base in Halgan, in Hiran region, central Somalia. The group claimed it had killed 43 Ethiopia soldiers, while Ethiopia claimed it killed more than 100 jihadist attackers (The Star, June 9).
The attack started after suicide bombers exploded a VBIED at the entry into the base, allowing fighters to make their way into the base (The East African, June 9). The group has used the strategy on a number of earlier occasions, including in a devastating attack in January, when between 70-100 militants used vehicles loaded with explosives to over-run a Kenyan base in El-Adde in southern Somalia. The attack, which the militants executed in three waves, is believed to have killed more than 100 soldiers, although Kenya has never made public the number of soldiers killed. Kenya's intelligence agents have, though, drawn parallels with the recent Paris attacks, Libya, and the Westgate attack from 2013 (The Standard, January 21). The vehicle used in the attack is believed to have been looted during the attacks on Burundi and Ugandan bases the year before.
A Ugandan camp in Jenale was targeted in September 2015, with reports indicating more than 50 soldiers were killed. Al-Shabaab claimed that more than 70 people were killed in the attack. The militants again used a suicide car bomb to ram the base, and then they sent in more than 200 militants to overrun the camp (Daily Nation, September 2, 2015; Observer, September 2, 2015).
In the Burundi attack, an estimated 45 Burundian soldiers were killed. AMISOM confirmed that attack in which the groups said it had confiscated vehicles and heavy weapons (Radio Dalsan, June 26, 2015).
Protracted Conflict
Al-Shabaab has been weakened and dispersed by AMISOM, but it is not yet defeated. The group remains dangerous and the conflict with AMISOM will be bloody and protracted, with some warning it could last more than three decades (New Vision, March 7).
Al-Shabaab's use of suicide bombers, roadside Improvised Explosive Devices and VBIEDs has delivered some recent successes for the group, although AMISOM's own weaknesses, including underfunding and an inadequate command structure, may have contributed to these success (Africa Review, January 24).
The unexpected release of Umar's recorded message is possibly an attempt by the militant leader to capitalize on these recent successes, and an attempt to inspire further attacks. Given Umar's earlier two-year silence, it may also be a tacit acknowledgement that, after substantial territorial losses at the hands of AMISOM, the morale of his fighters has been in decline.