Al-Zawahiri's Pakistani Ally: Profile of Maulana Faqir Mohammed
Publication: Terrorism Monitor Volume: 4 Issue: 3
By: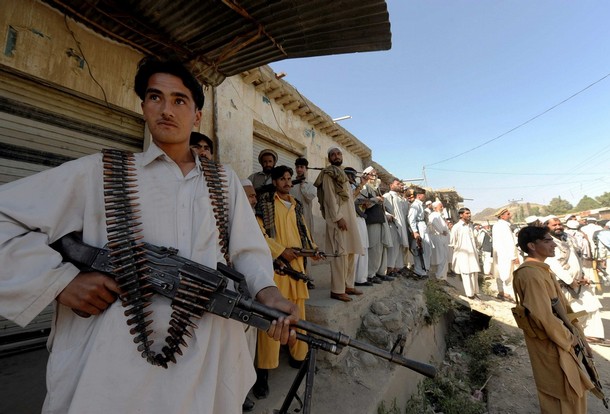 Maulana Faqir Mohammed was catapulted into prominence last year when his house was raided by Pakistani security agencies hunting a "high value" al-Qaeda target. In the span of seven months, a combination of public sympathy, treacherous local terrain and the intensifying insurgency in Afghanistan has raised Faqir Mohammed into a position of leadership in the Bajaur Agency. Mohammed's house was raided again on January 22 by Pakistani security forces who detained three of his relatives.
Since May 2005, Faqir Mohammed has been a wanted man on account of his links to al-Qaeda and Taliban operatives. In order to deter him from cooperating with Taliban and al-Qaeda elements, the authorities have pursued a dual-track approach. On the one hand, they are putting increasing pressure on the tribes of the region to alienate Mohammed; on the other hand, they have deployed Pakistani security forces against his followers. Mohammed's house was burnt last year on the authority of elders enacting tribal norms. On January 24, a tribal jirga that convened at Khar, the headquarters of Bajaur Agency, decided that Faqir Mohammed should be asked—through his relatives—to surrender to law enforcement agencies and sever his association with al-Qaeda and the Taliban. If Mohammed does not abide by the decision, then in keeping with tribal norms, his house will be burnt again.
The central question revolves around Mohammed's ability to evade capture. The primary reason behind this is the region's highly distinctive administrative system, a direct legacy of British colonial rule. There is a dual administrative system in the tribal areas consisting of political agents and tribal jirga. A political agent is directly appointed by the federal government and is tasked with overseeing all administrative matters of the tribal agency. The political agent is assisted by subordinate staff and paramilitary troops. The tribal jirga is comprised of tribal elders and notables who perform the role of jury in any dispute and controversy and base their judgment on tribal norms. The recent upsurge in militancy in North Waziristan, South Waziristan and now in Bajaur is indicative of the gradual erosion of the legitimacy and effectiveness of this unique administrative system. It is unlikely, however, that this system will be fundamentally altered in the foreseeable future. Customary procedures are deeply-rooted and alternative systems are neither appealing nor practical.
Background of Maulana Faqir Mohammed
Faqir Mohammed hails from Bajaur Agency, a tribal administrative unit of Pakistan, bordering the Kunar province in Afghanistan. He was born in Chopatra, a village that is 20 kilometers away from the Afghan border. He is 37 years old, tall and well-built. He has a long black beard and sports a Taliban-style haircut and turban. Despite the fact that polygamy is a common feature of tribal society, Mohammed has only one wife.
Mohammed belongs to the powerful local Mommand tribe (not to be confused with the Mehmands of Mehmand Agency). Mohammed has a large extended family and almost everyone who is associated with him (by blood or otherwise) is in some way connected to his activities. His two sons and two first cousins, Mulvi Mohammed Karim and Mulvi John Mohammed, were staunch activists of Tehreek-e-Nafaz-e-Shariat-e-Mohammadi (TNSM), or Movement for the Enforcement of Islamic Laws. They went to fight jihad in Afghanistan with Maulana Sufi Mohammad. They tried to make their way home after the fall of the Taliban in late 2001, but were captured and are now languishing in Dera Ismail Khan jail in southern Pakistan.
Although Faqir Mohammed is not a chief or tribal elder, he has managed to secure a powerful support base in the region and moves relatively freely, accompanied by his personal security team. Normally he is guarded by five to eight diehard followers. When undertaking journeys on foot, Mohammed is usually accompanied by 15-20 followers and guards; when traveling by jeep their number is confined to the capacity of the vehicle. The local tribal administration does not dare arrest him and in recent years Mohammed has rarely ventured beyond Bajaur and the adjoining tribal belt.
Maulana Abdus Salam and Maulana Sufi Mohammad
Until the age of 20, Faqir Mohammed was simply known as an excellent student and was not involved in politics or militancy. In keeping with local tradition, Faqir Mohammed started his early education in a local madrassa and was taught by the prominent Maulana Abdus Salam. Abdus Salam is widely respected in North-West Frontier Province (NWFP) and is not considered to be involved in politics or militancy. Maulana Abdus Salam belonged to the Deobandi school of Islam, but recently adopted Salafism and has shifted his madrassa to Peshawar. Faqir Mohammed was greatly inspired by Maulana Abdus Salam and under his guidance obtained the Dars-e-Nizami, which is equal to graduation.
Faqir Mohammed also studied the Quran at Darul-Uloom Pamjpeer, which is considered as one of the most influential religious schools in central Peshawar valley. It has no political or militant affiliations and is well known for its monotheist-oriented religious curriculum. It was the Salafi strands of Maulana Abdus Salam and the teachings at Pamjpeer that impressed Faqir Mohammed the most and eventually led to his embrace of the "Arab" Afghans.
Maulana Sufi Mohammad was Faqir Mohammed's first jihadi mentor who introduced him to militancy in Afghanistan in 1993. Sufi Mohammad was one of the active leaders of Jamat-e-Islami (JI) in the 1980s. He was the principal of the JI madrassa in Tamaergra, a town in the northwestern part of NWFP. He was an instinctive hardliner and in due course developed differences with JI and left them in 1992 to form TNSM. Faqir Mohammed was introduced to Maulana Sufi Mohammad in 1993 when he was 22.
One of the main objectives of TNSM was to enforce Islamic laws through the use of force if necessary. The Afghan Taliban subsequently used TNSM methods to enforce Shari'a in their own country. It was this ideological and methodological affinity that led many TNSM activists (including Faqir Mohammed) to wholeheartedly embrace the Taliban.
Faqir Mohammed continued to fight in Afghanistan until the fall of the Taliban in late 2001. According to reliable sources, Faqir Mohammed mainly fought in the Bagram front (north of Kabul) and areas bordering the Panjshir valley. He mostly stayed in the Afghan province of Kunar and, by virtue of his Arabic language skills, quickly developed a rapport with Arab mujahideen. Faqir Mohammed never enjoyed a special position among the Taliban and merely fought as a volunteer. It was this modesty, coupled with Mohammed's status as a trained religious scholar, that significantly boosted his prestige and credibility (this information was derived from an interview with Molvi Hakim Khan, a former TNSM activist in NWFP). Faqir Mohammed was considered a brave fighter and an expert at guerrilla warfare. He is proficient in using all small arms, rocket launchers and anti-aircraft weapons.
After the downfall of the Taliban, Mohammed's native knowledge of the tribal Pakistani regions adjacent to Afghanistan, his status and influence in the region and his ideological commitment to international Islamic militancy proved invaluable to al-Qaeda operatives and other radical elements. Security agencies believe that his house in Chopatra village has been used as a winter headquarters by al-Qaeda, which prompted them to raid it in May 2005. Faqir Mohammed is a key facilitator for al-Qaeda and Taliban activities in this mountainous region, and security sources maintain that Mohammed is financially rewarded by the militants for providing logistical facilities and shelter.
For his part, Faqir Mohammed strongly denies any presence of al-Qaeda or Taliban leadership in the area and says, "According to Pashtun tradition we will definitely exact revenge on America. Ayman al-Zawahiri never came here but if he wanted to come, we will welcome him, and it will be a great pleasure for us to be his host" (Daily Jang, January 23). President Pervez Musharraf, however, is insistent that "al-Qaeda fighters were probably killed in a suspected CIA air strike that killed 18 civilians in Bajaur Agency earlier this month…now that we have started investigating the reality on the ground, yes we have found that there are foreigners there, that is for sure" (The Nation, January 25).
It is noteworthy that JI is politically influential in the area; its only deputy member in the National Assembly (Sabzada Haroon-u-Rashid) from the Federally Administered Tribal Areas is from Bajaur Agency. Notwithstanding the influence of JI, the masses are staunch followers of the Taliban, not least because of strong feelings of Pashtun ethnic kinship and the proximity of the region to Afghanistan (Mashriq, July 26, 2004).