Aliyev's Visit to Uzbekistan: Expanding Connectivity Between Caucasus and Central Asia
Publication: Eurasia Daily Monitor Volume: 19 Issue: 113
By: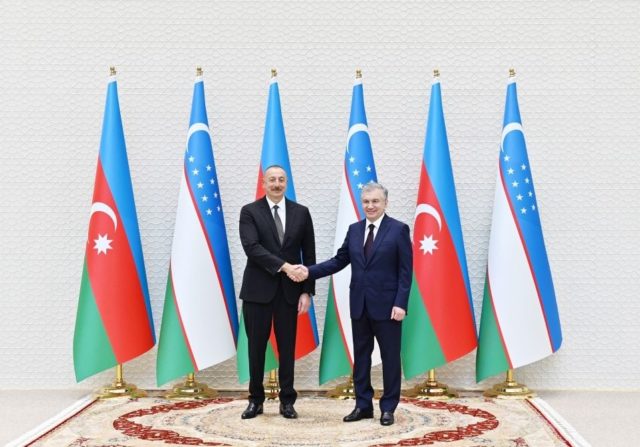 On June 21, Azerbaijani President Ilham Aliyev paid a two-day official visit to Uzbekistan, where he met with his counterpart, Uzbekistani President Shavkat Mirziyoyev. Almost 20 documents, including a declaration on deepening strategic partnership and expanding comprehensive cooperation, were signed by the two delegations during the visit (Uzdaily.uz, June 21).
The presidential trip intensified mutual visits by other officials of the two countries in the weeks that followed: President Aliyev received the chairwoman of the Uzbekistani Senate in Baku (Uzdaily.uz, June 30), government-affiliated Uzbekistani think tanks carried out a series of meetings with the Azerbaijani expert community (Uzdaily.uz, July 1), the heads of both countries' national oil companies conducted consultations (Uzdaily.uz, July 5) and both foreign ministers spoke over the phone (Uzdaily.uz, July 7).
In his famed book, The Grand Chessboard, former US security guru Zbigniew Brzeziński identified Azerbaijan, Ukraine and Uzbekistan as "geopolitically especially important" for Western interests in post-Soviet Eurasia (Zbigniew Brzeziński, The Grand Chessboard, 1997; Top-center.org, April 1). Ukraine has become a grand battlefield between the West and Russia already, while the others—Azerbaijan and Uzbekistan—have so far been effective in avoiding surrender to Russian regional hegemony. Although not as directly vocal against the Kremlin, both Azerbaijan and Uzbekistan have reiterated their recognition of Ukraine's territorial integrity (Eurasianet, March 17; Apa.az, April 29). Therefore, in light of the heavy fighting in Eastern Europe, President Aliyev`s visit to Uzbekistan raises questions about the geopolitical calculations behind this move.
The disruption of supply chains along trans-Russian routes has elevated the importance of alternative transport corridors, including the Trans-Caspian International Transportation Route (TITR), also known as the Middle Corridor, with a future potential capacity of 10 million metric tons or 200,000 containers per year (Trend.az, July 8). Officials in both Azerbaijan and Uzbekistan seem eager to take advantage of this historic opportunity: the corridor is designed to link not only the Caucasus and Central Asia but also, on a larger scale, Europe and China.
For the past two decades, Azerbaijan has been working on increasing the connectivity capacity of the Caucasus by building, with Georgia and Türkiye, solid infrastructure, such as the Baku-Tbilisi-Kars railway, which could be used by Uzbekistan. Tashkent has been actively exploring alternative transit routes southward (Uzbekistan-Afghanistan-Pakistan) and westward (Uzbekistan-Turkmenistan-Azerbaijan-Georgia-Türkiye). This is why Uzbekistani officials recently inspected the capacity of Azerbaijan`s key Caspian Port of Alat and expressed their interest in the much-discussed Zangezur corridor, a transport passage to link Azerbaijan with its exclave, Nakhchivan, and with Türkiye through Armenia (Isrs.uz, July 6; Uzdaily.uz, July 6).
While the Middle Corridor is usually understood as an extension of the Turkish-Georgian-Azerbaijani route to Kazakhstan, Tashkent is ready to offer an alternative: the China-Kyrgyzstan-Uzbekistan railway, which can be connected to the Caucasus via Turkmenistan and the Caspian Sea (Report.az, March 18). What makes the China-Kyrgyzstan-Uzbekistan railway so important is the fact that, after its full realization, it could emerge as the shortest route between China and Europe, adding new momentum to the Middle Corridor's strategic importance for all participating countries. According to some estimates, cargo transport through the new corridor would be 295 kilometers shorter than the existing one through the Khorgos Gateway in Kazakhstan. (Top-center.org, July 26)
Along with this increased Azerbaijani-Uzbekistani cooperation, Tashkent officials have also intensified their contacts with their Turkmenistani counterparts: Before the planned meeting of the Uzbekistani and Turkmenistani presidents, experts from both countries held preparatory consultations, putting emphasis on transport and logistics (Kun.uz, July 12). To boost the Asia-Pacific–China–Kyrgyzstan–Uzbekistan–Turkmenistan–Azerbaijan–Georgia–Turkey–Europe transport route and increase connectivity across the Caspian Sea, Azerbaijan and Turkmenistan have already decided to operate two vessels in the Baku-Turkmenbashi-Baku direction starting this year (Azertag.az, January 31).
Furthermore, in its foreign policy actions, especially following the 2020 Karabakh War, Baku has been in constant collaboration with Türkiye, a close and natural ally for Azerbaijan. In fact, the Azerbaijani-Turkish duo has served as the nucleus of Baku`s strategy of trilateral alliances, with the likes of Pakistan, Georgia and Turkmenistan joining the pair to form separate triangular arrangements on military, connectivity and energy issues (Top-center.org, March 18, 2021). Therefore, Azerbaijan may be interested in applying a similar tripartite format with Uzbekistan to  attract and promote Turkish interests in further developments between the Caucasus and Central Asia.
Ankara has already been actively and directly engaging Tashkent, with military cooperation being notably cultivated between the two sides. The Expanded Military Cooperation Agreement signed on March 29 in Tashkent by Turkish Defense Minister Hulusi Akar and his Azerbaijani counterpart, Bakhodir Kurbanov, includes intelligence sharing, joint exercises and training, as well as defense industry and logistics cooperation (Nordic Monitor, July 4).
While Azerbaijan is investing efforts in its bilateral and possibly trilateral ties with Uzbekistan, some opportunities are being cultivated within the Organization of Turkic States. While both Azerbaijan and Türkiye have traditionally been locomotives for pan-Turkic integration, its success now relies on the more active involvement of Kazakhstan and Uzbekistan—Central Asia`s biggest countries by size and by population, respectively. In light of the dramatic transformation in the world order and further polarization, some Turkic states could be interested in reinforcing their own regional power center instead of bandwagoning with other world powers and blocs. In his July 15 speech, President Aliyev also idenfitied relations with the Turkic nations as a priority for his country, mentioning recent and upcoming actions: three meetings with the Turkish president, the Kyrgyzstani president`s visit to Azerbaijan in April 2022, Aliyev's own visits to Uzbekistan and Turkmenistan in June 2022 and the expected visit of the Kazakhstani president to Baku in August 2022 (President.az, July 15).
Indeed, Azerbaijan and Uzbekistan, the "geopolitically especially important" countries for Western interests in Eurasia, have recently intensified contacts and consultations, mostly to enhance connectivity initiatives. But this cooperation can also expand in the military and security dimension (with Türkiye's help), if Russia`s aggressive policy continues. Having kept themselves outside Russian-led Eurasian structures, Azerbaijan and Uzbekistan (with Türkiye) are increasingly pivotal countries in the post-Soviet space that may determine if the Kremlin`s neo-imperial ambitions succeed or fail.