Alyaksandr Lukashenka and Ordinary Russians
Publication: Eurasia Daily Monitor Volume: 10 Issue: 186
By: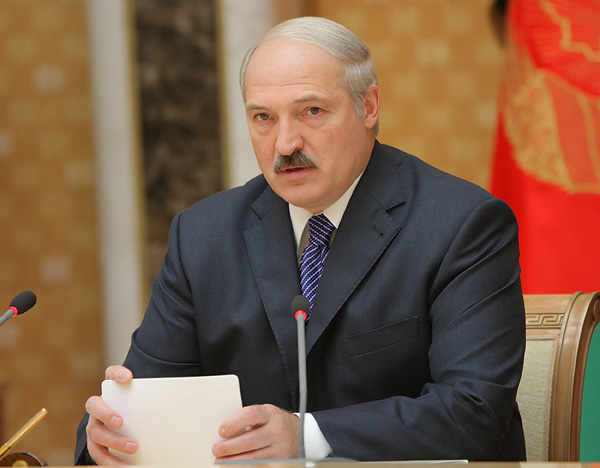 On October 11, Belarusian President Alyaksandr Lukashenka gave his 11th press conference to Russian journalists. It lasted 5.5 hours. The audience consisted of about 90 people, mostly representing Russian provincial media. During three days preceding the press conference, the members of the audience were given a guided tour of Belarusian cities, rural villages and enterprises. Lukashenka explained that such a comprehensive tour-and-press-conference package was necessary because, while Russian TV channels and newspapers are available in Belarus, the opposite is not true; and Moscow-based TV channels present a distorted image of Belarus (https://www.president.gov.by/press147530.html).
Each Lukashenka press conference is a solo performance of a gifted orator; it is largely ad-libbed but with a carefully pre-selected dose of blunt statements that sound like an unfiltered expression of the Russian and Belarusian everyman's worldview.
Lukashenka discussed at least ten themes during his October 11 press conference (https://www.president.gov.by/press147530.html). The first one was Belarus's close ties to Russia. Indeed, the 2012 volume of mutual trade was $44 billion, Belarus being Russia's second most important trading partner in the Commonwealth of Independent States (CIS) and sixth largest globally. The second theme was that, unlike Russia, which is rich in natural resources, Belarus produces value-added goods. And yet Belarus fares well economically. Over the course of the last five years, 35,000 Russians took up permanent residence in Belarus, and only 9,000 people migrated in the opposite direction. Belarus needs immigrants, and it can easily feed twice its current population, the president stated. Currently, 80 percent of food produced in Belarus is for export, whereas, in Russia, abandoned farmland is everywhere, even in the Kaliningrad exclave. If this exclave were given to Belarus, it would become a breadbasket again, Lukashenka reasoned.
Third, relations with Russia would have long soured had it not been for direct links between Minsk and Russian regional capitals. Fourth, Minsk and other cities of Belarus are safe around the clock. There is order in the republic: The bandits were "shot on the spot" in the 1990s and corruption is less of a problem than in Russia. Fifth, according to the president, the memory of the Great Patriotic War (World War II) is the cornerstone of Belarusians' historical memory, and the West will not be able to deprive "us" of "our" critical contribution to the victory over Nazi Germany. Sixth, market reforms ought to be gradual, as "we" are (Christian) Orthodox Slavs whose mentality militates against excessive and soulless profiteering. Hence, there will be no hostile takeovers of Belarus's most lucrative industrial assets by Russian tycoons. The potash war is the case in point. Suleiman Kerimov, who owned 22 percent of shares of Uralkalii (a Russian potash producer), attempted to acquire Belaruskalii (its Belarusian counterpart) but failed; in retaliation he disrupted the global potash market and inflicted economic damage on Belarus and on Russia. Referring to 4,894 signatures of Uralkalii's workers under a petition asking Lukashenka to release Vladislav Baumgaertner, Uralkalii's CEO, from jail, Lukashenka accused the petition organizers of using "typically Soviet methods." Furthermore, those signatories live in Berezniki, a city pervaded by dangerous sink holes, whereas Uralkalii's owners cannot care less and only line their pockets, Lukashenka asserted. In contrast, Soligorsk, the base of Belaruskalii, is like a shining city on a hill. Incidentally, Belarus's Office of the Prosecutor re-qualified charges against Baumgaertner, who is now being accused of embezzlement. Seventh, if Russia did not require Belarus to pay export duties on refined oil products sold to the West (duties worth $4 billion), Belarus's living standards would be "like in the [United Arab] Emirates."
Eighth, just as most people in the audience, Lukashenka acknowledged, "I am a Soviet man," and the breakup of the Soviet Union was a crime, he stated. And yet, creating a new country where people were not even leaning toward statehood has been a true achievement. Ninth, Belarus did not recognize Abkhazia and South Ossetia because the Western powers threatened a multi-faceted financial retaliation, and then-president of Russia, Dmitry Medvedev, refused to shoulder the burden.
Finally, the tenth theme (and in fact a refrain) of the press conference consisted of Lukashenka playing an ethno-religious card. For example, he invoked Jews twice. First, when a Russian journalist praised Semyon Shapiro, the leader of Grodno Oblast, Lukashenka replied playfully: "You just like Jews, which is why you are praising him." Second, referring to the case when a United States citizen and an immigrant from Belarus (reportedly named Katsnelson) acquired a Minsk-based confectionary, then got carried away by illegal profiteering schemes and was deprived of his shares in the business, Lukashenka suggested that "a campaign against Jews could be easily instigated [on that basis], but this was out of the question as one has to think of what happens next." Referring to Baumgaertner, who is an ethnic German, Lukashenka subjected his last name to wordplay of sorts ("Do not think that Lukashenka lured that Baum or that Gaertner of yours to Minsk [laughter in the audience], put him in a prison cell and is harassing him daily"). Also, Lukashenka revealed that he called upon Mikhail Gutseriev, a Russian tycoon and a Muslim, to convince Suleiman Kerimov, also a Muslim, to stop his ploys against Belaruskalii.
It seems that by playing an ethno-religious card, Lukashenka is killing two birds with one stone. On the one hand, he communicates his solidarity with knee-jerk stereotypes of the Belarusian and Russian street, and yet in the same breath he expresses the view that Belarus is a tolerant country where no minority is discriminated against.
The way Russian media highlight Lukashenka's press conferences follows an unwavering routine. Metaphors are literalized and parables and rhetorical flourish are cast as Lukashenka's policy statements to pour scorn on or lampoon. For example, if one performs an Internet search for the Russian translation of the phrase "Lukashenka wants to plow the Kaliningrad Oblast," a couple dozen results will come up, each of which claims that Lukashenka wants Russia to transfer its Kaliningrad region to Belarusian jurisdiction (see, for example, https://www.vesti.ru/doc.html?id=1140863). Lukashenka is, for the most part, popular outside the Moscow Ring Highway. But such a targeted media campaign is an indication of the Kremlin's preoccupation with dampening his appeal among ordinary Russians.