Ambitious Iranian-Tajik Projects Face Problems of Geography and Sanctions
Publication: Eurasia Daily Monitor Volume: 9 Issue: 109
By: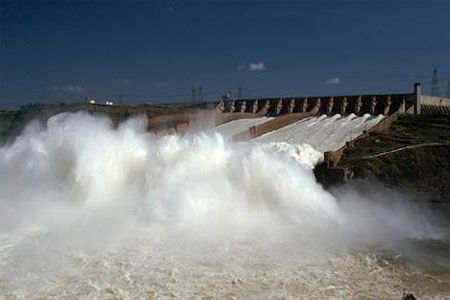 Last week, Tajikistan and Iran concluded the ninth meeting of the Joint Economic Commission in Tehran. The two countries signed five agreements in the hydro-electric, oil and health sectors (Ozodi, May 29). The issues of water and hydro-electricity featured prominently in the discussions, including agreements reached concerning the proposed Ayni dam in Tajikistan and the nearly completed Sangtuda-2 dam. According to Iranian Minister of Energy Majidi Namjou, both parties have agreed that Sangtuda-2 will be completed with money from the National Development Fund (BBC Tajiki, May 31). Iran expected the initial cost of the dam to be $180 million, however the price tag has increased by $70 million and it remains unclear if and how the money will be paid back. As it stands now, Iran plans to recoup its investment over a period of 12.5 years, after which full ownership of the dam would be transferred to Tajikistan.
Perhaps the most notable outcome of the meetings was a negotiation concerning a potential pipeline for the export of 1 billion cubic meters of potable water from Tajikistan to Iran. Tajikistan is rich in water resources, and since independence the issue of exporting water to other countries in Central Asia and the Persian Gulf has been raised periodically. However, Tajikistan's civil war and the subsequent years of tenuous stability have dissuaded investors (BBC Tajiki, May 28). Iran has expressed an interest in Tajikistan's water in order to supply the arid eastern provinces of what was formally known as Khorasan (as of 2004, this province was divided into South, North and Razavi Khorasan). According to local officials, Razavi Khorasan is especially in need of extra water to accommodate the 30 million pilgrims who come to visit the Shrine of the Imam Reza in the city of Mashhad each year (Mehr News, May 29).
In Tajikistan, the most likely source of water for such a project would be Lake Sarez, the 17-billion-cubic-meter lake that formed in 1911 after an earthquake. Sarez is a huge source of potable water in the comparatively dry region of Central Asia, but the fact that it is contained by a 550-meter natural dam has caused concern (BBC Tajiki, February 17, 2011). Were the dam to give way, up to an estimated 5.5 million downstream residents of Tajikistan, Afghanistan, Uzbekistan and Turkmenistan could be killed, and a 50-200-meter wave of water would reach as far as the Aral Sea. Geologists have determined three scenarios, which could lead to such a breach: a repeat of the sort of seismic activity that initially created the reservoir, an increase in the water level and influx of sediment from surrounding mountains. The potential danger posed by Sarez was recognized by the Soviet authorities who controlled the reservoir and surrounding area directly from Moscow. Currently a special permit is required to visit the area and the Tajik government in partnership with international donors has established an early warning detection center on the shores of the lake that is staffed 24 hours a day and seven days a week by nine technicians (BBC Tajiki, September 27, 2011). From the government's perspective, exporting water from Sarez would not only be profitable (Tajikistan's officials estimate yearly revenues of up to $100 million), but a reduction of the volume of water would also mitigate the potential risk of a catastrophe.
However, some experts are skeptical about the plausibility of a water pipeline from Sarez to Iran. Anvarjon Kamolidinov, a Tajik water expert, estimates that the cost of such a pipeline could reach $42 billion. At the same time, he suggests that a similar pipeline from the Panj River in southern Tajikistan would be both cheaper and more technologically feasible (BBC Tajiki, May 28). Downstream countries like Uzbekistan, Kazakhstan and Turkmenistan have also raised concerns, adding to an already tense situation between Tajikistan and its neighbors over water. Murod Aminjonov, an expert on Tajikistan's water issues says, "The five countries of Central Asia should negotiate together. Currently Turkmenistan and Uzbekistan are fighting our [Tajikistan's] attempts to reservoir our own water. How will we export [an additional] 1 billion cubic meters? We will be forced to give our own water to Iran, but if we do this half of the Vakhsh Valley will be waterless" (Ozodi, May 28).
According to Abbas Bayani, Iran's Economic Attaché in Dushanbe, to increase the economic viability of the project Iran and Tajikistan have discussed making a water pipeline merely one facet of a larger "joint corridor" that would connect not only water pipelines, but electricity lines and even a gas and oil pipeline between the two counties via Afghanistan. Currently, Iran produces a surplus of 10,000 megawatts of electricity annually and has expressed a willingness to supply Tajikistan with up to 500 megawatts of that surplus in the summer months (Mehr News, May 29).
However, even if such a corridor were economically viable, the issue of ever widening sanctions against Iran looms large over negotiations. In spite of American encouragement to observe sanctions against Iran, so far Tajikistani officials and businessmen have shown little interest in doing so. In fact, this week Gul Sherali, Tajikistan's Minister of Industry and Energy, formally announced his country's willingness to purchase crude oil from Iran (Press TV, June 4). Still, given the magnitude of the projects such as the proposed Ayni dam and envisioned "joint corridor," outside investment would likely be required. Neither cash-strapped Tajikistan nor Iran's National Development Fund, with a budget of $55 billion (only 20 percent of which is spent on foreign projects), would likely be able or willing to foot the bill (Ozodi, May 29).
To complicate matters, the most recent hydro-electricity agreements between the two counties involve the Iranian firm Khatam al-Anbiya Construction (KAA), a company controlled by the Revolutionary Guard Corps (BBC Tajiki, May 31). The KAA is sanctioned by both the United States and the United Nations who describe the company as "involved in large scale civil and military construction projects and other engineering activities… In particular, KAA subsidiaries were heavily involved in the construction of the uranium enrichment site at Qom/Fordow." (https://www.un.org/News/Press/docs/2010/sc9948.doc.htm).
If fears of widening sanctions are not enough to dissuade Tajikistan's government from cooperating with the KAA, in April, a dam in Kerman, Iran, built by the Islamic Republic collapsed shortly before it could be unveiled, raising the question of the firm's competency (roozonline, April 3). No one died in the ensuing flood; however, it was an embarrassment for the Iranian officials who shortly before had heralded the completion of the dam as a "national achievement." In spite of the collapse, at least Tehran's confidence in the KAA has not wavered. Last week, Iranian officials canceled a $2-billion contract with the Chinese firm Sinohydro Group Ltd. to build the Bakhtiari dam in Lorestan. Instead, they awarded the lucrative contract to the KAA (RFE/RL, May 31). As is the case with its plan to supply electricity to Pakistan, Tajikistan might be better off providing for its domestic needs before pursuing export strategies. While, as a whole, Tajikistan possesses much of Central Asia's water wealth, paradoxically 43 percent of rural Tajiks do not have sufficient access to potable water (BBC Tajik, March 16, 2011).