Hillary Clinton in Georgia: A Visit with Deliverables
Publication: Eurasia Daily Monitor Volume: 9 Issue: 110
By: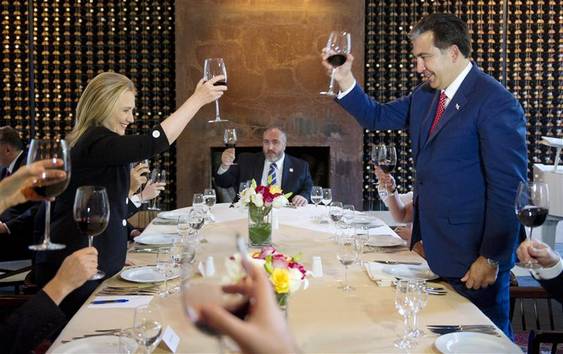 US Secretary of State Hillary Clinton paid a visit to Armenia, Georgia, Azerbaijan and Turkey on June 4-7, almost two years after her first South Caucasus tour in early July 2010. That tour was billed as a "get-acquainted" trip, midway through her tenure. The just-completed visit, however, singled out Georgia as the center of gravity and resulted in some deliverables. These include:
1) Defense assistance.
The Obama administration is slightly relaxing its de facto ban on equipping Georgia's military for defense of its national territory (the ban did not apply to equipping Georgian counter-insurgency units in Afghanistan). In Batumi, Clinton attended the festive launching of a Georgian coastal guard vessel, one of four recently upgraded with US assistance. The United States has spent some $10 million thus far, out of an authorized $16.5 million, to provide Georgia's Coast Guard with modern electronics and detection gear for these boats and shore-based surveillance radars. Georgia's Coast Guard is subordinated to the Internal Affairs Ministry. Clinton also announced a US program to upgrade Georgia's dual-use (civilian-military) transport helicopters and held out the possibility of more US training for Georgian officers and troops. She hinted at possible further steps to improve Georgia's land, air and maritime defenses, as well as interoperability with NATO forces (US State Department press release, June 5; Civil Georgia, June 5, 6).
Equipping Georgia for homeland defense, however, was not mentioned; anti-tank and air-defense weapons are not in the cards. The Obama administration seems to regard Georgia's military requirements as limited to US-led counter-insurgency warfare in distant theaters, rather than defense of Georgia's national territory and inter-operability with NATO conventional forces. Admittedly, it would be unrealistic to expect major decisions from Washington in the lead-up to both the American and the Georgian elections. In this light, Clinton's deliverables mark a step forward with some potential for follow-up. Meanwhile, Clinton expressed gratitude for Georgia's efforts in Afghanistan. Already the largest non-NATO troop contributor there, Georgia is set to become the second-largest troop contributor on a per-capita basis among all countries involved in that theater.
2) US acceptance of Georgian-issued, "status-neutral" travel documents for the residents of Russian-occupied Abkhazia and South Ossetia.
Clinton announced that US embassies and consulates shall henceforth accept such passports, with applications for US visas, from residents of those two occupied territories. The Status-neutral travel documents are a major Georgian outreach program to the occupied territories. Status-neutral means, essentially, that these documents do not specify the holder's citizenship. This procedure makes it possible for those residents to travel to the United States (and some other countries), potentially changing their Russia-centered perspective, and turning Georgia into a way-station for such applicants and human contacts. Georgia's Reintegration Ministry devised this program under the "engagement without recognition" concept (Civil Georgia, June 5, 6).
Residents of Abkhazia and South Ossetia hold those territories' "citizenships" and passports, or Russian ones, or both the local and the Russian version. Georgia's status-neutral travel document offers more attractive travel opportunities, compared with the hitherto existing alternatives. The status-neutral document is issued by the Georgian state and indicates Georgia as the country of provenance by some coded numbers. This procedure satisfies Georgia's legal title to territorial integrity and sovereignty in the occupied territories. Thus far, the Baltic States and Japan recognize and accept Georgia's status-neutral documents. As the United States now follows suit, more countries are expected to join this outreach program.
3) Massive US monitoring of Georgia's upcoming elections.
Clinton announced that the US administration has agreed to team up with Congress to send the maximum possible number of observers, long-term and short-term, to Georgia's parliamentary elections. The balloting is scheduled for early October, and the Georgian government wants a flood of American and European observers to witness the campaign and the voting.
Showing the elections to be free and fair, and their outcome legitimate, is not the only goal on the part of the government. Even if the elections are internationally certified as correct, Georgian radical oppositionists may well contest the results, trigger post-election turmoil, or boycott the newly elected parliament. Georgia's post-1991 history is punctuated with such cases. The situation post-2008 is even more complicated, with Russian forces now stationed only 40 kilometers from Tbilisi and capable of intervening to "restore order." In the current campaign, even the non-radical opposition has promised to commission "its" organization to conduct "its" exit poll, and to contest results that do not match that poll. Furthermore, Russian "political technologies" exported to the West have spawned obscure "election-monitoring" groups under Western names, without international accreditation but with potentially inflammatory website content. If Georgia's elections are assessed positively, a massive presence of Western observers would add greater weight to that assessment, help defuse any threat of post-election turmoil, and at the same time discourage Russian meddling at critical moments. President Mikheil Saakashvili expressed concern over the phenomenon of "fake observers" during his talks with Clinton (Imedi TV, June 5).
4) US-Georgia Free Trade Agreement.
As a special present to Georgia, Clinton announced the US government's decision to start talks toward a bilateral free-trade agreement. President Barack Obama had proposed this when meeting Saakashvili in January at the White House. Apparently, this rewarded Tbilisi for consenting to Moscow's accession to the World Trade Organization, despite Russia's occupation of Georgia's internationally recognized customs territories and customs checkpoints on those borders. The process has now become official in the form of the US-Georgia High-Level Trade and Investment Dialogue. Georgia's own export potential to the United States is modest at present; but future opportunities to export to the US duty-free can encourage investment in niche-specialties in Georgia.
Clinton and Georgian Prime Minister Nika Gilauri co-chaired a session of the US-Georgia Strategic Partnership Commission – the third session at this level since the Commission's founding by the George W. Bush administration in its final days in January 2009. On this occasion, Clinton issued the strongest statement heard from a US leader since her own 2010 visit about the Russia-Georgia conflict. She called on Russia to end its "occupation and militarization of Georgian territories" and "fulfill its obligation under the 2008 armistice to withdraw its forces to pre-conflict positions" (State Department press release, June 5). Nevertheless, Clinton acknowledged in a televised interview (Georgian Public Broadcaster, June 6) that the "the US and Russia have a lot of work to do together" on other, higher-priority issues.