Amidst Repressions, Minsk Is Snapping Back
Publication: Eurasia Daily Monitor Volume: 18 Issue: 30
By: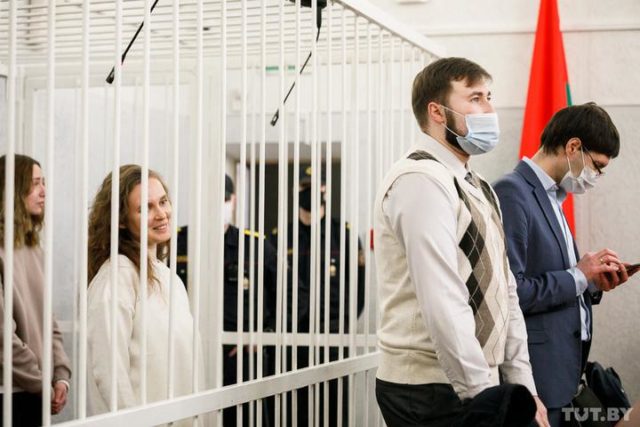 Three legal trials in Minsk attracted maximum attention during the middle of February. One of them has already ended with a verdict—two-year prison sentences to Katerina Bakhavalova and Darya Chultsova, journalists of Belsat, a digital TV channel broadcasting from Poland and not accredited in Belarus. The criminal code article under which they were convicted reads, "Organization and preparation of actions that grossly violate public order, or active participation in them" (Tut.by, February 18). What these journalists did was stream a broadcast from one of the residential high-rise apartments overlooking the so-called Square of Change, a courtyard of sorts where symbols of the protest movement had been repeatedly displayed since August 2020. It is there that on November 11, Roman Bondarenko, an artist, was apprehended by police and subsequently delivered to a hospital, where he died of traumas he sustained while in custody (see EDM, November 18, 2020). A memorial in his honor was set up in that square, and a crowd of mourners gathered on November 15 but was dispersed by police, which arrested some of the people taking part and removed the memorial. The two Belsat journalists were broadcasting the whole scene live when police entered the apartment and arrested them as well.
The second trial, which began on February 19, is connected with the same events. Whereas the authorities claimed Bondarenko had high alcohol content in his blood when he was apprehended, the anesthesiologist of the city hospital to which the ailing artist-activist was delivered, Artyom Sorokin, told Tut.by journalist Katerina Borisevich that there was no alcohol detected in Bondarenko's blood. The story contradicting the official account ran on the Tut.by website, and both the physician and the journalist were subsequently jailed. At their trial, the charge read out against them claims they divulged medical secrets while providing false information (Tut.by, February 18). In contrast to the previous court case, this one is now proceeding behind closed doors (Naviny, February 19).
Finally, the third trial is that of Victor Babariko, a 2020 presidential hopeful. He chaired Belgazprombank for 20 years until May 12, 2020, and was arrested on June 18 after submitting 360,000 valid signatures in support of his presidential aspirations. Babariko stands accused of organizing a criminal group that would be systematically bribed by entities soliciting loans from his bank. In order to legalize those bribes, multiple offshore companies were allegedly set up, particularly in Latvia (Tut.by, February 18). Needless to say, the opposition believes Babariko's trial is politically motivated because he posed real electoral danger to the incumbent president, possessed important ties to Moscow (through Gazprom), and subsequently became one of the main triggers of the protest movement (Svaboda.org, February 18).
In the meantime, Belarusian society has reportedly experienced rapid horizontal (as opposed to top–down) "information, communication and social restructuring," which bodes well for the protest movement. This is the opinion of Gennady Korshunov, the former director of the Sociology Institute of the Belarusian Academy of Sciences (Svaboda.org, February 18). However, in an extensive interview with Euroradio, independent political commentator Artyom Shraibman warned that excessive levels of repressions may eventually trigger a backlash in the form of less peaceful protest actions. This is especially likely because the protest-prone part of Belarusian society has realized it is a majority, he said. Russia is keenly interested in stability along its western border and may facilitate some normalization in Belarus. The Belarusian regime is still in possession of vital resources for about one year, following which massive external help will be required. Figuratively speaking, pain caused by Western sanctions is neutralized by Russia's more powerful painkillers. Only the worsening of relations with Russia, which is quite possible, may lead to a resumption of bargaining with the West along the lines of 2008 and of 2014–2016. In other words, Shraibman posited, the conversation at that point will be "we [Belarus] are releasing political prisoners, and you [the West] cancel sanctions and resume lending money" (YouTube, February 19).
It is remarkable how profusely geopolitics (implicit and explicit) permeates these developments in and around Belarus and their perceptions. Thus, the popular blogger and political analyst Kirill Ozimko, based in Brest, argued that the recent initiative by 2020 presidential candidate Svetlana Tikhanovskaya to make February 23 the Day of Heroes Fighting for Change is entirely counterproductive. This is because February 23 is already marked on calendars as the Day of Homeland Defenders, a leftover from Soviet holidays tenaciously celebrated in both Belarus and Russia; and that tradition is incomparably stronger than Tikhanovskaya and her revolutionary initiatives (Politring, February 18). The same blogger observed (Facebook.com/ozimko, February 20) that those people now crying foul because of the two Belsat reporters' arrest, trial and conviction did not bat an eyelid to defend the three Belarusian journalists who, in 2016, were arrested and sentenced for criticizing Belarus's growing ties with the West at the expense of ties with Russia and for expressing doubt that Belarus is a separate ethnic community (see EDM, January 18, 2017). It is, therefore, not indifferent which geopolitical leaning is associated with fighting human rights abuse.
Likewise, when the Lithuanian government called the rerouting of Belarus's refined oil exports from Klaipeda to Russia's Ust-Luga a political move (Tut.by, February 20, 2021), Dzianis Melyantsov of the Minsk Dialogue suggested this labeling resembles pushing on an open door: "Of course, this is a political move. Just as political as the Lithuanian sanctions, the blocking of Belarusian-European negotiations, fighting against the Belarusian Nuclear Power Plant, and supporting the Belarusian opposition. Sure, it is fraught with economic disadvantages. But an international conflict is underway […] and if you do not fight back, then next time they will kick you even harder. It seems that the Belarusian authorities have learned this from the experience of their previous bouts of cold war with the West. And this time, they began to respond—by visa counter-sanctions and by economic measures. In the end, everyone will suffer losses. But red lines will be drawn and determination will be demonstrated. This is the novelty of the current conflict. Minsk began to snap back" (Facebook.com/melyantsou, February 20). If anything, Melyantsov's verdict is food for thought amongst policymakers.