Tragedy Boosts Belarusian Protests, Swift Denouement Unlikely
Publication: Eurasia Daily Monitor Volume: 17 Issue: 164
By: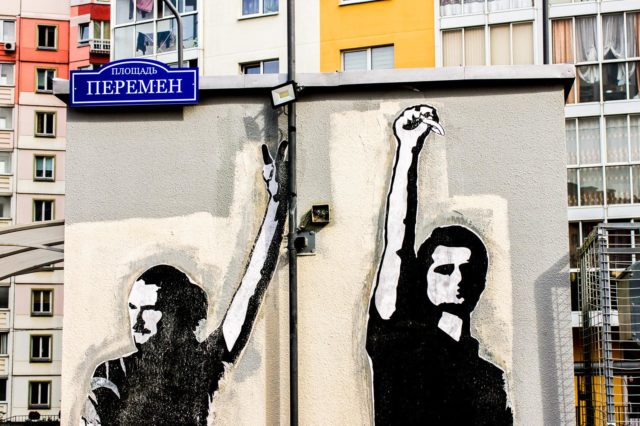 One of the most popular spots in Minsk today is a formerly unassuming space between a group of multi-story apartment blocks in the northern part of the city, some 600 meters from the Russian Embassy. Occupied by a transformer box and a fenced-in playground, the area has earned the euphemistic nickname "Ploshchad Peremen," literally, "Square of Change"—implying regime change. Since August, the façade of the square's transformer box has been intermittently adorned by a mural glorifying the protest movement and by black paint sprayed over it once the authorities pay a visit; hours later, protest art reappears, and the cycle goes on. As for the nearby fence, it is covered by white and red ribbons imitating the white-red-white flag, adopted as a symbol of the protest movement (Citydog.by, September 22).
In recent days, plain-clothes police officers (PCP) have been increasingly dispatched to remove protest art and apprehend the protestors. And in the evening of November 11, Roman Bondarenko, a 31-year-old local artist, became involved in a verbal skirmish with one of those masked PCPs, who were tearing out ribbons from the fence on the Square of Change. He was taken into custody and subsequently delivered to a hospital in a comatose state, with massive cerebral edema, closed craniocerebral trauma, subdural hematomas, bruises and abrasions. Doctors attempted surgery but to no avail, and Bondarenko died from his brutal injuries (Tut.by, November 12). The following day, the Square of Change was full of candles and flowers as well as people mourning his passing (Tut.by, November 13). Although Bondarenko's is not the first death of a member of the protest movement, the emotional impact of this tragedy has been enormous.
President Alyaksandr Lukashenka's initial response to the deadly incident was that Bondarenko had been drunk and that the protestors exploited his death by elevating him to "sacred victim" status in order to resuscitate their flagging movement. But those allegations were swiftly repudiated, especially considering that the physicians reported no alcohol in his blood. Indeed, Belarusian physicians emerged as one of the most rebellious segments of the population, ready to issue their own anti-regime statements (Belxalat, November 10) as well as to participate in rallies in the wake of the young artist's death. After Natalya Kochanova, who chairs the upper chamber of the parliament, instructed hospital directors to pass a message to medical doctors that there would be no dialogue in the streets, the well-known infectious disease expert Nikita Solovei responded that the venue for a dialogue is where Belarusians decide it should be (Tut.by, November 11). On November 13, Lukashenka expressed his condolences to Bondarenko's family (Interfax, November 13) and instructed the Prosecutor General's Office to give this case special attention.
Nonetheless, during his four-hour press conference with Belarusian and international (largely Russian, Ukrainian and Kazakhstani) media, Lukashenka reiterated his opinion that the protests in Belarus constitute a foreign-directed color revolution pursuing the goal of destroying an industrial competitor. Particularly involved, according to the president, are the states that themselves destroyed their industrial base during the post-Soviet period—an allusion to Lithuania. Reflecting his mood and perspective, Lukashenka declared, "You can do all you want to someone in my position only if that person steals, has a lot of money that is kept abroad. If a politician has billions that are offshore, it is very easy to push him around. I do not have that tail, which would be wagging the dog, me. And forgive me for being immodest, I am very devoted to my people and my country" (President.gov, November 13).
It would be a mistake to think that nobody in Belarus takes these words at face value. To be sure, the protest movement sets the tone in online media and on social networks. But even there, the presence of the opposite side is quite noticeable, suggesting that Lukashenka's base persists. While the protest movement is often portrayed as fueled by the entrepreneurial and creative classes, there is no shortage of business owners on Lukashenka's side. "On opposition websites, I read a lot of news about the detentions and arrests of various people," writes the owner of a tourist agency and other businesses, Marya Lisatovich. "A standard piece of news looks like this: X is detained, a list of his/her achievements [is presented]; then a pronouncement follows that if all the doctors, teachers, IT professionals and actors leave, who will treat, teach and program, as well as play in the theater? Of course, all these detainees are valuable to society—doctors and teachers in particular. But value does not mean that they can blackmail the rest of society" (Facebook.com/marya.lisatovich, November 11). In turn, the political commentator and historian Yury Shevtsov bemoans the fate of young women, who "got involved in a protest movement on a wave of emotions." In Shevtsov's opinion, the movement is destined to morph into a nationalist "totalitarian sect," and the hopes of such women are destined to be crushed (Facebook.com/yury.shevtsov, November 2).
Occasionally, pessimism emanates from the protest movement's top sympathizers, too. For example, a doyen of opposition journalism, Alexander Klaskovsky, recently published a critical article about two strategies of political transition in Belarus, devised by Pavel Latushko's People's Anti-Crisis Leadership Council (see EDM, November 3). In the nutshell, either Lukashenka agrees to negotiate the conditions of his exit or his exiled election rival Svetlana Tikhanovskaya is sworn in as president and proceeds to form the government (Naviny, November 11). When Klaskovsky posted this article on Facebook, a suggestive exchange followed. Vadim Mozheiko, an analyst with the Belarusian Institute for Strategic Studies, a Western-funded think tank, opined, "Perhaps the effect of staying abroad begins to show when everything seems more radical than it is and the victory seems closer. Hence, unrealistic demands and no compromise." "I am so reluctant to throw a stone, but this is starting to look like Charter97," replied Klaskovsky (Facebook.com/klaskouski November 11). Charter97 is a radical opposition website, notorious for its repeated predictions of Lukashenka's imminent failure and for its chronic overstatements of the Belarusian opposition's strength.
"I hate to say this," writes Klaskovsky, "but the representatives of the opposition will probably have to look for compromises with Lukashenka. […] And the transition period is likely to be difficult, ambiguous, and far from black-and-white" (Facebook.com/klaskouski November 11). In the meantime, protesters held a rally in Minsk on Sunday to honor the memory of Roman Bondarenko.