Russia to Build Naval Base in Sudan
Publication: Eurasia Daily Monitor Volume: 17 Issue: 165
By: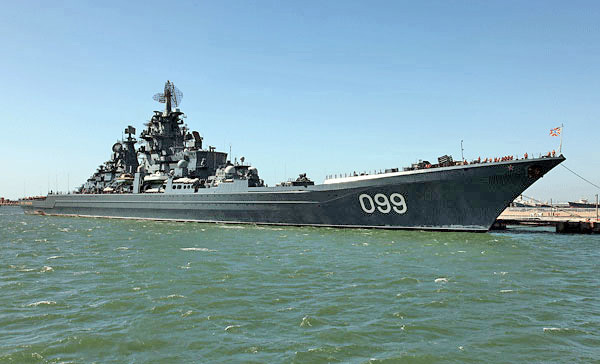 President Vladimir Putin issued a decree authorizing Russia's Ministry of Defense to sign an agreement with Sudan to create a permanent Russian military base, or "naval supply station" (punkt materialno-tekhnicheskogo snabzenya). The location of the new naval facility will be close to the main Sudanese trading port—Port Sudan—where several patrol boats that comprise the Sudanese Navy are also based. The basing agreement will last 25 years, with a possible prolongation for another decade, with mutual consent. The Russian naval garrison will be some 300 strong, with armed guards to provide security. All locally stationed Russian personnel will enjoy full diplomatic exterritorial immunity. The base will be able to berth up to four warships, "including nuclear-powered vessels." Russia will not pay the Sudanese authorities any rent, but it has apparently agreed to ship pro bono some military supplies and weapons to Sudan under a separate, additional agreement. Moscow will organize and pay for construction work to establish the base, including living quarters, warehouses, naval maintenance facilities and docks. Moreover, Russia will provide anti-aircraft defenses to cover both its own base and the nearby Sudanese naval assets in Port Sudan. The draft agreement makes no mention of any Russian airbase in Sudan in addition to the announced naval supply station, but Russian aircraft will apparently be allowed to use Sudanese airspace. A large international airport is situated south of Port Sudan, and Moscow might be allowed to utilize it. The number of Russian military personnel in Sudan may be increased above the initial 300, according to the draft agreement (Interfax, November 16).
During the Cold War, the Russian military and navy were present in South Yemen, at the entrance to the Red Sea, when this former British colony was ruled by a Marxist regime. Moreover, Russian troops under the guise of military advisors were deployed in Ethiopia when that country had a Marxist regime. The Russian military in Ethiopia was engaged in fighting anti-government rebels, primarily Tigrayans, and independence-seeking insurgents in Eritrea. Russian naval ships were deployed on the Red Sea coast of Eritrea (then part of Ethiopia) and were involved in fighting the rebels. By 1991, as the Cold War and the Soviet Union were coming to an end, the Ethiopian regime collapsed, Eritrea gained independence, and the Russians withdrew from the region. Russia had withdrawn from South Yemen before, as that country sank into a bloody civil war. Now, Moscow is back, establishing a military foothold in a region it sees as strategically important (Novaya Gazeta, November 19).
In recent years, Moscow been extending its influence across Africa; but the base in Sudan is naval, so it is more about projecting force beyond the continent into the maritime shipping lanes of the Red Sea connecting Asia and Europe, the Gulf of Aden, the Arabian Sea, the Gulf and the Indian Ocean. The United States maintains a strategically important base on the British overseas territory of Diego Garcia Island (Indian Ocean). And the 5th US Fleet has its home base in Manama, Bahrain. The headquarters of US Central Command (USCC) and US Air Force Central Command (USAFCC) are at the al-Udeid Air Base in Qatar. US carrier strike groups travel in and out of the Suez Canal and through the Red Sea from bases on the United States' East Coast to the Gulf region and back again. Sometimes US ships launch cruise missiles and aerial attacks against Middle Eastern targets directly from the Red Sea, which has been considered relatively safe up to now. According to Russian military experts, the new base in Sudan will be a welcome extension to the existing Russian naval and air bases in Syria that have now been extended to house "tens of warships, [and] provide maintenance and supplies together with air support," according to Russia's defense minister, Army General Sergei Shoigu (Interfax, November 17).
The draft agreement with Sudan mentions the possible presence of nuclear-powered warships, but the only Russian surface nuclear-power ship today is the Pyotr Velikiy (Kirov class), which, apparently, is not fully operational. The vessel has not recently been deployed out of the Barents Sea as it awaits its sister nuclear cruiser, the Admiral Nakhimov, to finish a lengthy and costly refurbishment (remont) in Severodvinsk. After the Nakhimov finishes its remont and is operational, the Pyotr Velikiy is apparently scheduled to take its place to undergo a remont in turn. The plan to begin building (before the end of 2020) Lider-class nuclear powered super-destroyers of up to 20,000-ton displacement, armed as heavily as the Kirov-class cruisers, but sleeker and stealthier, has been shelved indefinitely because of lack of money, the low price of oil and the COVID-19 pandemic. No nuclear-powered Russian ships look to be available to be based in Sudan anytime soon (Novaya Gazeta, November 19).
Russia has not built any destroyers since the early 1990s, when several Sovremenny-class ships were exported to China. As such, the Russian navy has no operational destroyers left today. Moreover, Russia has had problems equipping new frigates with engines that, prior to 2014, were produced in Ukraine—now a hostile country. Russia has been expanding its naval forces by constructing different types of corvettes and small missile ships. Many of these vessels are equipped with universal vertical 3С-14 launch tubes, allowing them to fire different nuclear-capable anti-ship or long-range Kalibr cruise missiles (see EDM, May 4, 2017, August 1, 2017, July 29, 2020). With a nuclear-tipped missile, a Russian corvette could potentially singlehandedly destroy a US carrier group, or Diego Garcia, or any other strategically important target. Russian admirals are forced to use these small ships as a strategic asset, but in truth, these small ships have limited seaworthiness, weak air defenses, and carry a limited supply of long-range missiles. To pose any credible strategic threat in the Indian Ocean, this Russian mosquito fleet absolutely needs a base in the region to resupply and rearm. It is possible, therefore, that the clause about nuclear-powered ships in the draft basing agreement is actually a cover story to allow Russia to covertly deploy nuclear weapons to the Sudanese base to be put onboard corvettes in a time of crisis (Novaya Gazeta, November 19).