The Belarusian Crisis and the Unenviable Fate of the Mediators
Publication: Eurasia Daily Monitor Volume: 17 Issue: 155
By: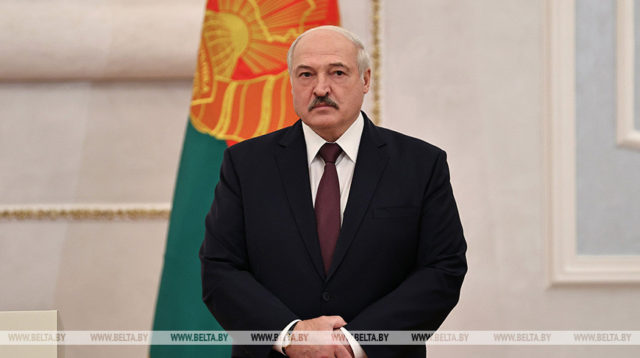 The political crisis in Belarus has reached either a stalemate or a crossroads that evades easy predictions as to where, when and how it will be resolved or alleviated. On the government side, the stalemate reveals itself in unusual nervousness. The country's law enforcement chiefs have been reshuffled—itself not that unusual, but the recent tempo has been remarkable. Only in September, Valery Vakulchik was transferred to be secretary of the national Security Council after having chaired the Belarusian KGB for the last eight years. Now, Vakulchik was suddenly shifted again, to the position of presidential assistant responsible for Brest Oblast. Likewise, Yury Karayev, the minister of internal affairs (in charge of police) since merely June 2019, has now been named assistant to the president as well, responsible for Grodno (Belta, October 30). The heads of three Belarusian universities have also been replaced (Tut.by, October 20). Additionally, the borders with Poland, Lithuania, Latvia, and Ukraine were closed for motorized entrance without prior announcement—though the border crossings remain open for those wishing to exit (Tut.by, October 29). President Alyaksandr Lukashenka declared that the state is beginning to encounter threats of "terrorism" and referred specifically to wire circuit closures at multiple railway segments that could lead to catastrophes (Sputnik.by, October 30). He pledged no "further retreat" by the authorities. Moreover, the head of state insisted that any students who join protest rallies should be expelled and promised to officially stop recognizing foreign college diplomas (Tut.by, October 29). The latter pledge was a response to offers issued by academic institutions in Lithuania and Poland to accept the expelled Belarusian students. Nonetheless, it marks a notable departure by what was heretofore a relatively open country despite widespread cliched perceptions to the contrary (see EDM, June 20, 2012, November 10, 2014, August 2, 2018).
On the side of the protest movement, its proponents are attempting to put a good face on the unrealized threat of a national strike (see EDM, October 21, 2020). Thus, Sergei Chaly, an economist who worked for Lukashenka in 1994–1995 and then switched to the opposition, claims that the ultimatum (issued by exiled Belarusian opposition leader Svetlana Tikhanovskaya) actually succeeded because the preexisting protests became invigorated and because they prod the regime to make critical mistakes. However, "because the events after the elections have confirmed that people who become involved in the struggle for human rights are mostly those who have learned to be independent from the state, counting on a strike by people who are directly dependent on it [i.e., workers of state-run industrial giants] looked a bit strange" (Tut.by, October 28). Also, the proliferation of structures, like the People's Anti-Crisis Leadership Council, newly organized by former minister of culture and diplomat Pavel Latushko, who left Belarus in early September, looks more like a response to some offered sponsorship than as a way to facilitate a resolution of the political crisis. Curiously, the person responsible for security, law enforcement and defense in the new Council is former Minsk restaurateur Vadim Proropyev (Svaboda.org, October 28), known for his profane speeches (YouTube, August 29) addressing Lukashenka.
Webinars and virtual conferences devoted to the Belarusian protests are seemingly conducted every other day by think tanks and universities across Europe and North America. But except when truly knowledgeable domestic Belarusian experts are involved—as was the case with the US Council on Foreign Relation's recent webinar featuring Artyom Shraibman and Yauheni Preiherman (Cfr.org, October 23)—such events are usually only conduits for righteous indignation and for affirming the collective desire on the part of participants to see Lukashenka gone.
What is sorely missing in such discussions is practical solutions, argue many observers. Thus, the philosopher Viacheslav Bobrovich who leads the Facebook group "Obuchenie Demokratii" ("Learning Democracy"), suggested that one of the reasons for the current stalemate in Belarus is the unenviable role of any potential mediators. In the past couple weeks, Yury Voskresensky became discredited by the protestors as a traitor to their collective cause (see EDM, October 28). And now, the same fate is likely to befall the Speak the Truth civic campaign, co-chaired by Andrei Dmitriev and Tatyana Korotkevich, as rumors multiply of them having been approached by the regime to arbitrate talks between the government and the opposition (Facebook.com, October 29). Bobrovich also observes that without the collaboration of two separate national elites, "each with their own understanding of our historical past, present, and future," the threat of civil war will never subside.
Life goes on, however, and various important events are not given requisite attention. For example, two deputy prime minister of Belarus recently inspected sea terminals in Leningrad Oblast, Russia, through which Minsk could soon start exporting its refined oil, instead of via Lithuanian Klaipeda (Tut.by, October 25). Minsk and Moscow also just signed an agreement on joint air defense of the Union State's external border (Interfax, October 27). And the Belarusian parliament ratified an agreement on the mutual (Russian-Belarusian) recognition of visas issued to citizens of third countries (Naviny, October 28).
Incomparably more visible has been the lingering tug-of-war between two versions of historical memory and their respective symbols. Thus, arguments continue regarding the white-red-white flag, which, for many, is a symbol of resistance to the regime but for many others represents a banner of Nazi collaborators (Ukraina.ru, October 30). During the night of October 29, a crowd descended on Kuropaty (a forest patch in northern Minsk) to honor the more than 100 Belarusian intellectuals, including 22 writers, who were executed there on that day in 1937 (Nasha Niva, October 29). This commemoration is by no means observed nationwide, however.
And yet the idea of some mediated dialogue does not disappear completely from the back of people's minds. Even the usually pugnacious Franak Viachorka, who serves as "advisor to Svetlana Tikhanovskaya on international affairs," acknowledges that some contacts between them and members of the Lukashenka administrations are taking place through go-betweens (Svaboda.org, October 29). Natalya Kochanova, who chairs the upper chamber of the Belarusian parliament, discussed the prospects of a national dialogue with Sergei Cherechen, a businessman and a 2020 presidential hopeful (Tut.by, October 29). One of the problems, of course, is that representatives of the opposition are suspicious of other such representatives who may be involved in talks with the regime. Viachorka, for example, shared his suspicion regarding Voskresensky's and Cherechen's intentions. It seems the philosopher Bobrovich is correct: the mediators' lot is hardly enviable. And this may be the most fundamental problem for today's Belarus.