An Impending Assault on Idlib
Publication: Terrorism Monitor Volume: 18 Issue: 13
By: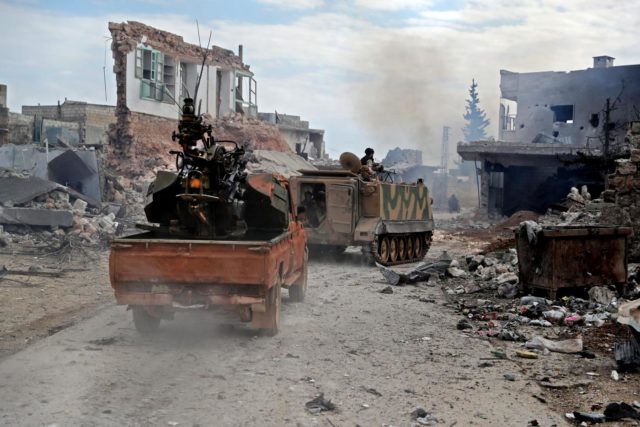 While the world has been distracted by the COVID-19 pandemic, the situation in Syria's northwestern Idlib province remains volatile. The region, which has seen a period of relative calm, is on the brink of another major government offensive.
Turkey has long sought the fall of the Assad regime and has conducted numerous incursions into northern Syria. In February of this year, the deaths of 34 Turkish soldiers resulted in multiple retaliatory bombings of Syrian military positions, labeled 'Operation Spring Shield.' Shortly after this, Turkey and Turkish-backed forces repelled Russian and Syrian attempts to capture territory and a ceasefire was declared between the two countries in March.
The ceasefire held from March to May, owing largely to Russian and Turkish compliance in carrying out patrols south of the M4 highway—a key ceasefire requirement. However, by the start of June, the precarious peace began to falter. Russian airstrikes in the designated de-escalation zone reportedly killed up to three civilians on June 8, and Iranian paramilitary groups have reportedly begun increasing fighter numbers near Turkish observation posts (Anadolu Agency, June 8; Al Jazeera, June 14). In addition to this, signs have emerged that the Turkish government is preparing to strike Idlib in the coming weeks. Turkish-backed groups in the region have been told to expect an assault, and the Turkish authorities have been dropping leaflets onto Idlib, calling for civilians to support its military goals (Middle East Monitor, April 28).
Russian and Turkish Interests at Play
While both Turkey and Russia have worked to prevent the Assad regime from recapturing Idlib and thereby seize control of the majority of Syria, both countries have their own vested interest in controlling the northwestern province.
Turkey wants an area under its control on its southern border to counter any Kurdish insurgency. It has been significantly bolstering its military capabilities, deploying up to 10,000 troops and over 7,000 military vehicles in recent months (Al Monitor, June 18). It has also begun distributing the Turkish lira to local communities and setting up governmental offices within the region, suggesting Ankara intends on maintaining a long-term presence in the region (Al Monitor, June 18).
At the same time, Russia has been shoring up the Assad government with modern military jets and equipment and has insisted that all Turkish-controlled areas of northern Syria be transferred back to the Assad regime. It has an interest in securing the M4 highway, which would help to restart the Syrian economy, currently on the verge of collapse. While Turkey has been encouraged by reports in Russian state media that Moscow is starting to tire of Assad, Putin has invested heavily in the dictator's future and will support the Syrian regime in its attempt to recapture Idlib.
Despite the ceasefire agreement in March seemingly indicating rapprochement, the two sides are undeniably rivals within Syria. Just this week, talks were canceled between the Turkish Foreign Minister Mevlut Cavusoglu and his Russian counterpart, Sergey Lavrov, suggesting a renewed disagreement over the status of the area (Al Jazeera, June 14).
Presence of Militant Groups
The continued presence of Islamist groups in Idlib is yet another reason for a renewed government offensive in the region. Hayat Tahrir al-Sham (HTS), an al-Qaeda offshoot, still retains a large presence in the enclave and is considered a terrorist organization by the international community. The group has been pivotal in defending a government takeover of the area and was highly important in recapturing key locations in Idlib during previous government offensives. Turkey pledged to remove HTS and other jihadists groups from the area in recent talks with Russia, but this has failed to materialize. This benefits the government and Russia, as HTS' presence allows them to justify their assaults as apparent liberation of the region from terrorist control. Despite imposing austere Islamic law over areas it controls, HTS has attempted to rebrand itself as a more mainstream 'anti-Assad' Islamist organization, in order to shore up support among the local population.
Signs have emerged, however, that HTS is weakened and may not be able to sustain a defense of Idlib. The group is split between hard-line elements that oppose the ceasefire with Russia and Turkish influence in the region and leadership that has taken a more pragmatic view in order to survive. These splits may somewhat explain why, in recent days, several al-Qaeda-linked groups, including HTS, announced a joint military operations room with the intention of countering the Syrian government (Middle East Eye, June 23). While it is not uncommon for rebel and jihadist groups to form often short-lived alliances, it suggests that these groups are anticipating hostilities to escalate in the near future, and displays intentions to counter an incoming attack by Assad's forces.
Conclusion
While Assad has been successful in retaking large swathes of the country lost to opposition and jihadist groups such as Islamic State (IS), a renewed assault on Idlib is likely to prove his toughest challenge yet. His previous attempt to take the city was met with fierce resistance by Islamist rebel groups such as HTS, the National Liberation Front (NLF), and Jaish al-Izzah. Despite Russian assistance facilitating superior airpower, even the most elite units of the Syrian Army struggled to hold on to territory within Idlib. Recapturing the territory is likely to prove extremely difficult for Assad. Finally, even if the Syrian government were to assert control over large swathes of the region, a myriad of Turkish-backed forces and jihadist groups extremely hostile to Assad and his army would likely mount insurgency campaigns, leaving Idlib unstable under governmental control.