Wagner Group in Libya: Weapon of War or Geopolitical Tool?
Publication: Terrorism Monitor Volume: 18 Issue: 13
By: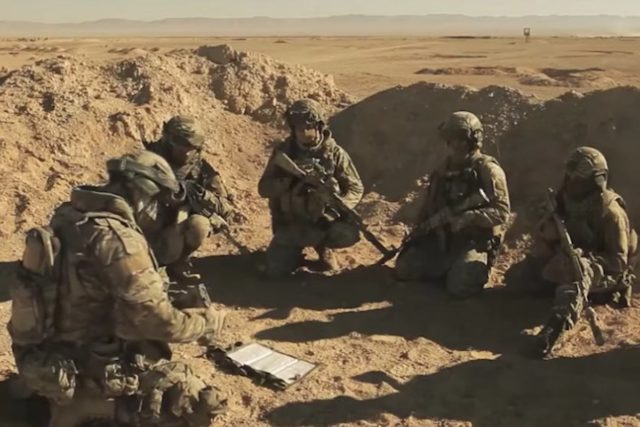 Introduction
On June 9, Russian Special Presidential Envoy for the Middle East and Africa Mikhail Bogdanov dismissed the presence of Russian mercenaries in Libya and their military support of the Libyan National Army (LNA). The diplomat stated that, "Information spread by some foreign sources, including the U.S. State Department, that the Wagner Group's members are present in Libya and participate in combat actions on the side of the Libyan National Army of Khalifa Haftar, largely relies on fabricated data and is aimed at discrediting Russia's policy on Libya" (Tass, June 9). This statement sharply contrasts with a myriad of reputable sources, including, among others, U.S. Africa Command (AFRICOM), which claimed that no less than 2,000 Russian mercenaries are fighting on the side of the LNA (Libyan Express, June 16). While the presence of the Wagner Group in Libya is undeniable, one important transformation has to be noted. Between 2018-2020, the group`s mission seems to have shifted from a "weapon of war" to a "tool of geopolitics".
Wagner on the Retreat
Supported by Turkey, the counter-offensive launched by the Government of the National Accord (GNA) resulted in a series of military defeats for the LNA forces, causing the Wagner Group to retreat from the frontline eastward (Middle East Eye, June 6). However, this retreat had started much earlier and by no means is a signal of Russia's ultimate withdrawal from Libya. On January 12, the Commander of the Special Military Operations Room, Support Force – Tripoli (SFT), Nasser Ammar, claimed that Russian mercenaries started to withdraw toward al-Jufra airbase. At the time, he noted, more than 500 Russian mercenaries (and over 1,000 Janjaweed militants) were located in/near the Salah Al-Deen, Yarmouk, Khallatat, and Abu Salim frontlines (Libya Observer, January 12). By the end of May, the exodus of Wagner fighters was obvious with reportedly, "1,500 to 1,600 mercenaries" fleeing from the front lines to Bani Walid and further eastward (Al Jazeera, May 25; Daily Sabah, May 27).
The roots of this withdrawal stem from three issues. First, Wagner and the LNA are militarily inferior due to the emergence of Turkish advanced weaponry—primarily unmanned combat aerial vehicles (UCAVs) (T-intell.com, May 22). Second, Russians face rising issues with Haftar, who has reportedly accused Russians of sending, "not so experienced [fighters] from Syria, Belarus and Serbia" and failing to fulfill his contractual obligations of paying approximately $150 million to the Wagner Group (Libya Observer, May 14). Third, Russia is using mercenary forces as leverage to make Haftar—who has unnerved Moscow on several occasions—more docile (YouTube, June 16).
The New Face of the Wagner Group?
Despite the retreat from the frontline, no information on the Wagner Group pulling out of the country, or wider Russian withdrawal, has emerged. On the contrary, Russia has increased its involvement in Libya in two primary ways.
First, Russia has increased its recruitment mechanisms with Russian non-state actors—including representatives of Wagner—becoming closely involved in recruiting Syrian fighters that are transported to Libya to fight on the side of the LNA (Libya Observer, January 6).
According to Turkish sources, Russia has been involved in recruiting militants from Quneitra governorate, Syria. One such group accounts for 300-400 fighters who were reportedly brought to Libya between April and early May (Inosmi.ru, April 15). Other sources suggest that the "trilateral cooperation" (Russia-Syria-LNA) on recruiting and transporting mercenaries to Libya is accomplished via the Eastern Libyan Embassy in Damascus that re-opened in March 2020 (Sana.sy, March 3). Syrian sources have argued that the main "recruiting centers" are operating in Homs, Damascus, Khama, Daraa, and As-Suwayda. In total, no less than 1,500 militants have been recruited through these centers with the help of the Wagner Group and its representatives. Many of them are "Well trained servicemen and professionals from special forces"—although this information is questioned by other sources (Inosmi.ru, April 28).
The Syrian Observatory for Human Rights claimed that "More than 900 Syrians were recruited by Russia to fight in Libya in May [alone], with fighters being trained in Homs before going to Libya" (Al Araby, June 7). Interestingly, some sources have gone even further, arguing that the recruitment process in Syria is headed not merely by non-state actors, but Russian officials. Specifically mentioned is Colonel Alexander "the Godfather" Zorin, who in 2016 served as the Russian defense ministry's envoy to the Geneva-based task force on cessation of hostilities in Syria. Zorin acquired fame in Syria by taking part in some "peace-building" missions in Ghouta, Daraa, and Quneitra (Ria.ru, June 14, 2017). An unnamed Russian source has claimed that Zorin arrived in southern Syria in April on a recruiting mission, where he held talks with a number of militant factions, some of whom declared a willingness to fight in Libya (Foreign Policy, May 5).
Second, Russia is expanding its covert military-technical cooperation with the LNA by sending (via Syria) at least 14 MiG-29s and several Su-24s, whose images were captured by USAFRICOM (Africom.mil, June 18). This transfer has been challenged by Russian sources that dispute the number of fighter jets in May (Nvo.ng.ru, June 5). For now, however, there is no record proving these fighter jets have performed any military missions.
Conclusion
By expanding its control to the realm of recruitment and intensifying military-technical cooperation, Russia has profoundly increased its role in the LNA`s combat capability. This, along with manipulations by Wagner mercenaries (arguably, the most capable part of the LNA forces), allows Moscow to exert pressure on the LNA leadership by becoming the de facto power behind the LNA forces. As argued by Kirill Semenov, "[I]n case of necessity, military contractors will likely be ordered to withdraw from the front to make him [Haftar] more cooperative" (Al-Monitor, May13). Indeed, it is legitimate to say that the Wagner Group has become a tool, allowing "Moscow to have a say in the Libyan conflict" (Libya Observer, January 6).