An International Lifeline: Taiwan's Parliamentary Outreach
Publication: China Brief Volume: 22 Issue: 23
By: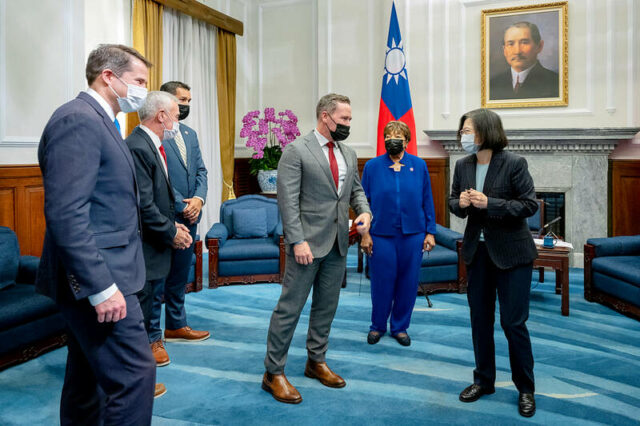 Introduction
For decades, China has made systematic efforts to internationally isolate Taiwan through a mix of coercion and diplomatic enticement. Taiwan, however, has broken through this isolation by engaging with other nations through robust parliamentary diplomacy in order to expand its international space and legitimacy. It is indeed an irony of contemporary history that although Taiwan fulfills the main requisites for statehood, such as territory, population and an effective governance structure, it is deprived of its rightful place in the community of nations multilaterally and also bilaterally at the behest of China.
Most countries' "One China" policies and state-to-state relationships with China preclude them from engaging in official interaction with Taipei, but the trend of parliamentary outreach between Taiwan and the rest of the world is gaining momentum. Such interactions provide opportunities for Taiwanese parliamentarians to interface with their counterparts from abroad, particularly with fellow democratic countries with which Taiwan lacks formal diplomatic relations. Moreover, these delegations have created something of an informal international parliamentary fraternity in support of Taiwan, which underscores a broader groundswell of goodwill in the international community. This article surveys some notable recent interactions in Taiwan's expanding parliamentary diplomacy with the U.S. and other fellow democracies.
U.S. Tops Parliamentary Exchanges with Taiwan  
The interface between lawmakers from the U.S. and Taiwan is the most extensive and high-profile exchange undertaken by members of the Legislative Yuan. The most notable parliamentary exchange was the visit by U.S. House Speaker Nancy Pelosi this past August, which induced a sharp response from China with the People's Liberation Army (PLA) staging several days of large scale, live-fire exercises in the Taiwan Straits (United Daily News, August 3; China Brief, October 4). The rationale for Pelosi and other members of Congress to visit Taiwan is justified as Congressional approval is required for arms sales to Taiwan as laid out in the 1979 Taiwan Relations Act (TRA) (U.S. Congress).
The TRA stipulates that "the President and the Congress shall determine the nature and quantum of such defense articles and services based solely upon their judgment of the needs of Taiwan, in accordance with procedures established by law." As a result, within this framework, Congress is a key custodian of U.S. defense cooperation with Taiwan. This role was further entrenched in 2018, when the U.S. Congress unanimously passed the Taiwan Travel Act, which was signed into law by then U.S. President Donald Trump (U.S. Congress). This legislation encourages visits by officials from the two sides at all levels and notably included cabinet-level officials, who at the time of the legislation's passage had not traveled to Taiwan since the normalization of relations with the PRC in 1979. The passage of the Taiwan Travel Act underscores the strong support for Taiwan across the executive and legislative branches of the US government.
After the Russian invasion of Ukraine, which prompted increased speculation over a possible Chinese invasion of Taiwan, particularly after the visit of Nancy Pelosi, the two-way exchanges of lawmakers between the US and Taiwan received additional traction. A Taiwanese Parliamentary delegation led by Kuomintang (KMT) Legislator Johnny Chiang, convenor of the legislature's Diplomacy and National Defence Committee, visited Washington at the end of June (BCC News Network [Taiwan], July 24). The delegation also included KMT legislators Hung Mong-kai, Yeh Yu-lan and Wu Sz-huai (Focus Taiwan, June 29). The delegation met with U.S. Representative Mario Diaz Balart, co-chair of the Congressional Taiwan Caucus, and discussed issues pertaining to regional security and negotiations regarding the Taiwan-US Initiative on 21st-century trade. Chiang said the purpose of the visit was to "represent the voice" of the legislature and Taiwanese, including by building support for Taiwan's participation in international organizations. During the tenure of Chiang and incumbent KMT chairman Eric Chu, the party has sought to boost its image as a "pro-U.S." party that is committed to defending the cross-straits status quo. On June 8, the KMT reopened its liaison office in Washington, which had been closed since 2008 (Taipei Times, June 20).
A cross-party delegation from the legislative Yuan led by KMT Legislator Charles Chen visited Capitol Hill in September. The seven-member delegation included KMT legislators Sandy Yeh, Jessica Chen, and Chang Yu-mei, as well as Democratic Progressive Party (DPP) legislator Mark Ho, among others. The delegation met with U.S. Representative Mark Takano. The Democratic congressman, who chairs the Veteran's Affairs Committee, opined that cross-strait dialogue could help lower tensions in the Asia-Pacific region. U.S. Representative Don Beyer, who has previously visited Taiwan, told the visiting lawmakers that Taiwan and the U.S. should strengthen trade, and expressed the hope that a Taiwan-US bilateral free trade agreement could become the first trade pact signed by U.S. President Joseph Biden during his tenure (Taipei Times, September 17).
The Taiwanese lawmakers visited at a time when the U.S. Senate Foreign Relations Committee passed the Taiwan Policy Act. Similarly, lawmakers from both parties have regularly visited Taiwan to convey U.S. support.
Republican Senator Rick Scott visited Taiwan in early July and met with President Tsai Ing-wen. He said that as a member of the US Senate committee on armed services and commerce, he remains committed to the freedoms and security of Taiwan and urged that the international community continue working together to ensure Taiwan is well-positioned to defend its freedom, referring to China's growing influence in the Indo-Pacific region. Echoing this sentiment, President Tsai Ing-wen said: "Taiwan will continue to work with the U.S. to jointly safeguard the stability and prosperity of the Indo-Pacific region"(Taipei Times, July 9).
A bipartisan delegation led by Democratic congresswoman Stephanie Murphy comprising eight US representatives, met with President Tsai Ing-wen on September 6 to express support for Taiwan (President of Taiwan, September 8). Murphy is the vice-chair of the U.S. House of Representatives subcommittee on Intelligence and Special Operations. Murphy told Tsai that the US-Taiwan relationship still grows and flourishes more than 40 years after the TRA took effect in 1979, adding that opportunities for closer cooperation and coordination across trade, security, and cultural exchanges have also increased (Taipei Times, September 9). Shortly after this delegation's visit, another bipartisan group of lawmakers led by U.S. Representative Eddie Bernice Johnson visited Taiwan and met with President Tsai on  October 13 (Taipei Times, October 14). Ms. Johnson, who is a Democratic lawmaker from Texas, is the chair of the U.S. House of Representatives Science, Space and Technology Committee. She reiterated that the U.S. commitment to the security of the Indo-Pacific is "stronger than ever," adding that the US-Taiwan relationship was essential to American national and economic security. She mentioned, in particular, a plan by Global Wafers Co., a Taiwanese company, to invest $5 billion to build a plant in Sherman City, Texas, which will create an estimated 1,500 jobs. Four other US Representatives: Democrats Seth Moulton and Kai Kahele, and Republicans Brad Wenstrup and Michael Waltz, also joined this mid-October congressional delegation to Taiwan.
Parliamentary Outreach with Other Partners
In addition to the U.S., extensive  interaction has also recently occurred between lawmakers in Taiwan and their counterparts in other democratic countries. In July, a four-member parliamentary delegation from Japan led by the former Minister of Defence Shigeru Ishiba visited Taiwan and met with President Tsai Ing-wen (Japan Times, July 28). Ishiba, who led the  Ministry of Defence from 2007 to 2008, said that Japan had responsibility for the stability of the Asia-Pacific region (Taipei Times, July 2022). In August, DPP legislators Kuo Kuo-wen, Mark Ho, Michelle Lin, Lin Ching-yi, Chang Hung-In and Chang Lio Wan-Chien visited Japan to pay their respects to former Japanese Prime Minister Shinzo Abe, who was assassinated during an election campaign speech for his party in July.
A group of Taiwanese legislators visited Canada in late July during the Legislative Yuan recess. The group was led by DPP legislator Chiu Chih-wei and included Hsu Chih-chieh and Chung Chia-pin, also belonging to the DPP. A major objective of the visit was to lobby for Taiwan's inclusion in the Comprehensive and Progressive Agreement for Trans-Pacific Partnership (CPTPP). Chung noted that although no Taiwanese legislators have visited Canada in recent years, "now is a good time, as Canada is getting closer to Taiwan" (Taipei Times, July 27). A cross-party delegation led by Canadian lawmaker Judy Sgro attended Taiwan's Double Ten National Day celebrations in Taipei this year. The Chinese embassy in Canada reacted strongly through a statement that the visit led by Sgo blatantly violated the one-China principle and "grossly interferes in China's internal affairs" (Taipei Times, October 17). The Embassy statement also stressed that China would "continue to take resolute and strong measures to defend its national sovereignty and oppose the interference by external forces in China's internal affairs." Sgo responded by saying that pressure from China would not prevent her and other lawmakers from visiting Taiwan. Significantly, in September, Canadian naval vessels recently transited the Taiwan Strait to help uphold peace and stability in the region (Focus Taiwan, September 21).
The overlapping interests of Taiwan's Legislative Yuan and European parliaments are equally pronounced, especially after the Russian invasion of Ukraine. The first parliamentary delegation from Germany to visit Taiwan after the COVID-19 pandemic in 2019 was in early October, after Nancy Pelosi's visit. A seven-member parliamentary delegation led by German-Taiwan Parliamentary Friendship Group Chairman Klaus-Peter Willsch arrived in Taiwan in early October. The delegation met with President Tsai, who thanked Germany, which holds the rotating G7 Presidency this year, for overseeing the issuance of the joint statement by G7 leaders and foreign ministers expressing concern for peace and stability in the Taiwan Strait. Tsai further said that at the World Health Assembly in May this year, Germany for the first time expressed its clear support for Taiwan's participation as an observer (Taipei Times, October 4).  Ahead of the WHA meeting, which held its 75th session in Geneva, a number of Parliaments passed resolutions supporting Taiwan's bid for observer status at the WHA. The German parliament, the Bundestag, unanimously passed a resolution urging Taiwan to participate in WHO activities. The resolution urged the German government to advocate for Taiwan's participation in the WHA and allied agencies. It also called upon the government to report to the Bundestag regularly about its efforts to support Taiwan's participation in WHO activities (Taipei Times, May 21).
A group of Taiwanese legislators led by Legislative Yuan speaker You Si-kun visited France in July and met with the French Senate in Paris (Liberty Times, June 30). The French senators expressed hope that economic and trade cooperation with Taiwan's semiconductor industry was poised to increase (Focus Taiwan, July 28). In early September, a group of French lawmakers led by Senator Cyril Pellevat visited Taiwan after China conducted huge military exercises in response to Pelosi's visit. The delegation, the fourth in the past year, underlines the growing strategic synergy between Taiwan and France (Taipei Times, September 9).
In Taipei's parliamentary outreach, the Czech Republic, which like Taiwan is a vanguard of democracy hailed for the 1968 Prague Spring and the 1989 Velvet Revolution, occupies a special position. No wonder, therefore, when the Taiwanese Legislative Yuan Speaker You Si-kun visited Prague on his trip to Europe this July, a first for the Legislative Yuan, he described his visit as a pilgrim of sorts to the "Mecca of democracy." In his address to the Czech Senate, You urged democratic countries around the world to "understand the core ideas of Chinese Communist Party and to enact preventive measures against its spread, or it could, soon, bring about irreparable disaster for the human race." He further said: "one can say, for certain, that safeguarding Taiwan is in the public interest of the world" (Taipei Times, July 17). When it was made public, Beijing reacted strongly to You's visit. The PRC's Taiwan Affairs Office claimed that the purpose of Taiwan's parliamentary diplomacy was to gain the support of external forces for Taiwanese independence. Ma Yiaoguang, spokesperson for China's Taiwan Affairs Office, accused You of being a "diehard Independence element "who sneaks around" other countries and engages in parliamentary diplomacy in order to win over external anti-China forces to pursue Taiwan independence (Taiwan News, June 22).
Support from the Inter-Parliamentary Alliance on China 
Going beyond the parliamentary support at the bilateral level, Taiwan now also enjoys the multilateral support of parliamentarians through the Inter-Parliamentary Alliance on China (IPAC), which held its annual meeting in Washington, D.C., in mid-September. More than 60 parliamentarians from across the world from different countries attended this year's event, which at its conclusion passed a communiqué without objection. Among other issues, the communiqué condemned China's military exercises around Taiwan and its coercive military threats. It called on countries worldwide to oppose China's tactics in the Strait, to promote state visits to Taiwan and to upgrade the status of the country's missions abroad. It also called for Taiwan's meaningful participation in the WHO, the International Civil Aviation Organization, Interpol, the UN Framework Convention on Climate Change, and their respective international covenants and organizations. The current members of IPAC include cross-party legislators from the European Parliament, the US, the UK, France, Germany, the Czech Republic, Italy, Australia, Italy, Japan, Lithuania and Ukraine, among others (Taipei Times, September 16).
Conclusion
The intensification of bilateral and multilateral parliamentary exchanges with Taiwan suggests the increasing erosion of China's "One China" principle as more and more countries defy its writ by recognizing Taiwan's de-facto status as an independent and sovereign country, which deserves its rightful place in the community of nations. Not only did Speaker Nancy Pelosi, a constitutional leader in the U.S. Government, visit Taiwan, but so have other high-level foreign dignitaries such as the British minister of State for Trade Policy Greg Hands and Franziska Bratner, the German Parliamentary State Secretary at the Federal level visited Taiwan in November and concluded agreements defying China's much vaunted "one China principle" (Nikkei Asia, November 10). Countries have started to revisit and revise their "one China policies," emphasizing that China's "one China principle" is not the same as the "one China policy" adopted by most countries that have diplomatic relations with Beijing.
Rup Narayan Das is a retired senior parliamentary officer of the Lok Sabha Secretariat of the Indian Parliament and a Taiwan Fellow of 2022; and the author of the book Hong Kong Conundrum: Pangs of Transition published in April this year.