Will a Successor to Xi Jinping Emerge from the Party's Seventh-Generation Leadership?
Publication: China Brief Volume: 22 Issue: 23
By: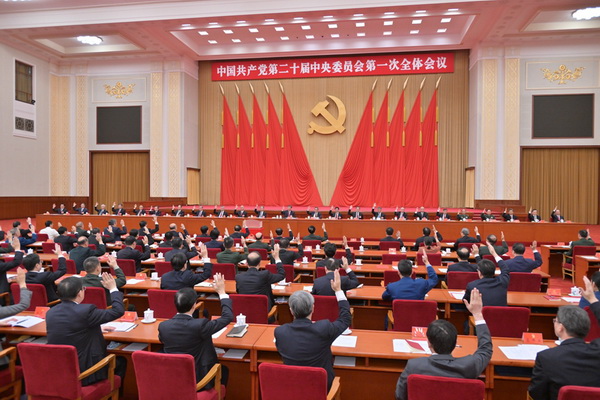 Introduction
General Secretary Xi Jinping has a long record of breaking with Chinese Communist Party (CCP) rules and conventions. At the recently concluded 20th Party Congress, he made himself the "party core for life" by revising the CCP charter and reinforced that position by filling the ranks of the Central Committee and Politburo with members of his own faction (China Brief, October 24). As a result, it is doubtful that any real or potential rival will emerge to challenge Xi's all but announced intention of ruling through at least the 22nd Party Congress in 2032. Hence, Xi has now spurned another key party institution: a transparent and orderly succession process (BBC Chinese, October 28; Radio French International, October 12).
A Break From Generational Succession
A key institutional change implemented by Deng Xiaoping as the chief architect of reform was to limit the party chief to two five-year terms, with a successor named a half decade before their retirement. This arrangement sought to avoid the confusion of the Mao Zedong era, when the anointment of a number of putative "successors," including President Liu Shaoqi (刘少奇), Marshal Lin Biao (林彪) and security chief Hua Guofeng (华国锋) only succeeded in exacerbating internecine bickering among disparate party factions. And of course, the first two anointed successors to Deng himself, general secretaries Hu Yaobang and Zhao Ziyang, also failed to effectively attain the top leadership role by gaining full control of the party-state and military apparatus.
Deng established the so-called generational succession model in the early 1980s (Radio Free Asia, October 27). Thus Jiang Zemin (born 1926), the "core of the Third-Generation leadership" was succeeded by Hu Jintao (1942), the representative of the Fourth Generation cadres who were born in the 1940s. Finally, Hu passed the mantle to the representative of the Fifth Generation, Xi Jinping (born 1953). However, it is unlikely that any Sixth-Generation (6G) cadre will succeed Xi (China Brief, November 12, 2021). According to the well-observed party convention called qishang baxia, 七上八下 (a reference to the fact that the retirement age for the Politburo Standing Committee [PBSC] is 68, while those aged 67 or below can serve for one more term), the successor of Xi must be under 68 at the 22nd Party Congress in 2032 (Radio French International January 2). While it is possible that Xi will not follow the retire-at-68 convention in 2032, the qishangbaxia rule was largely followed at the 19th and 20th Party Congresses.
However, the relatively young members of the newly elected Politburo and PBSC, namely PBSC member Ding Xuexiang (丁薛祥; born 1962), and ordinary Politburo members Yuan Jiajun (袁家军 ; 1962), Chen Min'er (陈敏尔; 1962), Liu Guozhong (刘国中; 1962), Li Shulei (李书磊; 1964) and Chen Jining (陈吉宁; 1964) would all be at or over age 68 in 2032 and thus would not be able to satisfy the qishang baxia dictate for induction or retention on the PBSC (Xinhua, October 23). On the personnel front, this development has left the door open for Seventh-Generation (7G) rising stars, who were born in the 1970s. Among the 171 alternate (meaning non-voting and second-tier) members of the Central Committee endorsed last October, around 30 are 7G neophytes (Xinhua, October 22). Five cadres on the 131-member Central Commission for Discipline Commission, which is the nation's highest-level anti-graft unit, were also born in the 1970s (Caixin.com, November 1).  
Springboards to Power
Among the newly elected Central Committee alternate members, Zhuge Yujie (诸葛宇杰) and Shi Guanghui (时光辉) have already reached the level of Deputy Party Secretary in Shanghai and Guizhou Province, respectively. Zhuge (1971) has spent his entire career in Shanghai. After a stint in Shanghai's maritime engineering and port sector, Zhuge was promoted to Director of the General Office of the Shanghai party committee secretariat in March 2017 at just 45 years old. A few months later, he was inducted into the Standing Committee of the Shanghai Party Committee in addition to becoming its secretary-general. In March 2022, Zhuge became one of two Deputy Party Secretaries of Shanghai (Shandong Commerce Paper, May 2; Dongfang Net, March 29).
Shi Guanghui (born 1970) has also spent much of his career in Shanghai, first as an engineer and then as a district-level administrator. He was promoted a vice-mayor of the metropolis in 2013. Five years later, Shi was transferred to Guizhou and appointed a Standing Committee member of the provincial party committee in charge of law and order. Earlier this year, he was named Deputy Party Secretary of Guizhou (Gov.cn, October 28; Guizhou Daily, April 29). Given that Shanghai has been the traditional springboard to  the top echelons of the party, Zhuge and Shi seem to have bright futures ahead.
Most of the new inductees to the alternate list of the Central Committee are heads or vice-heads of the party or administrative apparatuses of provinces and major cities. They include the Party Secretary of Hangzhou Liu Jie (刘捷; born 1970); Vice-Mayor of Beijing Yang Jinbo (杨晋柏;1973); Party Secretary of Jinan, capital of Shandong Province, Liu Qiang (刘强; 1971); Executive Vice-Chairman of the Inner Mongolia Autonomous Region Huang Zhiqiang (黄志强; 1970); Executive Vice-Governor of Jiangsu Fei Gaoyun (费高云; 1971); Vice-Governor of Fujian Guo Ningning (郭宁宁 ; 1970); Party Secretary of Xiamen Cui Yonghui (崔永辉 ; 1970); Party Secretary of Datong, Shanxi Province, Lu Dongliang (李东亮; 1973); Party Secretary of Urumqi Yang Fasen (杨发森; 1971); Party Secretary of Kunming Liu Hongjian (刘洪建; 1973); and Party Secretary of Taiyuan Wei Tao (韦韬 ; 1970) (Chongqing Morning Post, November 30; Taiyuan Daily, November 22; People's Daily, October 23; The Paper, October 25, 2021).
As the post of Hangzhou party secretary is considered a fast track to the CCP's upper echelons, Liu Jie has received special attention. Liu (born 1970) earned his spurs as an engineer and administrator of a large steel plant in Hunan Province. He was named Director of the Xiang Gang Second Steel Smelting Factory in 2000, when he was only 30 years old. Liu got his big break in 2015 when he was elevated to the Standing Committee of the Jiangxi Provincial Committee in the capacity of its Secretary-General. In 2021, he was named a member of the Zhejiang provincial party committee and concurrently Party Secretary of Hangzhou, the provincial capital (Hangzhou Daily, November 22; Qq.com, November 20). His Zhejiang connection is important given the number of former Zhejiang officials who belong to the predominant Xi Jinping Faction (XJPF).
Several of the newly named 7G Central Committee alternate members are technocrats with training and experience in engineering and the management of metallurgical, electrical and port facilities. Of special note are up-and-comers with banking experience. This seems to reflect the fact that most of China's local-level administrations are heavily indebted because they have been too dependent on income and taxation from the property sector. Leaders with finance experience are given the mandate to reduce debt and to diversify local tax bases (VOA Chinese, July 13; South China Morning Post [SCMP], November 2, 2021).
Shandong's Liu Qiang and Fujian's Guo Ningning are good examples of financial technocrats who have risen through the ranks. Liu has spent the bulk of his career in banking, rising to become president of the Shanghai Branch of the Agricultural Bank of China and vice-president of the Bank of China (BOC) in the 2010s. Guo, one of the few female 7G stars, has spent most of her career in the BOC. She was previously the head of the BOC's Hong Kong and Singapore branches before being promoted to vice president of the Agriculture Bank of China in 2016. She was parachuted into Fujian as the vice-governor in charge of finance two years later. In 2021, Guo was named one of Time Magazine's 100 Next Generation leaders (Finance.sina, March 28; Time.com, February 17, 2021).
Among the 7G members of the Central Commission for Discipline Inspection, Li Xinran (李欣然; 1972) seemingly has the most outstanding credentials. Li, who holds a master's degree in law, has spent his entire career in disciplinary and anti-corruption departments, including stints in the CCDI's provincial inspection teams. He was attached to the discipline department of Lhasa, Tibet, from 1985 to 1988. Li later became the head of the disciplinary department of the BOC. He became a member of the Standing Committee of the CCDI at the 20th Party Congress (Qq.com, October 13; The Paper, September 30, 2021).
Conclusion
As the great majority of the so-called XJPF members come from Fujian, Zhejiang and Shanghai, it is notable that the supreme leader's protégés from these three regions are well-represented among full members of the Central Committee and the Politburo. However, only a few 7G alternate Central Committee members have any connection to the "party core's" personal clique. This raises the possibility that, if Xi remains healthy as of 2032, he might relinquish the post of party general secretary to a non-XJPF affiliate while still remaining China's top leader by hanging on to the powerful position of Chairman of the Central Military Commission (CMC). After all, this was the model adopted by Deng Xiaoping from the time he came to power in 1978 until his death in 1997. Although Deng never held the position of party chief, the fact that he was CMC chief until a few months after the June 4, 1989 crackdown rendered it possible for him to continue being the ultimate arbiter of decision-making in all areas of the polity (VOA Chinese, October 18; The Initium [Hong Kong], February 26, 2018). However, one key element of Deng's power resided in the fact that he commanded almost universal respect as the progenitor of the reform and opening up policy. The fact that Xi's prestige has been dented by his repeated bending of CCP conventions for self-serving purposes—as well as his poor handling of the economy—means that his authority might be challenged even before his fourth term as general secretary runs out by the year 2032.
Dr. Willy Wo-Lap Lam is a Senior Fellow at The Jamestown Foundation and a regular contributor to China Brief. He is an Adjunct Professor in the History Department and Master's Program in Global Political Economy at the Chinese University of Hong Kong. He is the author of six books on China, including Chinese Politics in the Era of Xi Jinping (2015). His latest book, The Fight for China's Future, was released by Routledge Publishing in 2020.