Another Chance for the Odessa-Brody Pipeline
Publication: Eurasia Daily Monitor Volume: 7 Issue: 192
By: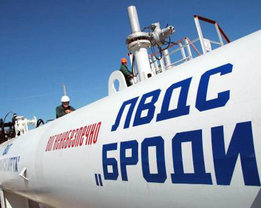 Using the Odessa-Brody oil pipeline as originally intended, south-north, is under active consideration again; this time, by the governments of Ukraine and Belarus. The pipeline is being used since 2004 in reverse, north-south, by Russian oil companies, for exports out of Odessa. Such reverse-use blocks the access of non-Russian oil into the Odessa-Brody pipeline for supplying Ukraine and other countries in the region. These countries have sought unsuccessfully to correct the situation during the intervening years.
Four recent developments are spurring the same countries to re-open the issue:
1. Russia has imposed a steep price hike through export duties on crude oil to Belarus, compounded by taxation of Belarusian exports of oil products refined from Russian crude. This has compelled Belarus to seek non-Russian supplies for its massive oil-processing industry, so as to maintain operations and avert a Russian takeover of the assets.
2. The growing volumes of Venezuelan oil are potentially available for delivery at Ukrainian Black Sea and Baltic ports and onward transportation to the land-locked Belarus. While the cost-effectiveness of existing transportation by railroad is questionable, the Odessa-Brody pipeline would alleviate this problem, if used northward to Brody as originally intended.
3. Russian oil transit through the Druzhba pipelines via Belarus and, especially, via Ukraine to Europe is expected to decline in the years ahead, as Russia re-directs export volumes toward its own Baltic Pipeline System (BPS 1 and 2). This underscores the need for diversification of suppliers and supply routes, preeminently Odessa-Brody south-north.
4. Russian oil shippers are sharply reducing their export volumes through the Odessa-Brody pipeline north-south, thereby releasing Ukraine from contractual obligations on reverse-use, and freeing pipeline capacity for non-Russian oil to flow in the originally intended direction, south-north.
On October 17 in Minsk, the Belarus Oil Company (BNK) and Petroleos de Venezuela (PDVSA) signed an agreement for the delivery of 10 million tons of Venezuelan oil to Belarus per year, from 2011 through 2013. President Alyaksandr Lukashenka and his visiting counterpart, Hugo Chavez, witnessed the agreement's signing (Interfax, October 18).
Belarus plans to access about half of that annual volume via Odessa and the remainder via Baltic ports. Belarus has already started significant imports of Venezuelan oil, with a planned volume of 4 million tons in 2010 (Belapan, October 13).
Among Baltic ports, Lithuania's Klaipeda is the leading option for Belarus to import Venezuelan and other non-Russian oil. Lithuanian President, Dalia Grybauskaite, and accompanying officials, visiting Minsk on October 20, reached preliminary agreement with their Belarusian counterparts on oil transportation from Klaipeda. The agreement is expected to be finalized by November (Interfax, October 20).
On October 18 in Kyiv, President Viktor Yanukovych held talks with the visiting President Chavez regarding Venezuelan oil transportation via Ukraine for Belarus. According to Yanukovych, Ukraine has considerable spare capacity in its oil transit pipelines (Druzhba system) and is also keen to use the Odessa-Brody pipeline for inflow into the country (Interfax-Ukraine, October 18, 21). Yanukovych was alluding to the decline in Russian oil exports via Ukraine to Europe, as Moscow redirects oil volumes for shipment by tankers via the Baltic Sea.
The Odessa-Brody pipeline has been under-utilized continuously since 2004. TNK-BP and other Russian oil companies, using this pipeline in reverse, supplied far less than its capacity volume of 9 to 12 million tons per year. This prompted suspicions that commerce was only one reason for Russian reverse-use, the other presumed reason being denial of access to non-Russian oil supplies for Ukrainian refineries. Meanwhile, the oil flow to Odessa has further declined in the second quarter of 2010 for unclear reasons, and is said to have practically stopped in October (Nezavisimaya Gazeta, October 20).
This situation allows the Ukrainian government to prepare for using this pipeline for inflow of oil from Odessa, instead of outflow. Once that happens, however, there is no optimal transport solution yet from Brody to Belarus.
Oil is being moved from Odessa by railroad at present. Belarus started imports of Venezuelan oil from Odessa's Pivdenny terminal in April of this year. These imports hit the 1 million ton mark by mid-October and are planned at 1.5 million tons for 2010. The Ukrainian government has reduced taxes on oil transportation of oil bound for Belarus at the Pivdenny port and on Ukrainian railroads (Interfax-Ukraine, October 21).
On October 12 in Kyiv, First Deputy Prime Ministers Andriy Kliuyev of Ukraine and Uladzimir Syamashka of Belarus signed an inter-governmental agreement on oil transportation for the years 2011-2015. The agreement envisages transit of 4 to 5 million tons of oil per year, from Odessa/Pivdenny via Ukraine to Belarus (Interfax-Ukraine, October 21).
Also on October 12, the Ukrainian government approved the test-pumping of a consignment of 80,000 tons of Venezuelan oil through the Odessa-Brody pipeline, and onward through a section of the Druzhba pipeline, to the Mozyr refinery in Belarus. Proposed by Ukraine's Fuel and Energy Minister, Yury Boyko, and scheduled for November, the move necessitates "batch-pumping" –a method to forward oil of different densities through a pipeline in separate batches, without mixing them. The amount of 80,000 tons corresponds with the capacity of tankers being handled at Odessa's Pivdenny terminal (Interfax-Ukraine, UNIAN, October 12, 14; BELTA, October 13).
Russian Energy Minister, Sergei Shmatko, however warned publicly, while in Kyiv, that pumping Venezuelan oil via Odessa-Brody-Druzhba to Mozyr would necessitate Russian approval. Boyko retorted also publicly that Ukraine has a right to act in its national interest and that of its partner Belarus (Interfax-Ukraine, October 14, 15). The main technical issue is almost certainly the composition of Venezuelan oil.
Using the Odessa-Brody pipeline south-north, as originally intended, is also a matter of interest to Poland. The Sarmatia consortium, last restructured in 2007 with Polish, Ukrainian, and Lithuanian participation, had expected to import oil through this pipeline ever since Ukraine completed it in 2002. The Polish refineries at Plock and Gdansk were the designated customers, pending an optimal transport solution from Brody onward. Polish Prime Minister, Donald Tusk, recently urged the visiting Ukrainian Prime Minister, Nikolai Azarov, to consider this issue again (PAP, September 30), as did the Sarmatia consortium chief in a statement to the Ukrainian government (UNIAN, October 14).
These countries had intended to import Caspian oil through the Odessa-Brody pipeline and a northbound continuation route. From 2002 onward, however, Russia blocked the access of Kazakhstani oil via Novorossiysk to Odessa. Deliveries of Azerbaijani oil would have been feasible via Georgia's Black Sea coast to Odessa, but Russian companies blocked the inland access into Ukraine through the Odessa-Brody pipeline, by using it in reverse. Venezuelan oil deliveries inland by railroad, or batch-pumped by pipeline, are temporary, emergency-dictated solutions. A real solution would have to start with the Ukrainian government regaining sovereignty over the Odessa-Brody pipeline, for northward use.