Another Chechen Émigré Murdered in Turkey
Publication: Eurasia Daily Monitor Volume: 12 Issue: 42
By: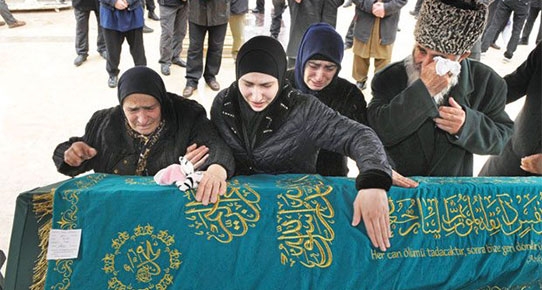 Istanbul has experienced another series of murders of Chechens who fled to Turkey from persecution back home during the second Russian-Chechen war. After the start of that war in the fall of 1999, thousands of Chechens flocked to Turkey seeking political asylum. According to unofficial estimates, about 10,000 Chechens settled in Turkey in this exodus, and seven Chechens have been killed in the country since the start of the second Russian-Chechen war. Chechen field commander Gaji Edilsultanov was killed in 2008. Another Chechen insurgent commander, Islam Janibekov, was also killed in 2008. Doku Umarov's representative in Turkey, Ali Osaev, who was also a rebel commander, was killed in 2009. Berg-Hazh Musaev, a militant leader, and two other Chechens, Rustam Altemirov and Zaurbek Amriev, were killed in Istanbul on September 16, 2011 (Kavkazcenter.com, March 10, 2014).
Two Chechens from Turkey's local Chechen community who represented the interests of Ichkeria were also killed. One was the head of the Chechen Committee in Kahramanmaras, Neidet Gun, who was killed on November 4, 2001. The second was Ichkeria's representative, Medet Unlu, who was assassinated on May 23, 2013 (Bfm.ru, May 23, 2014). The Shariah judge of Ichkeria, Shamsudin Batukaev, miraculously escaped an assassination attempt several years ago (Infox.ru, October 11, 2011). The number of assassination attempts on Chechens in Turkey certainly exceeds actual murders, because after such attempts, the surviving Chechens prefer to go underground without advertising this to the public or media (Wordyou.ru, May 23, 2013). Chechens slain in Istanbul always frequently are portrayed by Moscow as organizers of various terrorist attacks in Russia, sometimes raising questions about the veracity of such accounts (Sobesednik.ru, September 28, 2011).
Turkish authorities know perfectly well that Russia is behind the murders. Even the deputy prime minister of Turkey, Bulent Arinc, was forced to admit this, but the perpetrators of the crimes were not prosecuted. "We know that the hand of a well-known organization in Russia killed five Chechens in Istanbul by now," he said. "However, we have not been able to catch the criminals, because the crimes were carried out at a highly professional level. We have not been able to determine what kind of activities the slain people were engaged in" (1in.am, January 11).
This testimony by a top Turkish government official indicates that Moscow does not share any information with its strategic neighbor and carries out these crimes behind Turkey's back. Ankara does not want to jeopardize relations with Moscow for the sake of the Chechens, but also it cannot allow Russia to carry out such attacks behind its back (Deutsche Welle—Russian Service, March 6, 2014). Nevertheless, following the attack by a female suicide bomber in Turkey at the start of 2015, Bulent Arinc alleged that a "Chechen organization of Black Widows" was operating in Istanbul. The statement indicated that the Turkish government does not know who it is dealing with, since the so-called Black Widows organization is only a figment of the imagination of journalists, and was never a real organization.
This time, the victim of the Russian reprisals in Turkey was Kaim Saduev. Though unknown to most people, Saduev was quite close to Shamil Basaev. According to Saduev's relatives, they received a bag with clothing and food items. After the bag was opened, they smelled wild onion, a North Caucasus delicacy, and were thus not alarmed. However, soon afterwards, Saduev felt pain in his chest, vomited and fell into a coma at the hospital and died several days later without regaining consciousness. Saduev's spouse, Zeinap Sadueva, temporarily lost her eyesight and their youngest son, Khalid Saduev, remains in intensive care in Istanbul. Kaim Saduev died on March 2 and was buried in the presence of a large contingent from the local Chechen diaspora at a city cemetery (YouTube, March 3). His doctors said Saduev suffered a cerebral hemorrhage but were unable to explain what affected his wife and his young son. Clearly, some sort of poisonous gas was used that does not leave traces in the bodies of its victim.
Kaim Saduev was a prominent member of the Chechen diaspora in Turkey and remained a staunch supporter of the original Chechen secular state of Ichkeria, which caused discontent among supporters of the Caucasus Emirate and, more recently, the Islamic State. Saduev helped supporters of Ichkeria to start production of Ichkerian symbols from the era of Dzhokhar Dudaev and Aslan Maskhadov. Not only Russia, but both the Caucasus Emirate and the Islamic State are opposed to Ichkeria. Thus, Saduev became the ninth Chechen killed in Turkey since the start of the second Russian-Chechen war.
With Saduev's murder, the issue of protecting Chechen asylum seekers in Western countries—particularly in Turkey—has once again gained significance. If these countries cannot provide security to the people they promised to protect, they should state openly that they are helpless before the Russian security services. Asylum seekers should be aware that their personal security is their own problem and not that of the state that has received them.
The latest murder in Istanbul is yet another reminder of Russia's aggressive policies toward those it considers its enemies. The methods of the Stalinist era are back in demand under Russian President Vladimir Putin, which means it is likely more murders and kidnappings of Chechen activists residing in the West and Turkey will follow.