Ansar al-Islam Bangladesh's Unchecked Online Recruitment Campaign
Publication: Terrorism Monitor Volume: 20 Issue: 4
By: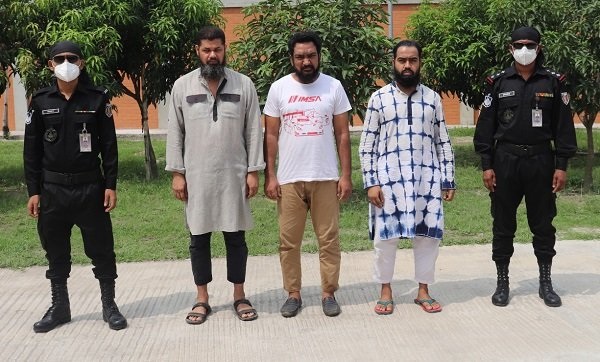 Ansar al-Islam Bangladesh's Unchecked Online Recruitment Campaign
Animesh Roul
In late December 2021, Bangladeshi counter-terrorism agencies warned about the possible resurgence of Ansar al-Islam Bangladesh (AIB), which also functions as an official wing of al-Qaeda in the Indian Subcontinent (AQIS) and staunchly supports the Afghan Taliban's Islamic Emirate. According to these agencies, AIB has been recruiting and training in the hinterlands of Bangladesh. Despite relentless counter-terrorism operations targeting AIB's hideouts and the detention of its cadres for the past several years, the group has remained resilient (Dhaka Tribune, March 7, 2017; Daily Star, November 15, 2021). Bangladeshi police estimate that nearly 40 militants affiliated with AIB have been arrested during 58 anti-terror operations across the country in 2021 alone (Daily Star (Bengali), December 24, 2021).
AIB has also been secretly recruiting from among Rohingya refugees and women, who support activities such as gathering intelligence and couriering. Bangladeshi intelligence agencies also have claimed that the group devised a plan to attack "soft targets" that include anti-Islamic and secular writers, as well as intellectuals. Their plan includes "hard targets" comprising foreign embassies, in addition to entities and individuals promoting Hindutva ideology in the country (Weekly Blitz, December 26, 2021).  Given that AIB is now scaling up its online recruitment campaign, security agencies will inevitably be examining these tactics as well.
AIB's Historical Targeting of Progressives
AIB was previously known as Ansarullah Bangla Team (ABT) and was outlawed in March 2017 for its widespread violence against writers, intellectuals, atheists, secularists, and gay rights activists from 2014-2016 (bdnews.net, April 26, 2016). Shortly after this period, both AQIS and AIB began claiming responsibility or being implicated in almost all attacks against progressive and secular individuals in Bangladesh. While at least 15 such individuals were murdered or injured in 2015 and 2016, others on the AQIS/AIB hit list either went into hiding or fled the country (Dhaka Tribune, November 10, 2015). AIB was last blamed for the killing of the secular writer and publisher, Shahjahan Bachchu, on June 11, 2018 (Daily Star, August 17, 2021).
As early as August 2015, AQIS/AIB had threatened to kill anyone who criticized or insulted the Prophet Muhammad, distorted Islam, or, most importantly, voiced opposition against the establishment of sharia law in the country (Dhaka Tribune, November 1, 2015). AQIS/AIB's spokesperson for Bangladesh, Abdullah Ashraf, was in step with this reasoning when he claimed the death of blogger Niloy Neel in 2015 "as vengeance for the honor of the messenger of Allah" and declared war "against the enemies of Allah" (BDNews24.com, August 7, 2015). In February 2015, these attacks on freedom of expression finally garnered international attention when Bangladeshi-born U.S. citizen and secularist author, Avijit Roy, was killed and his wife, Rafida Bonya Ahmed, was seriously wounded by AIB in Dhaka (BDNews.com, May 04, 2015).
Six years later, in 2021, a counter-terrorism court sentenced five AIB militants to death and another militant to life imprisonment. The U.S. State Department's Rewards for Justice Program also announced a $5 million reward for any other information about the fugitive members involved in the attack on Roy and his wife(State Department, December 20, 2021).
AIB's New Terrorism Tactics
AIB is reviving its strategy of targeted killings to stifle freedom of expression and anti-Islam or secular ideals, but in new ways. For example, the first ever arrest of a woman AIB operative occurred last August, which suggests AIB has a female online recruitment campaign. Investigators additionally traced two Facebook accounts, one ChirpWire account, and several Telegram accounts and channels with nearly 25,000 followers (Daily Star, August 29, 2021). The arrest of AIB's main recruiter, Azzam Al Galib, in November 2021 revealed the group's grassroots campaign of online recruitment. It was also found that group members used email and file-sharing services, such as 'Tutanota' and Jabber.net, to evade cyber detection (Daily Star, March 7, 2021).
In December 2021, the counter-terrorism police chief downplayed reports of AIB and AQIS's revival in the country. According to him, the group has no organizational strength to perpetrate violence, although he admitted the group had a considerable online influence and presence. Through its dedicated YouTube channel 'Umma Network', AIB's spiritual head and hardcore AQIS member Tamim-al Adnani releases continue propaganda material. In one video, he also suggested the shift and relative success in the revival strategy. This revival was also inspired by the Taliban's return to power in Afghanistan in 2021. Adnani, in his audio-visual speeches in the Bengali language, hailed the Taliban victory over U.S. and NATO forces as a victory of Islam. He urged fellow Muslims to fight urgently in the path of God to establish Islamic rule in South Asia and act against democratic governments (YouTube, August 28, 2021; YouTube, September 2, 2021).
AIB's core objective to take control of the Indian subcontinent through the Ghazwat-ul- Hind (Battle of India) is in tandem with al-Qaeda's worldview. With increasing anti-Hindu and anti-West rants on social media, such as YouTube, Facebook, Telegram and ChirpWire, the propaganda materials published in pro-AQIS portals remain focused on calling for violence against Hindu communities in India and Bangladesh. Such pro-Islamist portals and web forums regularly highlight and exploit sporadic anti-Muslim events in the subcontinent; they also highlight selectively anti-Muslim speeches and violence. The pro-AQIS and pro-AIB Bengali language portals vehemently accuse the Indian and Bangladeshi governments, security agencies, media, and courts of strategic collusion against Muslims and blame them for silence on the mob attacks on Muslims by fringe groups and individuals in India (al Firdaws, February 3).
Conclusion
With around 700 to 800 active members, most recruitment campaigns for AIB remain focused on marginalized and impoverished communities in village settings, such as Dinajpur, Netrakona, Jamalpur, Madhupur and Tangail, and recently on women as well (Daily Star, March 7, 2021). Meanwhile, the group's footprints in Dhaka and Chittagong are proving to be a concern for Bangladeshi security agencies. Along with the elite Counter Terrorism and Transnational Crime Centre (CTTC), the government is devising a hybrid strategy of both hard and soft approaches to prevent recruitment and promote deradicalization among youths. However, the government may be falling short in the face of uninterrupted and unchecked AIB messaging over the internet.