AQAP Surges in Yemen as War Rages
Publication: Terrorism Monitor Volume: 13 Issue: 9
By: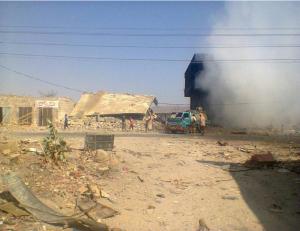 The Shi'a Houthi rebels' advance on Yemen's capital Sana'a from late 2014 was a slow burning conflict that led to the resignation of President Abdu Rabbu Mansur Hadi on January 22, which prompted chaos in Sana'a and has since spread to much of the rest of the country (Yemen Times, January 22). Meanwhile, a fissure developed within the Yemeni military as former President Ali Abdullah Saleh, backed by key army units, emerged as key Houthi ally, likely to facilitate an intended future power grab by himself, his family and supporters. In response to these developments, on March 25, Saudi Arabia, fearful of an "Iranian-backed" Shi'a regime coming to power, organized a coalition of 10 nations to conduct an air campaign against the Houthis (al-Jazeera, March 26). As events in the country increasingly make clear, al-Qaeda in the Arabian Peninsula (AQAP) has been quick to exploit the resulting power vacuum and the ongoing conflict, as it did during and following the Arab Spring uprisings both in Yemen and elsewhere in the region. This article will explore AQAP's recent actions in various locations in Yemen, analyze the group's emerging strategy and suggest how the group is likely to evolve as Yemen's ongoing civil war develops.
Paving the Way
While AQAP is undoubtedly exploiting the fresh tumult in Yemen, it was an elaborate campaign by the group in 2014 that laid the foundation for its current success. In particular, the group during 2014 become more adept at reaching out to local tribes for support, notably through their new nom de guerre Ansar al-Shari'a. In addition, the widespread distribution of recent attacks has highlighted that AQAP's potency now extends beyond their former rural bastions in the south and east, striking as far as Sana'a and Hodeidah (Middle East Eye, September 29, 2014; Yemen Observer, December 21, 2014). The majority of operations in their heartlands during 2014 were against military and government targets, with an emphasis on military bases suspected of cooperating with U.S. drone operations. The outlying attacks meanwhile targeted their Houthi adversaries as well as the national military. In 2013 and 2014, AQAP made its largest gains in Shabwa, Abyan and Hadramawt governorates but tactically retreated from all but the latter during 2014 due to U.S. drone strikes and Yemeni military operations.
Today AQAP is using this same operational model to capitalize on the growing chaos in Yemen. In particular, in recent weeks, AQAP has consolidated their control in parts of Hadramawt and also bolstered their ranks in Marib, Abyan and Shabwa through coopting local tribes and heading off the Houthis before they advance into AQAP strongholds. Notably, the multisided battlespace created by the Houthi advances into Yemen's central highlands and towards Aden provided AQAP the cover needed to conduct one-off assaults on the Houthis in al-Bayda, Lahj, Ibb and Taiz (al-Mashhad, April 9; SITE, April 19). Although most of these attacks have not led to significant territorial gains, they underline the group's ability to operate with near-impunity through much of the country. However, their maneuverability in these provinces will likely be limited to bombings and assaults using small five to ten man cells as the militias loyal to Hadi and Saudi jets continue to engage Houthi positions.
Amplifying the problems posed by AQAP's resurgence, is that developments come after the United States hastily evacuated all embassy personnel from Sana'a on February 10 in response to the Houthi seizure of the city, following which U.S. special operations forces, including advisors at al-Anad air base near Aden in southern Yemen, were ordered out of the country on March 22 as the Houthis advanced southwards (Yemen Times, March 23). The withdrawal of U.S. troops from al-Anad critically diminished the U.S. intelligence footprint within the region at a key moment. Indeed, it is now clear that the disruption of U.S. and Yemeni military operations as a result of the Houthis' advance, coupled with Saudi-led airstrikes, have collectively created a major opportunity for AQAP to broaden and expand its operations.
Marib, Abyan and Shabwa
Fighting between various groups has been steady in the oil-rich province of Marib since the fall of 2014 (Yemen Times, November 11, 2014). The Murad, Obaidah and Bani Dabian tribes of Marib mounted a stiff resistance against attempts to advance into the province by both the Houthis and AQAP. However, the tribes have been steadily losing ground to the Houthis, particularly in Sirwah where Houthi fighters have seized the 312th Military Brigade Base (Yemen Times, February 2; Barakish, April 24). Meanwhile, AQAP fighters, along with members of Islah (Yemen's largest Islamist party, which derives from the Muslim Brotherhood), are reportedly still positioned at the nearby Hailan Mountain and are engaging the Houthis intermittently (Yemen Observer, April 18). It is unclear at present if AQAP and Islah are working in unison, or if they merely share a common enemy.
Meanwhile, in Abyan, a traditional stronghold for Sunni extremist groups in southern Yemen, hundreds of AQAP fighters, led by Abyan's field commander Jalal Baleedi, reportedly aligned with the pro-Hadi 111th Infantry Brigade and the local pro-Hadi popular committees to seal off Houthi supply lines from Aden and Shabwa (Yemen Times, April 8). Saudi jets have consistently struck Abyan since late March causing casualties on both sides (Yemen Times, March 31; FARS News Agency, April 19). Continued airstrikes against AQAP may see the group redeploy to the battlefront in Shabwa.
AQAP's recent operations in Shabwa have so far consisted of attacks on embattled military bases as well as bombings and direct fighting, involving heavy artillery, against Houthi forces and militias loyal to Saleh. In one notable attack, AQAP seized control of the pro-Saleh army's 19th Infantry Brigade's base in the Bihan area of Shabwa on February 12 after conducting a several hours-long complex assault with IED's and automatic weapons. Tribal militias, thought to be affiliated with AQAP, also seized the 2nd Infantry Brigade base in Ataq on April 14 (Yemen Times, April 14). Five days later, an unconfirmed U.S. drone strike reportedly killed at least three suspected AQAP members in a supply vehicle in Shabwa's Saeed District, suggesting U.S. efforts against the group are ongoing, despite the disruption caused by the evacuation of the embassy and the al-Anad base (al-Arabiya, April 20). At this time, however, it is unclear which side maintains the upper hand in Shabwa, but AQAP is seemingly well equipped to continue the fight. In addition, AQAP conducted an offensive in al-Houta in Yemen's southern Lahij governorate in mid-March (Yemen Times, March 23).
Hadramawt
AQAP's control over the previously mentioned regions is highly contested. However,the group is operating nearly unopposed in much of Hadramawt, where the Yemeni military has offered little resistance and local tribes seemingly view AQAP's presence as advantageous, even if only temporarily. In their largest attack, AQAP fighters launched a coordinated assault on Hadramawt's capital al-Mukalla on April 2. Dozens of fighters armed with automatic rifles and RPGs freed over 200 inmates from the central prison, including prominent AQAP leader and its former amir of Abyan, Khaled Batarfi. The fighters proceeded to storm the provincial security headquarters, police stations, administrative offices and the central bank, capturing a large cache of weapons and money (Yemen Times, April 6). AQAP reportedly signed an agreement with the Council of Sunni Scholars, a tribal alliance comprised of members of the Hadramawt Tribes Confederacy, agreeing to hand over control of the city to the tribal alliance (News al-Youm, April 11). The Council of Sunni Scholars may have conceded to AQAP knowing its tribal fighters were out-gunned and would be unable to repel a Houthi advance in the province. Following the al-Mukalla attack, on April 16, a group of fighters calling themselves the "Sons of Hadramawt," likely members of AQAP, seized al-Shihr oil terminal, al-Rayan Airport and the bases of the 190th Air Defense Brigade head and 27th Mechanized Infantry Brigade (Middle East Eye, April 17). In an apparent attempt to subdue local concerns, AQAP organized a large public rally on the beach in al-Mukalla, which was attended by at least several hundred people. During the rally, a spokesperson said the group's seizure of the bank and other state facilities was righteous because it was in the name of jihad against the hostile Houthis (Hadarem, April 17). It appears that this helped AQAP to secure the city's support, or at least cooperation or acquiensence; the situation in and around al-Mukalla still appeared calm on April 25 when residents took photos while participating in a community-based cleaning initiative and workers prepared to receive a vital fuel delivery (Mukalla Star, April 25).
Tribal Bargaining
Yemen is commonly characterized as a country starkly divided along tribal lines, but allegiances are up for grabs, particularly during uncertain times. Yemen's hyper-local sub-tribes are not as structured, political or self-sufficient as the most powerful families from larger multi-tribe confederations such as the Hashid or Bakil, which are major national power brokers. As such, the sub-tribes are particularly prone to forging opportunistic alliances in an attempt to secure the brightest future for their fellow tribesmen. Tribal allegiances are patronage-based, and with the government no longer capable of providing concessions, the tribes will look to new sources. The Sunni-Shi'a divide in Yemen is not profound enough to elicit universal or sustained Sunni tribal resistance to the Zaydi Shi'a Houthis. Nor is it enough to guarantee Sunni support of AQAP in a battle between the two; tribes will ultimately make decisions based on short-term benefits, and will not hesitate to change positions. For example, the Murad, Obaidah and Jedaan tribes signed a ceasefire agreement with the Houthis on November 24, which ensured the protection of the Marib tribesmen and state facilities. The agreement was nullified five days later when the tribes announced the formation of the "Sons of Marib Alliance" to protect Marib from the Houthis and AQAP (Yemen Times, December 2, 2014). As a result of this situation, the Houthis and AQAP will continuously strive to purchase the goodwill of strategically placed tribes to facilitate their broader goals; in particular, each side will play on the current plight of the region and amplify the threat posed by their rival. For instance, in consequence, AQAP will seek to intensify the sectarian divide to galvanize support against the "rafidah," an offensive term for Shi'a; meanwhile, tribes aligned with the losing side of a battle may pursue surreptitious ceasefire agreements with their opposition to secure their tribes' livelihood.
Outlook
AQAP underscored their ambitions in January when the group claimed responsibility for the high-profile attack on the office of Parisian satirical magazine Charlie Hedbo (al-Jazeera, January 14). Despite this, the exact nature of the relationship between AQAP and the Kouachi brothers, who perpetrated the attack, remains ambiguous. However, in February 2013, Charlie Hebdo's editor was on a hit list published in the tenth issue of AQAP's slick English language online magazine, Inspire. [1] This underlines what differentiates AQAP from their domestic rivals; the desire and capacity to strike Western targets. The war could provide AQAP with the operational mobility necessary to plot further attacks on the West, the U.S.-backed Saudi air campaign—even if directed against the Houthis—may only fuel the desire to strike U.S. interests. Although some analysts might contend that the battlespace is too crowded to plot external operations, the group's newfound havens in Hadramawt and the uncontested regions of al-Jawf, in the north of Yemen near the Saudi border, could still prove to be adequate staging grounds.
Although many of the strategic alliances galvanized by the civil war will unravel if the conflict subsides, a resolution will not immediately erase the gains they facilitated; the fog of Yemen's civil war will endure for the near future, regardless of which regime takes power. It is also likely that the duration of the war will ultimately determine the extent of AQAP's expansion. If AQAP remains a less than primary target for both domestic and foreign actors through a prolonged and rapidly internationalizing conflict, the group will potentially carve out massive swaths of territory. Furthermore, AQAP's strength will potentially surge if the Saudi-led coalition successfully weakens the Houthis in regions being contested by AQAP. The group's ongoing seizure of military bases and critical infrastructure will also bolster its operations further by providing it with weapons, vehicles and funding. Strategic and symbolic victories will help foster support from marginalized tribes, particularly across the south and east.
Meanwhile, the rapidly changing operational picture and lack of ground-based intelligence assets will continue to hinder U.S. counter-terrorism operations, particularly as regional intelligence and naval assets are instead diverted into aiding Saudi efforts or subverting Iranian activities. Sporadic drone strikes will likely continue to undercut AQAP operations, but will likely be ineffectual in preventing its strategic-level growth. The group is meanwhile likely to benefit from increasing hostilities between the Houthis and tribal alliances in areas such as Marib, while the humanitarian impact of the conflict will also allow AQAP to pursue support from marginalized tribes in the war-torn regions. Given that further instability in Yemen is likely and that also such instability will almost certainly further fuel AQAP's expansion, there appear few scenarios in which AQAP will not emerge as a primary beneficiary of Yemen's ongoing descent into chaos.
Brian M. Perkins is an International Security Analyst and freelance journalist specializing in terrorism and sectarian violence.
Note
1. Charlie Hebdo's editor Stephane Charbonnier, along with several other European journalists and cartoonists, were featured on a "Wanted Dead or Alive" poster in the tenth issue of Inspire, which is published by AQAP's media wing al-Malahem Media.