Arab Spring Sees Turkish-Iranian Rivalry Take a New Turn
Publication: Eurasia Daily Monitor Volume: 8 Issue: 186
By: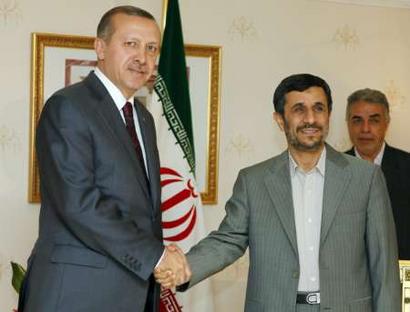 Turkey's decision to host a NATO early warning radar in the US-led missile defense program continues to reverberate, especially for its relations with Iran. High ranking Iranian officials repeatedly criticize not only Turkey's cooperation with the United States on the missile shield, but also Ankara's recent foreign policy initiatives. These include the Turkish government's efforts to set a model for the transformation of the regional countries in the wake of the Arab Spring, Ankara advocating a two-state solution for the Palestinian problem, or its increasingly assertive position on Syria.
The decision on radar deployment apparently was a tipping point for Iranian officials, who now vocally criticize Turkey on a myriad of issues (EDM, September 20). Iranian President Mahmoud Ahmadinejad said during a live TV interview that Iranian officials told their Turkish counterparts it was wrong to grant such permission and it would not benefit Turkey (https://english.farsnews.com, October 5). Major-General Yahya Rahim-Safavi, the military advisor to the Iranian supreme religious leader Ayatollah Ali Khamenei, also maintained that Turkey had recently committed various strategic mistakes and would pay a heavy price if it failed to change course (Hurriyet, October 9). The Deputy Head of Iran's Armed Forces' Joint Chiefs of Staff Brigadier-General Massoud Jazayeri joined the wave of protest and urged Turkey to rethink its long-term strategic interests and side with Muslim nations instead of the West (www.presstv.ir, October 10).
Iranian officials criticize Turkey on a range of issues of substantial importance. First, Iranian leaders increasingly label the missile shield as a project that is designed to boost Israel's security against a counter-attack from Iran in case Israel strikes Iran's nuclear facilities. However, considering that Turkish Foreign Minister Ahmet Davutoglu and Prime Minister Recep Tayyip Erdogan repeatedly rebuff such claims, which were also raised by Turkish opposition parties, it appears that the Iranian campaign is driven by a concern to discredit Turkey in the eyes of regional countries.
In order to contextualize Iran's accusations against Turkey, it might be useful to recall Erdogan's recent criticism of Israel's nuclear program. As late as last week, Erdogan continued his recent criticism of Israel, going as far as arguing that he saw Israel as a threat to the region and surrounding countries, because it possessed the atomic bomb. Moreover, Erdogan raised a related criticism, when he pointed to the double standards of world powers: while Iran came under international scrutiny because of its nuclear program, there had been a lack of comparable debate on Israel's nuclear weapons (Anadolu Ajansi, October 5). Iranian officials' lambasting of Turkey through manipulative accounts, despite Erdogan's staunch position on Israel at the expense of harming relations with the West, reveals their intent and approach toward Turkey.
Iranian officials have recently expressed differences of opinion on the Palestine issue. Erdogan's stance on Israel's treatment of Palestinians has not necessarily contributed to forging common ground with Iran. Erdogan devoted a large portion of his address at the UN General Assembly last month to the rights of the Palestinians, supporting their bid for recognition. While Turkey has invested a great deal of political capital advocating a two-state solution in international venues, Khamenei, in a recent address at an international conference on the Palestinian Intifada, labeled this formula as tantamount to capitulation to the demands of "Zionists." Rejecting the Palestinians' bid for statehood at the UN, Khamenei argued that any solution based on the recognition of Israel's right of existence would threaten the stability and security of the Middle East. Describing Iran as the greatest defender of the Palestinians, Khamenei criticized other regional powers that maintain close relations with Washington (https://english.khamenei.ir, October 1).
Moreover, Turkish-Iranian divergence exists in an undeclared rivalry for regional leadership over the Arab Spring. For some time this rivalry was only evident in the realm of speculation by analysts. While Iran has been working to put its imprint on the regional transformation, by labeling the popular uprisings as an "Islamic awakening," Turkish government sources or analysts close to the government have highlighted how Turkey's democratic and capitalist model inspired the Arab revolutions. Perhaps in the first ever direct affirmation of this rivalry, Rahim-Safavi criticized Erdogan's recent visit to the region. In Cairo, Erdogan stressed a secular-democratic form of government, which seems to have angered the Iranian leadership, sparking their more direct confrontation with Turkey.
A related area of tension is over competing positions on the Syrian uprising. Faced with the continuation of the Baath regime's violent campaign to suppress the popular uprising, Turkey has progressively downgraded its ties with Damascus, as well as providing shelter to the Syrian opposition. Turkey's imposition of sanctions might also negatively affect Damascus's direct ties to Tehran. Iran, viewing the maintenance of the current regime in Syria as vital to its penetration to Lebanon and Palestine, has grown anxious over Turkey's policy on Syria, again reflected in Rahim-Safavi's reactions.
Some common themes are emerging in Iranian views on Turkey. First, there is a continuous and sustained reaction to Turkey, and it is worth noting that the mounting criticism of the country came from the religious leadership and the Revolutionary Guards. Second, Iranian officials work hard to present Ankara's recent foreign policy initiatives as simply following the dictates of the US, in order to sustain their oft-repeated argument that they are the only genuine independent power in the region.
Finally, there is a deliberate attempt to discipline Turkey by sending harsh messages as to how the country should behave. It is unclear whether this rhetoric reflects self-confidence on the part of the Iranian leadership or anxiety over Turkey taking an anti-Iranian position and siding with the US, which might lead to Iran's isolation in the region. The Iranian side appears ready to exploit economic ties if necessary, in an effort to discipline Turkey. They daringly refer to Turkey's gas purchase contracts with Iran as well as Ankara's plans to boost the bilateral trade volume to $20 billion, going as far as sending veiled threats that Ankara might suffer if it fails to reverse its current position and accommodate Iranian concerns.