Are Cross-Strait Relations Dead?
Publication: China Brief Volume: 22 Issue: 16
By: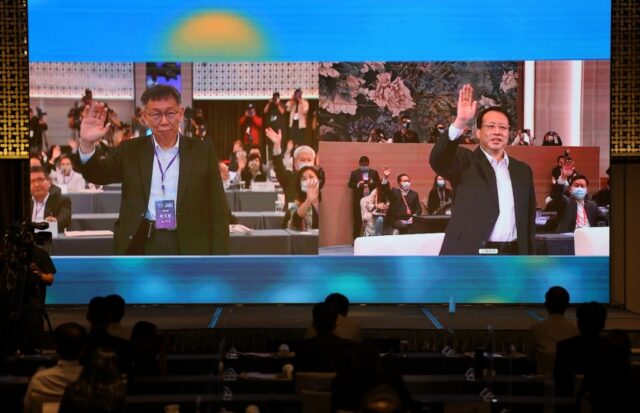 Kuomintang (KMT) Vice Chairman Andrew Hsia led a delegation to China in August, which occurred in the immediate aftermath of the extensive live-fire exercises that the People's Liberation Army (PLA) conducted around Taiwan following U.S. Speaker Nancy Pelosi's visit (Focus Taiwan, August 28; Republic of China, Ministry of National Defense, August 3). The trip by the number two figure in Taiwan's main opposition party elicited a torrent of domestic criticism, including from KMT politicians. The timing of the visit was doubly poor for the KMT as it not only coincided with China's escalation of military pressure but also came as the campaign season for Taiwan's November 26 local elections kicked off (Newtalk, September 8; Focus Taiwan, August 29). The local elections are a litmus test of current KMT chairman Eric Chu's efforts to remake the party's radioactive "pro-China" reputation among younger Taiwanese voters. Chu has made tentative but real headway in moving his party to a mainstream position on cross-strait relations premised on maintaining the status quo, defending Taiwan against the existential threat from the People's Republic of China's (PRC) and deepening ties with the U.S. (United Daily News [UDN], June 9). Chu has rhetorically burnished the party's anti-communist and pro-U.S. legacy but has also taken concrete steps to change course, most significantly orchestrating the reopening of the KMT's liaison office in Washington, D.C., which was shuttered shortly after President Ma Ying-jeou assumed office in 2008 (UDN, June 9). In June, Chu visited the U.S. to personally preside over the re-opening of the office and made the rounds on the think tank circuit to tout the KMT's commitment to close ties with Washington (Taipei Times, June 8). In contrast to members of the KMT's deep blue, pro-unification wing such as former chairwoman Hung Hsiu-chu, who appeared on PRC state television to parrot Beijing's charges that Pelosi's visit recklessly destabilized cross-strait relations, Chu welcomed Pelosi as an "international friend" and stated the KMT supports any moves that deepen U.S.-Taiwan relations (Apple Daily, August 2; CGTN, August 6).
Although the fallout from Hsia's visit threatens to undercut Chu's efforts to reorient his party to a more pro-US stance, the KMT remains deeply split with large cross-sections of its base committed to closer cultural, economic, and even political integration with the PRC. Pro-unification, deep-blue elements, which include gradualists such as former President Ma and pro-China ideologues such as former presidential candidate Han Kuo-yu, Hung Hsiu-chu and KMT Sun Yat-sen School president Chang Ya-chung, remain influential within the party and have been sharply critical of Chu's pro-U.S. pivot (Taiwan News, June 21). For example, former President Ma has characterized U.S.-Taiwan ties as a "master-servant relationship" and lambasted Chu's trip to the U.S. as "unworthy" and  "kowtowing" to  Washington (Taiwan News, June 19). Consequently, failure in the upcoming midterms could cost Chu his chairmanship and reverse his efforts to shift the party to the mainstream on cross-strait relations, enabling the KMT's pro-China, pro-unification elements to regain control. At the national-level, this would likely mean an increasingly marginalized KMT that splits votes with, or even throws its support behind a probable 2024 presidential run by current Taipei Mayor Ko Wen-je, who leads the rival Pan-Blue Taiwan People's Party (TPP) (Taipei Times, February 21).
Troubled Trip
From the start, several factors combined to worsen the optics surrounding Andrew Hsia's visit to China and added to the political cost of the trip for the KMT. Firstly, the trip was in the public eye far longer than usual because Hsia had to quarantine for ten days upon his arrival in China (Focus Taiwan, August 21). Before his departure, Hsia stressed that the trip was pre-planned, but refused to countenance canceling the delegation on account of China's military intimidation: "This trip had already been planned, and we cannot halt it because of the Chinese military exercise going on right now" (Taipei Times, August 11). Nevertheless, he sought to reassure the public that the trip was not political in nature and that he had no intention of discussing  political matters with Chinese government officials, but would instead focus on outreach to members of the Taiwanese business community in the PRC. However, during his visit, Hsia held discussions with a number of PRC officials, including Zhang Zhijun who heads the Association for Relations Across the Taiwan Straits (ARATS)- a semi-official organization established by the PRC to manage cross-strait relations, and  current Taiwan Affairs Office (TAO) Vice Minister Chen Yuanfeng (Taipei Times, September 5).
Hsia's meetings with Chinese officials amidst the PRC's military pressure campaign against Taiwan were roundly condemned. President Tsai Ing-wen stated that the visit had not only let down the Taiwanese people, but could also send the wrong message to the international community (Focus Taiwan, August 10). DPP lawmaker Lo Chih-cheng asserted the visit harms Taiwan's national interests and slammed Hsia's "secret" itinerary that included undisclosed meetings with Chinese officials (Liberty Times, August 25).  As the full itinerary of Hsia's trip emerged, domestic condemnation intensified. On August 27, the Mainland Affairs Council (MAC), the government body responsible for cross-strait relations, issued a statement criticizing Hsia for repeatedly disregarding its guidance and insisting on traveling to China despite the PLA's military drills around Taiwan (MAC, August 27). The MAC also charged Hsia with "echoing the melody" of Chinese Communist Party (CCP) United Front Work.
Many younger, more moderate KMT politicians were sharply critical of the political wisdom of Hsia's visit to China. Shortly after the trip was announced, a cohort of KMT city councilor candidates circulated a petition demanding that the trip be canceled due to the potential damage to the party's reputation, as well as the overall futility of undertaking cross-strait exchange when the PRC is threatening to attack ROC territory (UDN, August 10). KMT member Lee Lai-hsi questioned Hsia's willingness to visit China in the current atmosphere of heightened tension and lamented that "it is no wonder the KMT is being painted as pro-CCP" (Formosa News, August 11). On August 15, Hsia opted to resign as an advisor to the Taichung government after the city's KMT mayor criticized the trip's timing (Taipei Times, August 15). The backlash has put Eric Chu in the difficult position of having to defend engagement with Beijing. In response to the heavy criticism of the trip, Chu praised Hsia and the other delegation members as "very brave and determined" for keeping lines of communication open to prevent conflict (Taipei Times, August 29).
KMT 3.0?
Ever since DPP incumbent Tsai Ing-wen roundly defeated former Kaoshiung Mayor Han-Kuo Yu in the 2020 presidential elections, KMT leadership has sought to jettison the party's pro-China image.  A major impediment to these efforts is the KMT's attachment to its long-standing formula for cross-straits relations —the 1992 consensus. In essence, the 1992 Consensus constitutes an understanding between KMT and CCP interlocutors, wherein both sides concurred there is one China, but each side has its own interpretation of what "one China" means (Taipei Times, September 7, 2020). Although once popular, the 1992 Consensus has fallen out of favor with the general electorate. Nevertheless, the 1992 Consensus is still widely supported by KMT voters. This electoral Catch-22 was underscored last year, when Chu's "light blue" predecessor Johnny Chiang tried but failed to scrap the 1992 Consensus. At the time, polling indicated approximately four in five KMT voters supported the 1992 Consensus (Taiwan News, June 23).
The current unpopularity of the 1992 Consensus is partially due to the overall recent deterioration of cross-strait relations but is also a consequence of the CCP's linking of the Consensus with the "One Country, Two Systems" framework through which Hong Kong was incorporated into China. PRC President Xi Jinping helped cement this perception in his January 2019 speech on the 40th anniversary of the Message to Compatriots in Taiwan, wherein he deemed "One Country, Two Systems" the optimal pathway for unification (Taiwan Affairs Office, April 12, 2019). Xi's remarks occurred months before Beijing cracked down hard on protests and forced through a series of "national security" measures in Hong Kong. As a result, most Taiwanese now see "One Country, Two Systems" as a trojan horse for PRC domination. In an interview last year, Foreign Minister Joseph Wu expressed this conviction: "Hong Kong's fate proves that the 'one country, two systems' framework promised by the Chinese government is actually a forced promotion of 'one country, one system'" (FTV News, July 2, 2021).
Ballot Box Blues
Even before Hsia's China trip, the KMT faced an uphill battle in the upcoming local elections. In the last local elections in 2018, which were focused on local governance issues, the KMT won in a landslide. As a result, in order to break even, the party must successfully defend many seats (Taiwan News, April 23). Furthermore, due to the Taiwan People's Party (TPP) emergence, the KMT faces several three-way races wherein it must compete with the TPP for Pan-Blue votes while also facing a Pan-Green coalition united behind the DPP (Newtalk, September 7).
The KMT remains fixated on its long-time nemesis, the DPP, but its ability to retain its position as one of Taiwan's two main political parties may ultimately boil down to whether it can retain an edge over Taipei Mayor Ko's TPP, which is considered an emerging "third force" in Taiwanese politics. During his successful 2014 mayoral run, Ko was seen as part of the Pan-Green camp.  However, in the intervening years, Ko has gravitated to the right and is now firmly in the Pan-Blue camp (New Bloom, December 23, 2019). Nevertheless, in contrast to the KMT, Ko's political calling card is his claim to transcend domestic divisions over China to focus on effective governance. In a clear sign that the TPP challenge to the KMT is real, recent polling revealed that while only about 55 percent of KMT voters expressed confidence in Chu as chairman, over 71 percent have confidence in Ko (Taiwan News, July 10)
In seeking to explain the questionable timing of Hsia's visit to China, Taipei-based journalist Brian Hioe hypothesized that the purpose of the trip is to "engender the perception that the KMT is the only political party in Taiwan able to maintain stable cross-strait relations" and hence "should hold power" (New Bloom, August 11). However, Mayor Ko has also sought to position himself as a responsible custodian of cross-strait relations, albeit while still striving to maintain his self-cultivated image as a nonideological pragmatist. A hallmark of Ko's tenure has been the twin-city Taipei-Shanghai forum Although Ko has used the forum to express concern about the deterioration of relations across the Taiwan Strait, he has also sparked controversy in the past by saying that both sides of the Taiwan Strait are "one family" with a "common destiny," and by proposing a bridge between the Mainland and Taiwan's Jinmen island, which critics have called a CCP trojan horse (Focus Taiwan, July 19; Taipei Times, June 21).
Conclusion  
Although pockets of knowledge exist, understanding of Taiwanese domestic politics and their influence on cross-strait relations is limited in Washington. There is a tendency to blur the various Pan-Blue factions with little understanding of the often substantial differences among them.
A third consecutive DPP-term would undergird stable U.S.-Taiwan ties, but Washington must understand that, as with any democracy, one party will not govern indefinitely. The current KMT leadership has displayed some questionable judgement in its poorly timed attempt at cross-strait dialogue. Nevertheless, under Eric Chu, the party is considerably more aligned with the U.S. and its allies on China than it has been in the recent past.
Perhaps the greatest unknown is where Taipei Mayor and TPP leader Ko Wen-Je, who has been notoriously difficult to pin down on China, ultimately lines up on cross-strait relations. All the more so because Ko's shade of blue may soon come to matter a great deal. After all, the road from Taipei City Hall to the Presidential Offices is both short and well-traveled.
John S. Van Oudenaren is Editor-in-Chief of China Brief. For any comments, queries, or submissions, please reach out to him at: cbeditor@jamestown.org.