The PLA's Military Diplomacy in Advance of the 20th Party Congress (Part One)
Publication: China Brief Volume: 22 Issue: 16
By: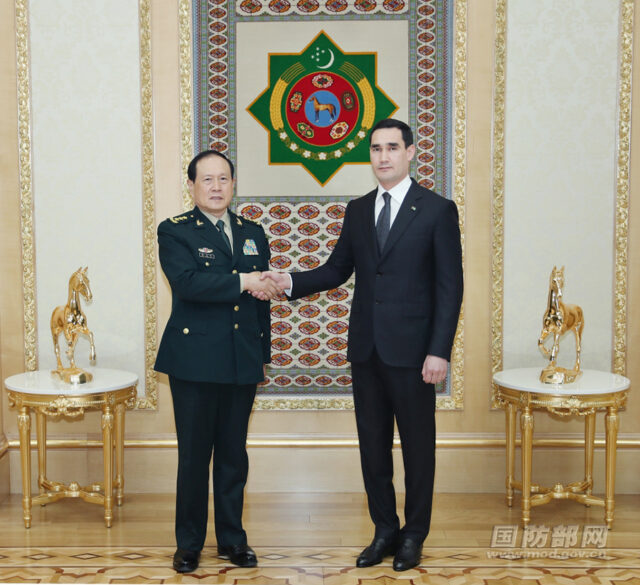 Introduction
As the People's Republic of China's (PRC) Chinese Communist Party (CCP) approaches its 20th Party Congress, which begins on October 16, General Secretary Xi Jinping is set to continue his run as core leader (People's Daily, August 31). Throughout his tenure, Xi, who is also Chairman of the Party and State Central Military Commission (CMC) and PRC President, has prioritized military diplomacy as a key element of Chinese foreign policy. Consequently, since 2013, the frequency, intensity and scale of China's military diplomacy has generally increased. Although the COVID-19 pandemic has disrupted or limited some areas of engagement, under Xi, the overall trend of military diplomacy assuming a growing role in China's international engagement is bound to persist.
This two-part article series provides updated information concerning the People's Liberation Army's (PLA) military diplomacy since the China Brief' article "The PLA's Military Diplomacy Under COVID-19" was published last June (China Brief, June 21, 2021). [1] This article examines potential forthcoming changes to PLA Leadership and their implications for the PRC's military diplomacy; provides a general overview of key developments in Chinese military diplomacy since 2021; and  catalogues senior-level visits abroad and hosted visits. The forthcoming second article in this series, examines specific areas of military diplomacy: bilateral and multilateral Joint Military Exercises, non-traditional Security Operations, and international Academic Exchanges and Cooperation. It also examines how military diplomacy is playing out in two regions: Africa and Latin America. [2]
Upcoming Changes in the PLA Leadership
Xi Jinping will remain the Chairman of the CMC, but there will be major changes to the rest of the CMC in the forthcoming leadership turnover. Although it appears that both CMC vice chairmen and all four members are scheduled to retire based on their age; one or two current members could possibly remain on, and become a vice chairman. In addition, the new Defense Minister, which is a state position, will not be selected until the 14th National People's Congress (NPC) in early 2023. Unless the current Defense Minister Wei Fenghe is promoted to vice chairman, all of the members of the incoming CMC will most likely be Army officers. However, Admiral Miao Hua, who was a career Army officer until he became the PLA Navy (PLAN) political commissar in December 2014 and then the director of the CMC Political Work Department in October 2017, may also become a vice chairman and retain his Navy uniform. Moreover, during the 19th Party Congress in 2017, the PLA did not add the Commanders of the PLAN, Air Force (PLAAF), or Rocket Force (PLARF; former Second Artillery Force/PLASAF) who were added as CMC members in 2004. Nor did it add the Commander of the PLA Army (PLAA)—a position created in 2016.
Table 1: CMC from 2017-2022
| | | | | |
| --- | --- | --- | --- | --- |
| Person | Billet | Birth | Age in 2022 | 2022 Status |
| General Xu Qiliang (Air Force) | VC | 1950 | 72 | Retire |
| General Zhang Youxia (Army) | VC | 1950 | 72 | Retire |
| General Wei Fenghe (Rocket Force) | MBR; DefMin | 1954 | 68 | Retire or become a vice chairman (VC)? |
| General Li Zuocheng (Army) | MBR; Chief of Joint Staff | 1953 | 69 | Retire or become a VC? |
| Admiral Miao Hua (Navy but career Army) | MBR; Director, PWD | 1955 | 67 | Retire or become a VC? |
| General Zhang Shengmin (Army) | MBR; Secretary, DIC | 1958 | 64 | Retire or become a VC? |
Personnel turnover in the top PLA leadership positions is important for military diplomacy, since each meeting at home or abroad will involve first-time meetings with foreign leaders. As a general rule, the PLA rarely meets with the same leader in China more than once and rarely travels to the same country twice except for conference-type meetings, such as the Association of East Asian Nations (ASEAN)-plus forums. In addition, PLA leaders rarely meet with a new leader during the first or last year that the foreign officer assumes their billets. [3]
Big Picture Military Diplomacy in 2021
On December 23, 2021, the PRC's Ministry of National Defense (MND) published a very detailed article concerning military diplomacy across the board for 2021 (China Military Online [CMO], December 23, 2021). Most likely, the PLA will publish a similar article at the end of 2022. The article organized the recent developments in the PLA's military diplomacy into the following seven groups:
1. 2021 marked the 100th anniversary of the founding of the CCP: Leaders of defense departments and the armed forces of many countries expressed their warm congratulations to China through letters, telephone calls, and articles. The CMC's Office for International Military Cooperation organized military attachés in China from nearly 70 countries to visit the Museum of the CPC in Beijing, and held interviews with military attachés and international military students from 14 countries.
2. High-level China-Russia military exchanges and cooperation: Leaders of China's CMC have met with Russian Defense Minister and Chief of the General Staff on the spot, made video calls and exchanged letters. The Russian military came to China for the first time to participate in the exercise Zapad/Interaction-2021, and the two defense ministers observed the exercise onsite. The two navies have also held the Joint Sea-2021 military exercise and the first joint maritime patrol. The two air forces organized the implementation of the third joint aerial strategic patrol in the Asia-Pacific region. Public opinion reflects that the relationship between the Chinese and Russian armed forces is getting better and better.
3. Donation of COVID-19 vaccines to countries in need: Since the beginning of 2021, the PLA provided COVID-19 vaccine assistance to the armed forces of over 30 countries, including Pakistan, Cambodia, Philippines, Republic of Congo, Equatorial Guinea, Tunisia, Sierra Leone, Sudan, Laos, Lebanon, Hungary, Gabon, Ethiopia, Northern Macedonia, Zimbabwe, Serbia, Mauritania, Guinea, Mozambique, Bolivia, Myanmar, Vietnam, Sri Lanka, Bangladesh, Egypt and Nepal.
4. Consolidation of multilateralism with strengthened China voice: State Councilor and Defense Minister Wei Fenghe participated in the 12th China-ASEAN Defense Ministers' Informal Meeting via VTC in June, the 8th ASEAN Defense Ministers' Meeting-Plus held online in June, the 18th meeting of the Council of Ministers of Defense of Shanghai Cooperation Organization (SCO) Member States held in person in Dushanbe, Tajikistan in July, and the 4th UN Peacekeeping Ministerial Conference hosted in Seoul, South Korea, by VTC (CMO, June 15; MND, June 16; MND, July 29; UN, December 8, 2021). The PLA and Pakistan's military held the first-ever Shared Destiny-2021 international peacekeeping exercise, which was held in Queshan (Henan Province), China (CMO, September 17, 2021). The PLA and Russian armed forces participated in the Peace Mission-2021 joint counterterrorism military exercise, which was held at the Donguz training range in Russia's Orenburg Region from September 11 to 25 (CMO, October 9, 2021). Armed forces from SCO member states, including China, Russia, Kazakhstan, Tajikistan, Kyrgyzstan, India, Pakistan and Uzbekistan participated in the drill. China sent 558 troops to the exercise.
In October, the PLA held its 10th annual Beijing Xiangshan Forum in person and via videoconference (CMO, October 25, 2021). [4] The theme of the 2021 conference was "Pursue Win–Win Cooperation, Advance Global Security Governance" (Stockholm International Peace Research Institute, November 12, 2021). The 2021 Xiangshan Forum featured a video seminar entitled "Strategic Stability: Impasse and Way Out", in which the recent establishment of the trilateral AUKUS security partnership among the US, Britain and Australia- including cooperation on building an Australian nuclear attack submarine program, was discussed at length (CMO, October 28).
5. Bilateral Exchanges and cooperation to promote regional security and stability: In 2021, Wei Fenghe visited Vietnam, Bangladesh, Sri Lanka, Tajikistan and other neighboring countries, and held video calls with the defense ministers of Singapore, Malaysia and Indonesia. In addition, in December, China and Vietnam held the sixth border defense friendship exchange and organized the Peace Rescue 2021 joint medical exercise in China's Guangxi Zhuang Autonomous Region (CMO, December 13, 2021). The Chinese navy assisted in the salvaging of the Indonesian submarine KRI Nanggala that sunk north of Bali in April, as the first international rescue practice of China's submarine rescue force (Xinhuanet, June 3, 2021).
6. Participation in International Army Games 2021: The International Army Games 2021 were held from August 23 to September 4 (China Daily September 6, 2021). The PLA hosted three competitions in Xinjiang involving infantry combat vehicle maneuvers, anti-aircraft drills, and testing radiation, chemical and biological defenses; and participated in 17 competitions in four countries. The Chinese team won three group first places, eight group second places, seven group third places, 21 individual first places, 15 individual second places, and 12 individual third places. This was the first time that the PLA hosted a competition at home and participated abroad on a large-scale under the conditions of the pandemic. PLA media touted the games as deepening friendship and mutual trust with friendly countries, and generating positive responses at home and abroad (PLA Daily, September 5, 2021).
7. China-Africa Peace and Security Forum on Military Medicine Video Conference: The China-Africa Peace and Security Forum Video Conference on Military Medicine was held in early November (CMO, November 5, 2021). The conference was organized on the theme of "strengthening medical cooperation to fight the pandemic together." Representatives from the PLA and the militaries of 19 African countries discussed a range of topics including the impact of the COVID-19 pandemic on the regional security situation, China-Africa military anti-pandemic efforts and military medical cooperation, vaccine research and development, and virus traceability, achieving important results.
Senior-level Visits Abroad and Hosted Visits
This section provides information since June 2021 about visits abroad and visits hosted by the CMC Vice Chairmen, Defense Minister, Chief of the Joint Staff Department, and the Deputy Chief of the Joint Staff Department whose portfolio includes military diplomacy. No information was found for the other two CMC members. Of note, some of the meetings that would have been held in person were conducted by video teleconference (VTC).
CMC Vice Chairmen
Due to COVID restrictions and the lead up to the 20th Party Congress, neither vice chairman (General Xu Qiliang or General Zhang Youxia) traveled abroad or hosted any foreign leaders during 2021. In 2022, travel by the vice chairmen was limited to Xu Qiliang hosting the Cambodian Defense Chief in Guangzhou in August, and Zhang Youxia meeting the Pakistan Chief of the Army Staff in Qingdao in June (CMO, June 12; August 15). Neither of them traveled abroad.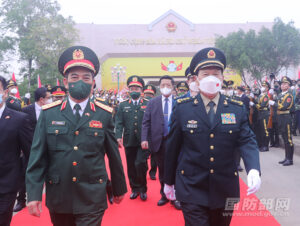 State Councilor and Defense Minister
Since June 2021, State Councilor and Defense Minister, General Wei Fenghe, participated in several interactions with foreign leaders both in-person and by videoconference as detailed below:
Visits abroad: Oman, Iran, and Turkmenistan (April 2022); Singapore to attend the 19th IISS Shangri-La Dialogue (June 2022), where he met with U.S. Defense Secretary Lloyd Austin as well as separate meetings with Singapore's Prime Minister and Defense Minister (CMO, April 26; April 27; April 29; June 10)
Special Event: The 7th China-Vietnam Border Defense Friendship Exchange was held on April 23 in Longzhou County of China's Guangxi Zhuang Autonomous Region, Quang Hoa County of Vietnam's Cao Bang Province, and relevant port areas (CMO, April 23). Wei and Vietnamese Defense Minister General Phan Van Giang led their respective delegations to the event. Both Defense Ministers crossed the border with one another to visit facilities on the opposite side of the boundary.
Video / phone talks with foreign counterparts: Malaysian Senior Minister and Defense Minister (September 2021); Indonesian Minister of Defense (November 2021); Russian Defense Minister (November 2021); Saudi Arabia's Deputy Defense Minister (January 2022); U.S. Secretary of Defense Lloyd Austin (April 2022); and the Tanzanian Minister for Defense and National Service (May 2022) (CMO, September 27, 2021; November 23, 2021; November 30, 2021; January 26; April 20; June 1).
Video conferences: In June, Wei co-chaired the 13th China-ASEAN Defense Ministers' Informal Meeting with the Cambodian Deputy Prime Minister and Defense Minister General via video link (CMO, June 22). Last month, Wei addressed the 10th Moscow Conference on International Security via video link (MND, August 16).
Hosted visits: Russian Defense Minister (December 2021); none in 2022.
Chief of the Joint Staff Department
Historically, the Chief of CMC's Joint Staff Department (former General Staff Department) was allowed to travel abroad once per year, but they have not always take advantage of that opportunity. For example, over the last five years, the current Chief of the Joint Staff Department General Li Zuocheng has visited Russia in August 2018 and New Zealand in November 2019, where he co-chaired the 10th Strategic Dialogue between the Chinese and New Zealand militaries, but he has not traveled abroad since that time (CMO, August 31, 2018; November 11, 2019). He also hosted the Chief of the South African National Defense Force in August 2018 and the U.S. Navy's Chief of Naval Operations in January 2019 (CMO, August 24, 2018; MND, January 15, 2019). Li has not hosted any in-person visitors since January 2019, but has held video talks with New Zealand's Secretary of Defence and Chief Executive of the Ministry of Defence in January, and with the U.S. Chairman of the Joint Chiefs of Staff this July 2022 (CMO, January 19; July 8).
Deputy Chief of the Joint Staff Department
The PLA has always assigned the portfolio of military diplomacy to one of the Deputy Chiefs of the former General Staff Department or current Joint Staff Department. Since August 2017,  current Deputy Chief of Staff, Lieutenant General Shao Yuanming has been responsible for military diplomacy. The below list provides information on the bilateral meetings meeting that Shao has chaired, and engagements with foreign counterparts in which he has led the PLA:
January 2018: China and Myanmar Diplomacy and Defense Consultations in Naypyidaw, Myanmar (CMO, January 17, 2018).
May 2018: China and Russia 20th round of strategic consultation in Beijing (CMO, May 30, 2018).
September 2018: China and Russia "Vostok-2018" strategic joint military exercise at the Tsugol training range in Russia's Trans-Baikal, where Shao was the PLA exercise director (CMO, September 14, 2018).
April 2021: China and Vietnam 10th Defense and Security Consultation in Dongxing, Guangxi Zhuang Autonomous Region (MND, April 23, 2021).
September 2021: China and Singapore 8th Defense Policy Dialogue via video conference (MND, September 15, 2021).
January 2022: China and France 16th China-France Defense Strategy Consultation via video link (MND, January 13).
January 2022: China and United Kingdom 8th Defense Strategy Consultation via video link (MND, January 12).
Other PLA Leaders
Other PLA leaders, including the service and Theater Command commanders, rarely travel abroad or interact with any foreign military leaders who visit China. However, the MND reported last month that the PLAAF Commander, General Chang Dingqiu held a video discussion with the Royal Thai Air Force's Air Chief Marshal (CMO, August 9). Per the MND's meeting readout, both sides held and in-depth exchange of views on communication and cooperation between the air forces of the two countries.
One other example involves discussions between senior PLA and Indian military leaders concerning the boundary standoff in Galwan Valley in eastern Ladakh in early 2020 (MND, July 19; Deccan Herald, June 22, 2020). Since the standoff began in early 2020, a total of 16 "corps commander level meetings" every couple of months. During the 2nd meeting in June 2020, the PLA delegation's leader was Major General Liu Lin, who was the Commander of the Xinjiang Military District's Nanjiang Military District, and the Indian leader was Lieutenant General Harinder Singh, General Officer Commanding-in-Chief of Leh-based 14th Corps. It is not clear if the same two officers have continued to lead the discussions since then.
On November 30, 2021, the China-Cambodia military joint working group held its 5th meeting via video link (CMO, November 30, 2021). The two sides exchanged in-depth views on military-to-military exchanges and cooperation and other areas of common interest. It is unclear which PLA organization or personnel participated in this meeting.
In February, PLA leaders from the CMC's Office for International Military Cooperation and the Common Security and Defence Policy and Crisis Response department under the European External Action Service (EEAS) co-chaired the 12th China-EU dialogue on defense and security policy, which was held via video link (CMO, February 25).
Conclusion
A major change in the PLA's leadership in the CMC will take place during the 20th Party Congress in October, but it is not clear who the vice chairmen and members will be yet, or who will become the next Defense Minister at the 14th National People's Congress (NPC) in early 2023. Although the PLA virtually stopped its military diplomacy after COVID-19 began in December 2019, it got underway again in early 2021 to include having both in-person meetings at home and abroad at lower numbers, and conducting video discussions individually with foreign military leaders and during scheduled conferences, as well as participating in bilateral and multilateral exercises at home and abroad. Since early 2021, the PLA has also provided COVID-19 vaccines and supplies to over 50 countries. Normally, it takes a few months for the new CMC leadership to begin hosting counterparts and traveling abroad after a Party Congress concludes, so the same pattern can be expected to continue in  2023.
Kenneth W. Allen is a retired U.S. Air Force officer, whose extensive service abroad includes a tour in China as the Assistant Air Attaché. He was the former research director of U.S. Air Force's China Aerospace Studies Institute (CASI) from 2017 through 2019.
Notes
[1] For more on the PLA's military diplomacy see Kenneth W. Allen and Eric A. McVadon, China's Foreign Military Relations, (Washington, D.C.: The Henry L. Stimson Center, October 1999); Kenneth W. Allen, Phillip C. Saunders, and John Chen, Chinese Military Diplomacy, 2003-2016, (Washington, D.C.: National Defense University, Institute for National Strategic Studies (INSS), China Strategic Perspectives 11, July 2017); and Heidi Holz and Kenneth W. Allen, "Military Exchanges with Chinese Characteristics: The People's Liberation Army Experience with Military Relations" in Roy Kamphausen, David Lai, and Andrew Scobell, eds., The PLA at Home and Abroad: Assessing the Operational Capabilities of China's Military, (Carlisle, PA: U.S. Army War College Press, June 2010). Roger Cliff and Roy D. Kamphausen, Editors, Enabling a More Externally Focused and Operational PLA, (Carlisle: PA, US Army War College Press, July 2022).
[2] The primary Chinese sources for the PLA's military diplomacy are https://eng.mod.gov.cn/, https://eng.mod.gov.cn/news/node_48461.htm. https://english.chinamil.com.cn/, and https://english.chinamil.com.cn/china-military/node_83135.htm.
[3] This conclusion is based on analysis of PLA diplomacy data and the author's interviews with PLA officers over several years.
[4] In 2006, the China Association of Military Science (CAMS / 中国军事科学学会), which is subordinate to the PLA Academy of Military Science, held the first Xiangshan Forum (香山论坛) in Beijing.