Are Georgians on the Verge of Electing Their First Coalition Government?
Publication: Eurasia Daily Monitor Volume: 17 Issue: 150
By: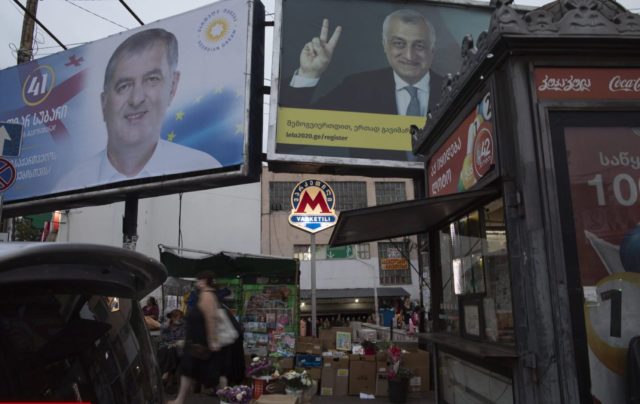 Georgia will hold parliamentary elections on October 31. The country's citizens will be electing their tenth national legislature since independence, proclaimed in 1991. This weekend's elections will be the first held under the newly modified constitutional framework, with 120 members of parliament (MP) elected via party lists and the remaining 30 running in single-member majoritarian districts. This compromise was reached between the opposition and the ruling Georgian Dream party following anti-government protests last year. The opposition leaders had originally demanded that the 2020 elections be held using only party lists (see EDM, January 20)
The Election Administration of Georgia registered 50 political parties eligible to run this year (Cesko.ge, October 16). Seats in the parliament will be available to those factions that receive more than 1 percent of all ballots cast—which based on expected turnout figures is likely to translate to 12,000–15,000 votes.
Due to the low barrier of entry, the future legislature will be the most factionally diverse since 1995, thus decreasing the likelihood that any one party will is able to independently form a government. Over the past 25 years, every subsequent elected parliament was dominated by one party holding more than 50 percent of the seats: Eduard Shevardnadze's Union of Citizens of Georgia, Mikheil Saakashvili's United National Movement (UNM) and finally Bidzina Ivanishvili's Georgian Dream (GD—initially a tightly controlled quasi-coalition). But as constitutional law expert Vakhtang Khmaladze pointed out to this author in September 12, the current constitutional model requires a party to receive at least 40 percent of the vote via party lists in order to be able to independently form a cabinet of ministers with the help of majoritarian MPs.
Of the 50 registered parties, only a few can be considered leading contenders: Ivanishvili's (GD); former president Saakashavili's UNM; European Georgia (EG), headed by former speaker of parliament David Bakradze; the party Strategy of King David the Builder (SKDB), of Giorgi Vashadze (former advisor to previous Ukrainian president Petro Poroshenko); businessman Mamuka Khazaradze's Lelo for Georgia (LG); the Libertarian Party "Girchi," of Zurab Djafaridze; Irma Inashvili's nationalistic but pro-Russian Alliance of Patriots (AP); and Shalva Natelashvili's Labor Party (LP).
Opinion polls and party ratings regularly appear ahead of elections, but large proportions of Georgian citizens refuse to participate in these surveys or do not answer questions about their choice. The number of formally "undecided" voters frequently reaches 55–60 percent. As such, pre-election polling in Georgia often differs dramatically from the actual election results. Nonetheless, most realistic predictions suggest GD is in the lead in this election campaign.
According to last month's poll released by Edison Research, the ruling party stands to receive 38 percent of the vote, UNM will obtain 15 percent, EG will win 6 percent and SKDB—4 percent. Other opposition parties, including LP, LG, AP and Girchi, can expect 3 percent each (Agenda.ge, September 15). IPSOS conducted its survey using a different polling method and obtained the following results: GD—24.5 percent, UNM—17.4 percent, EG—6.9 percent, SKDB—4 percent (Mtavari.tv, October 18). This past summer's IRI poll gave GD 33 percent, UNM—16 percent, EG—5 percent, SKDB—3 percent, AP—3 percent, LP—2 percent and LG—2 percent (Agenda.ge August 12)
According to these results, a minimum of eight parties is likely to enter the next parliament. But even if GD wins more seats than any other faction, will it be able to form a government on its own, without allying with another political force? And if not, will any combination of the other parties be able to agree on the creation of the country's first true multi-party coalition government?
All opposition political parties, with the exception of Inashvili's AP, have already said they will refuse to enter into a coalition with GD. But most have also warned they would not support UNM's Mikheil Saakashvili as the next prime minister.
Former State Minister of Georgia Paata Zakareishvili is confident that the prospect of creating a workable coalition government will largely depend on voter participation. Zakareishvili claimed that the more citizens come out to the polling stations, the lower GD's chances of obtaining 40 percent of the party list vote to be able to independently form a government. Failing this, he posited, GD "will be forced to form a coalition with Irma Inashvili's Alliance of Patriots; but this is a pro-Russian organization!" The former state minister further argued, "The opposition will have a chance to create a coalition government if United National Movement can come to an agreement with European Georgia and they invite other opposition parties into the coalition" (Author's interview, October 25).
The election results may still be influenced by last-minute scandals. The current campaign has already seen a number of such controversies come to light. For example, the Georgian Prosecutor's Office is preparing a new investigation against former president Saakashvili and his team for allegedly "selling Georgian territory" around the medieval monastery complex David Gareja. Two former officials have so far been arrested in this case (Rustavi 2, Civil.ge, October 7). Georgia and Azerbaijan have been arguing over their sovereign claims to this territory, which straddles both sides of the (not fully delimited) border, for 100 years; and the dispute has repeatedly erupted in localized violence (see EDM, June 6, 2019). In turn, the opposition is accusing the authorities of provoking Azerbaijan into a war over Karabakh in order to discredit Saakashvili, who is considered a friend of Azerbaijani President Ilham Aliyev (Metronome October 8)
Additionally, critics are accusing the government of Giorgi Gakharia of inadequate professionalism and effectiveness in maintaining law and order, which has allowed domestic crime rates to increase sharply. In an unprecedented recent incident in the city of Zugdidi, an armed man took bank employees and customers hostage on Wednesday (October 21), demanding $500,000 in cash. After the authorities provided him with the money and a getaway car, the assailant freed most of the hostages but drove away with three remaining captives. The man released them overnight, in a forested area, and has since disappeared (Svoboda.org, October 22)
Many experts consider the October 31 elections to be the most unpredictable in the country's history. Not until Saturday evening, at the earliest, will Georgia learn what factions will influence legislative power for the next several years or whether the openly pro-Russian Alliance of Patriots party manages to secure any ministerial portfolios in a potential coalition government.