Armenia and Turkey Inch Closer to Normalization
Publication: Eurasia Daily Monitor Volume: 6 Issue: 163
By: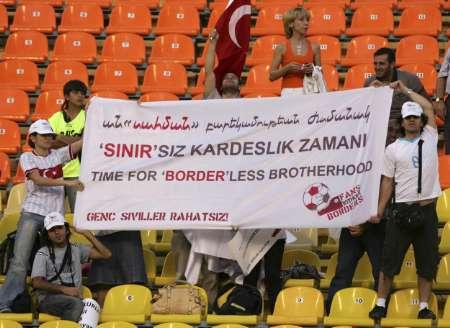 Armenia and Turkey, after an impasse lasting several months, have made further significant progress in their dialogue welcomed and facilitated by the international community. The governments of the two neighboring states plan to sign by mid-October agreements envisaging the establishment of diplomatic relations and the re-opening of their border. However, whether these agreements will actually be implemented is an open question. Many in Armenia fear that the Turkish government will block or delay their mandatory parliamentary ratification, unless there is a breakthrough in the protracted international efforts to resolve the Karabakh issue.
The latest Turkish-Armenian understandings are clearly part of the fence-mending "roadmap," which Ankara and Yerevan worked out under Swiss mediation early this year. In April, both sides were expected to normalize their bilateral ties, but faced with vehement protests from Azerbaijan, Turkey's closest regional ally, Ankara reverted to its long-standing linkage between Turkish-Armenian reconciliation and a Karabakh settlement acceptable to Baku. Turkish Prime Minister Recep Tayyip Erdogan explicitly reaffirmed that precondition during his visit to Azerbaijan in May. After an initial silence, the Armenian leadership increasingly voiced its frustration with Ankara's stance throughout the summer. On August 25, in an interview with the BBC, President Serzh Sargsyan accused the Turks of lacking "any great desire or aspiration to stick to these arrangements" (reached with Armenia). The remarks came amid a fresh bout of confidential Turkish-Armenian diplomatic contacts that appear to have been initiated by the United States. U.S. Secretary of State Hillary Clinton and the Turkish Foreign Minister Ahmet Davutoglu discussed ways of kick-starting the Turkish-Armenian rapprochement in a telephone conversation on August 30 (Hurriyet Daily News, August 31).
Late on August 31, the foreign ministers of Armenia, Turkey as well as Switzerland issued a joint statement saying that Ankara and Yerevan had agreed to sign, after six weeks of "internal political consultations," two protocols on the establishment of diplomatic relations and the development of broader bilateral ties. It escaped the attention of many that the six-week period will end on the eve a return soccer match between Armenia and Turkey in the Turkish city of Bursa on October 14. Turkish President Abdullah Gul invited Sargsyan to the World Cup qualifier after paying a historic visit to Yerevan in September 2008 to watch the first Turkey-Armenia match with his Armenian counterpart. The visit greatly contributed to subsequent progress in Turkish-Armenian talks. Sargsyan made clear in July and August that he will travel to Turkey only if Ankara takes "real steps" to complete the normalization process. He is now widely expected to accept of Gul's invitation. Analysts believe that the Turkish-Armenian protocols may well be signed during the trip.
One of those draft protocols, posted on the Armenian foreign ministry's website (www.armeniaforeignministry.am), commits Turkey to re-opening the 330-kilometer border with Armenia, (which it had closed in 1993 out of solidarity with Azerbaijan) within two months of its signing. The document also envisages that both governments will set up a joint commission tasked with tackling a wide range of issues of mutual interest. One of its seven sub-commissions is to conduct an "impartial scientific examination of the historical records and archives to define existing problems and formulate recommendations." More specifically, it will look into the 1915 massacres of more than one million Armenians in the Ottoman Empire.
The idea of conducting such a study was first floated by Erdogan in 2005 and effectively rejected by the then Armenian President Robert Kocharian. Sargsyan is understood to have accepted it in return for a Turkish pledge to stop linking improved relations with Armenia to Karabakh. Sargsyan and his political allies have emphasized that the newly publicized agreements with Turkey make no reference to the Armenian-Azerbaijani dispute. The Armenian president told his top diplomats on September 1 that this allows the country to make peace with its larger neighbor and historical enemy in a "dignified manner" (Statement by the Armenian presidential press service, September 1).
However, Sargsyan's political opponents, notably the nationalist Armenian Revolutionary Federation (ARF, also known as the Dashnak Party), denounced the deal as a sell-out, saying that Ankara has not dropped any of its preconditions, including a halt to the long-standing Armenian campaign for international recognition of the 1915 massacres as genocide. The ARF, which quit Sargsyan's governing coalition in April in protest over his Turkish policy, was also furious with another protocol provision that certifies "the mutual recognition of the existing border between the two countries" (Yerkir-Media TV, September 1-3).
Significantly, the country's largest opposition force, the Armenian National Congress (HAK) of former President Levon Ter-Petrosian, gave a largely positive assessment of the Turkish-Armenian agreements in a statement issued on September 1. The HAK had previously harshly criticized Sargsyan's conciliatory line on Turkey, saying that it has yielded no tangible benefits.
Nonetheless, it remained adamant in condemning the planned formation of the Turkish-Armenian panel of historians. The Ter-Petrosian-led alliance regards it as a Turkish ploy designed to stop more countries from recognizing what many international historians consider to be one of the first genocides of the twentieth century.
Despite facing domestic criticism, Sargsyan is unlikely to encounter serious obstacles to pushing the protocols through Armenia's parliament, which is dominated by his loyalists. Their speedy ratification by the Turkish parliament promises to be far more problematic. Politicians and pundits in Yerevan anticipate that Erdogan's government, which also enjoys a comfortable parliament majority, could stall the ratification process if Armenia and Azerbaijan fail to achieve a breakthrough in their dialogue in the coming months.
Contradictory statements made by Davutoglu only reinforced this view. The Turkish foreign minister told NTV television on September 1 that the Turkish-Armenian border could be re-opened "around New Year." Nevertheless, in an earlier television interview cited by AFP news agency, he said the Turkish government will not take any steps that "would hurt the interests of Azerbaijan."
"Without meaningful progress in the solution of the Karabakh problem, the chances for the two protocols to normalize relations between Ankara and Yerevan to pass through the Turkish Parliament are dim," Barcin Yinanc, the managing editor of the Turkish newspaper Hurriyet Daily News, wrote in a September 2 commentary. Yinanc suggested that Ankara based its Armenia-related moves on the expectation that Baku and Yerevan will make "some kind of a deal" soon.
Sargsyan and Azerbaijan's President Ilham Aliyev are due to hold fresh and potentially decisive talks in early October. Their failure to iron out their remaining differences over the basic principles of a Karabakh settlement proposed by the American, French and Russian mediators could still thwart Turkish-Armenian normalization.