North Caucasus Security Forces Claim Some Successes, but Attacks Continue
Publication: Eurasia Daily Monitor Volume: 6 Issue: 163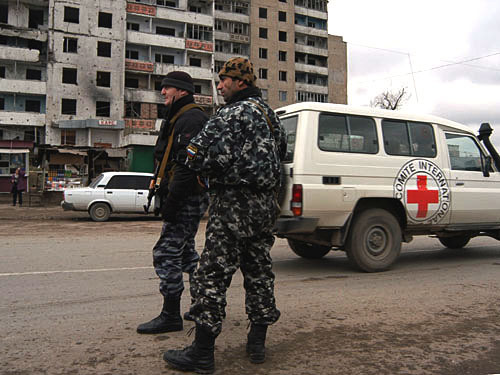 Violent attacks continued in the North Caucasus this past week, as security forces claimed some successes against insurgents against the backdrop of an overall spike in violence in the region.
In Chechnya, two servicemen were wounded in attacks by militants in the republic's Urus-Martan district on September 6. One of the servicemen was wounded in a bomb blast in the foothills near the village of Shalazhi, while the other was wounded a short time later in the same area after his unit came across a group of rebel fighters and a gun battle erupted. Earlier on September 6, a 25-year-old traffic policeman, identified as Muslim Yusupov, was shot to death at the entrance of his house in the Chechen capital Grozny by a militant who also stole his Kalashnikov automatic rifle.
On September 3, unidentified gunmen fired on a group of Chechen policemen who were searching a wooded area near the village of Nizhniye Varandy in Chechnya's Grozny district. Two of the policemen were wounded (Kavkazsky Uzel, September 7; RIA Novosti, September 6).
Chechnya's interior ministry reported September 5 that security forces the previous evening had killed a wanted militant suspected of planning a "sabotage-terrorist operation" in Moscow. According to the ministry, a suicide belt, pistol, grenade and seven detonators had been found at the scene of the shootout and a train ticket to Moscow had been found on the slain rebel (Agence France-Presse, September 5). Another incident that day took place in the village of Alkhazurovo in Chechnya's Ururs-Martan district, where a woman fired a pistol at police who were attempting to detain her. After she was wounded by return fire, the woman detonated an explosive device and died. None of the police personnel were hurt in the incident (RIA Novosti, September 5).
A spokesman for Chechen President Ramzan Kadyrov told Agence France-Presse on September 4 that police the previous day had detained four men around 18-20 years old who had planned to carry out suicide attacks at police headquarters and a mosque in the region's main city Grozny as well as a mosque in the town of Shali. The spokesman told AFP that Kadyrov had personally overseen the operation. According to the news agency, Kadyrov was shown on Russian television on September 4 dressed in fatigues and scolding the detained youths as he held a suicide bomber's belt in his hands. AFP reported that the detained men told authorities they had been trained as suicide bombers by two Arabs (Agence France-Presse, September 4).
On September 5, Kadyrov praised Chechnya's law-enforcement bodies, saying that thanks to their efforts, major terrorist attacks had been averted and numerous civilian lives saved. Referring to the republic's rebels, Kadyrov said the "terrorists" had crossed the line and were "driving teenagers to blow up theaters and mosques." He referred to the suicide attacks in late August carried out by bombers on bicycles targeting police patrols in Grozny that killed four policemen, the suicide bombing outside a theater in the Chechen capital in late July that killed six people and a suicide bombing near the Chechen interior ministry in Grozny in May that killed two policemen. Referring to the previous day's arrest of the four young men who were allegedly planning suicide attacks, Kadyrov stressed the responsibility of parents for their children's actions. The parents of the four should have seen "the criminal inclination and plans of their sons and taken all possible measures" to prevent them from joining up with "foreign mercenaries," Kadyrov said, including turning them into the police (www.vesti.ru, September 5).
In neighboring Ingushetia, unidentified attackers fired a grenade launcher at a police checkpoint on the Kavkaz federal highway on September 5. No one was hurt in the attack. Earlier that day, a bomb blast wounded a Chechen policeman in Ingushetia's Sunzha district (Kavkazsky Uzel, September 6). That bombing took place on the outskirts of the village of Dattykh, where the previous day, September 4, a bomb blast killed three Ingush policemen and wounded another three. The policemen were conducting a counter-insurgency operation in a wooded area outside Dattykh when the explosion took place (Kavkazsky Uzel, September 4).
Citing data provided by the press service of Ingushetia's interior ministry, Nezavisimaya Gazeta reported earlier this month that 68 law-enforcement officers and military servicemen had been killed and 212 wounded in Ingushetia since the start of 2009, while 30 civilians were killed and 85 wounded in the republic over the same period. The newspaper noted that the rebels suffered relatively fewer losses, with 85 militants killed since the beginning of the year (Nezavisimaya Gazeta, September 1).
A suicide truck bombing targeting a police compound in the city of Nazran last month killed 25 people and wounded 160.
In Dagestan, an apparent suicide car bombing at a traffic police checkpoint on the outskirts Makhachkala, the republic's capital, on September 1 killed one person and wounded 14 others, including policemen and medical workers. Dagestan's interior ministry reported that the traffic policemen prevented an even larger-scale terrorist attack in Makhachkala by stopping the suicide bomber (Kavkazsky Uzel, Interfax, September 1).