Armenia Annuls Zurich Protocols With Turkey, but Hopes for New Engagement
Publication: Eurasia Daily Monitor Volume: 15 Issue: 44
By: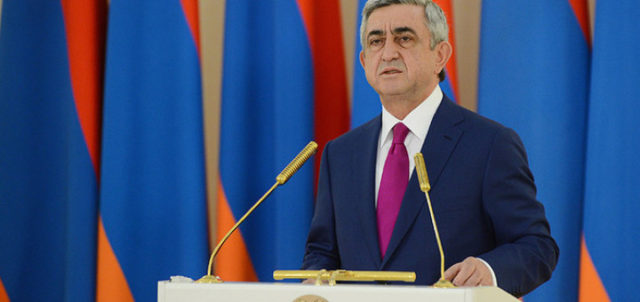 On March 1, Armenia's National Security Council officially scrapped the Zürich Protocols, signed with Turkey on October 10, 2009, under the internationally mediated normalization and reconciliation process also known as "soccer diplomacy" (1in.am, March 1). Covertly launched in mid-2007 but intensified and made public since September 2008, when then–Turkish President Abdullah Gül visited Yerevan, the Armenia-Turkey negotiations culminated in Zürich. There, Turkish and Armenian representatives adopted two-staged accords encompassing a "roadmap" for establishing bilateral diplomatic relations and for their consistent development.
Primarily initiated by the Armenian side, as President Serzh Sargsyan has repeatedly maintained (Securityconference.de, February 17), this process was designed to overcome the lack of diplomatic ties and closed-border policy Ankara imposed since 1993. Turkey has maintained this "passive belligerent" posture in solidarity with its strategic partner Azerbaijan, which has been locked in a confrontation with Armenia over the status of the breakaway region of Karabakh. Ankara routinely acknowledges the legitimate role of the Organization for Security and Cooperation in Europe's (OSCE) Minsk Group to preside over the Karabakh conflict resolution process. However, perhaps realizing that the way to establish itself as a credible stakeholder in the region is to re-establish formalized ties with Armenia, Turkey agreed to become involved in the diplomatic process encouraged by Yerevan. Ankara then perceived the Armenia-Turkey negotiations within a wider project labelled 'Caucasus Stability and Cooperation Platform' Turkey came up with at the height of Russo-Georgian conflict.
Despite initial enthusiasm, the Zürich Protocols were never ratified, because of new preconditions that Turkish authorities—allegedly under pressure from Azerbaijan (see EDM, April 27, 2010)—imposed almost immediately after their signing. The preconditions stated that no progress in the Armenian-Turkish political dialogue is possible until a breakthrough is reached in Armenian-Azerbaijani negotiations.
Following almost ten years of no progress, President Sargsyan has finally approved a decree terminating the procedure to ratify the Zürich Protocols and withdrawing these documents from Armenia's parliamentary agenda (Armenpress, March 1). Commenting on the presidential decision, Armenian Foreign Minister Eduard Nalbandian declared that "the documents cannot be held hostage forever" and called on Ankara to respect the concept of pacta sunt servanda ("agreements must be kept")—a core principle of international relations (NewsArmenia, March 2). Nalbandian added that Turkey's protracted ratification process, combined with its post-signature preconditions, "is indicative of Ankara's reluctance to normalize" its chronically strained ties with Yerevan.
The response from Ankara has been rather muted. Turkish officials expressed regret at Sargsyan's decision to nullify the bilateral agreements. They have declared that the Protocols were still on the Turkish parliamentary agenda but noted that the preconditions to ratification remained in place. In particular, upon visiting Baku, Turkey's Deputy Foreign Minister Ahmet Yıldız reiterated Foreign Minister Mevlüt Çavuşoğlu's insights from December 2017 that the Armenian-Turkish normalization process is linked to the one between Armenia and Azerbaijan (Apa.az, March 16).
The idea to scrap the long-pending accords was a focus for the Armenian political elite and broader society for years. Specifically, Yerevan contended that Turkey's imposed demands "not only had nothing to do with the letter and spirit of the [Zürich] protocols," but in fact contradicted them (Armenpress, March 1). The Armenian president raised this issue on several occasions in recent years, foreshadowing his upcoming move to annul the accords with Turkey. Speaking in front of the United Nations General Assembly, on September 19, 2017, Sargsyan touched upon Armenia and Turkey's unresolved hostility, noting that "Armenia will declare those two [Zürich] Protocols null and void since they continuously lacked any positive progress towards their implementation" (President.am, September 19, 2017).
For Turkey, the continued insistence on "preconditions" prior to ratifying the Protocols not only underscores the country's lasting political solidarity with its strategic partner—Azerbaijan—but additionally seeks to prompt Armenia into seeking a settlement of the Karabakh issue. Whereas for Armenia, such Turkish behavior is seen as an attempt to leveraging the Protocols issue to exert pressure on Yerevan over the latter's negotiations with Baku. In this context, Armenian foreign ministry spokesperson Tigran Balayan told this author that the Karabakh issue is a completely separate process with its own negotiation format that enjoys the support of the international community. Therefore, "the best investment that Turkey might make to advance the [Karabakh] settlement process is to stay as far away from it as possible" (Author's interview, March 16).
On the other hand, Turkey's rigid approach may not be designed to mollify Azerbaijan but rather to convey to Armenia Ankara's genuine apprehension about foreign powers instrumentalizing the demands of the Armenian Diaspora in order to put pressure on Turkey—implicitly disputing that this issue is of any genuine concern for Armenia itself. This argument was indirectly substantiated by Recep Tayyip Erdoğan's claim in 2009 that Armenia is still too dependent on the will of its diaspora. Similarly, at this year's Munich Security Conference, on February 17, President Sargsyan openly rejected the narrative that Turkey is refusing to normalize relations with Armenia because of political pressure from Azerbaijan. Rather, the real reason, the Armenian president argued, has been the "lack of political will amongst the Turkish leadership" (Securityconference.de, March 17).
It is important to point out that the termination of the Zürich Protocols proceedings in Yerevan by no means implies that Armenia has given up on trying to re-establish diplomatic relations with Turkey or to advance bilateral ties. To the contrary, the leadership repeatedly made clear that Yerevan is ready to embrace new opportunities for normalizing the bilateral relationship. Speaking at the Munich Security Conference, Sargsyan elaborated on this further stating, "If Turkey desires to await other circumstances and only then to ratify the Protocols, then it is profoundly mistaken." He concluded by stressing that, under potential new circumstances, "new documents would need to be negotiated" (Securityconference.de, March 17).
The tensions surrounding the Armenian-Turkish relationship have remained unresolved for over two decades, and have a clear impact on European security. Indeed, the North Atlantic Treaty Organization (NATO) has long been concerned by this crisis (YouTube, June 16, 2016), which exists on one of the Alliance's strategic peripheries. Interestingly, it is rarely acknowledged that NATO is the only international institution in which both Turkey and Armenia—despite their different membership status—are technically formal partners. In fact, Turkey approves Armenia's continued participation under the Individual Partnership Action Plan (IPAP) and Partnership for Peace (PfP) at the North Atlantic Council. Whereas, the Armenian military periodically participates in NATO-sponsored military drills alongside Turkish troops. Arguably, compared to other international platforms, NATO may in fact be most capable of resolving the Armenian-Turkish dispute.