Ukrainian Counter-Intelligence Operation Uncovers Deadly Plot?
Publication: Eurasia Daily Monitor Volume: 15 Issue: 45
By: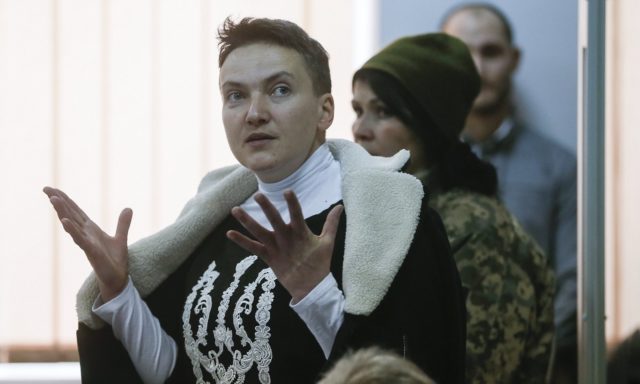 Vasyl Hyrtsak, the head of the Security Service of Ukraine (SSU), announced, on March 9, that a prominent public figure, in collusion with the Moscow-backed leadership of the Donetsk People's Republic (DPR), part of the temporarily occupied territories of Donbas, had been systematically transporting weapons from the regions beyond Kyiv's control into government-controlled Ukraine (Ssu.gov.ua, March 9).
The authorities arrested Volodimir Ruban, on March 8, as he was entering government-controlled Ukraine. Inside the vehicle he was driving, the security services found a significant arsenal, ranging from Kalashnikov assault rifles, rocket-propelled-grenade (RPG) rounds, explosives, tens of thousands of round of ammunition and a mortar, all hidden among furniture (Liga.net, March 9). This was clearly far more weaponry than Ruban could use alone. He is suspected by law enforcement of plotting terrorist attacks and assassination attempts against high government officials in Ukraine (Censor.net.ua, March 20).
Since his apprehension by the authorities, Ruban has appeared in court. Verkhovna Rada (parliament) deputy Nadiya Savchenko, most famous for her capture by the separatist forces in Donbas and subsequent imprisonment in Russia, attended his court hearing. Savchenko stated she would personally stand surety for Ruban if he received bail. Instead, he was remanded to 60 days in custody (Censor.net.ua, March 20).
Ruban was well known to the SSU. For several years, he ran a civil-society organization seemingly dedicated to the swapping of captives on either side of the Donbas contact line. He had previously drawn the ire of the security services for falsely identifying himself as an SSU general and even claiming to represent the agency in negotiations with the separatists (Bykvu.com, January 16, 2016). He illegally entered the temporarily occupied territories on February 24, 2017, along with parliamentarian Savchenko (Liga.net, February 27, 2017).
In fact, Ruban came to the SSU's attention even before the start of the war with Russia. He was allegedly long involved with "Ukrainian Choice," a pseudo-non-governmental organization (NGO), financed by Ukrainian oligarch Viktor Medvedchuk, designed to promulgate Kremlin-friendly propaganda. According to the SSU, Ruban later played a part in pushing efforts for federalizing Ukraine in line with the designs pushed by the Kremlin. "We have materials that refer to Ruban's connection with Ukrainian Choice; he worked actively with them until 2014. Now, he distances himself from it," SSU head Hrytsak asserted, pointing to evidence gathered from online social networks (Ssu.gov.ua, March 9).
Ukrainian Prosecutor General Yuriy Lutsenko confirmed that Ruban's recent stop, search and arrest did not happen by chance (Interfax, March 9). Footage from a hidden camera apparently planted inside the vehicle Ruban was using to smuggle weapons appeared on social media. Moreover, Lutsenko noted that the authorities knew this was not Ruban's first weapons smuggling trip. A previous successful monitoring mission by the security services observed Ruban transporting weapons to government-controlled Ukraine and secretly storing them in the central-western city of Khmelnitsky (YouTube, March 23). It quickly became clear that the case was not an isolated incident, but rather the result of a broader, long-running covert SSU operation.
Both the size of Ruban's smuggled arsenal and the Ukrainian authorities' March 9 statements regarding the plot's alleged targets suggest a much larger conspiracy. The Verkhovna Rada was to be hit by a mortar attack. Moreover, the plan seemed to involve the elimination of essentially the entire political leadership of the state security and law enforcement agencies—the president, interior minister, National Security and Defense Council secretary, and the prosecutor general. All this indicated that further arrests were sure to come.
On March 12, the SSU carried out 25 searches across Ukraine, apparently uncovering weapons, propaganda material, explosives and other evidence of subversive activities (Pravda.com.ua, March 12). That same day, the SSU requested that Savchenko come in for questioning. However, at 4:00 AM she had left for Europe, according to her to testify about the Ukrainian leadership's corruption and illegal activities (112.international, March 20).
On March 15, Prosecutor General Lutsenko announced he would seek to remove the parliamentarian's immunity from arrest, detention and prosecution, via a vote in the Verkhovna Rada. And by March 20, Anton Herashchenko, an advisor to the interior minister, published the full indictment against Savchenko on his Facebook page (Facebook.com/anton.gerashchenko, March 20). Two days later, the prosecutor general made a 28-minute presentation to the parliament, showing a video of both Savchenko and Ruban prima facie involved in plotting serious offenses. Lutsenko made clear to the lawmakers that there were many megabytes of surveillance and signals intelligence (SIGINT) material to buttress the state's case (YouTube, March 23). Whether or not the evidence shown to the Verkhovna Rada was contextually accurate or manipulated, the video unmistakably shows Savchenko and Ruban.
Savchenko left Yulia Tymoshenko's Batkivshchina Party in October 2016, though she remained a parliamentary deputy (UNIAN, December 13, 2016). Since then, allegations arose that she may have also fallen under Viktor Medvedchuk's patronage. Indeed, along with Ruban, all three were involved, officially or otherwise, in the release and exchange of captives in eastern Ukraine (UNIAN, March 23, 2018).
The Verkhovna Rada overwhelmingly voted to strip Savchenko of her immunity based upon the evidence put before it on March 22. She was subsequently detained by the SSU. Appearing before a court the following day, Savchenko denounced the authorities' case against her as political persecution and announced a hunger strike (Pravda.com.ua, March 23). She was remanded in custody without bail until May 20 (Interfax, March 23).
While the impending trials of Volodimir Ruban and Nadiya Savchenko are bound to grab the headlines for many months to come, it is worth noting the length and sensitivity of the SSU operation that led to their arrest, and the lack of leaks during its covert phase. Indeed, almost certainly far more intelligence was (and will be) gleaned and evidence collected than will ever be made public or appear in a courtroom—perhaps on account of how it was obtained. Clearly, Ukrainian security services accumulated a significant amount of SIGINT and effectively used various covert technologies—though neither Ruban nor Savchenko seemed to be particularly concerned with counter-surveillance strategies. And it remains unknown whether the SSU's operational phase is now complete.
Prosecutor General Lutsenko stated there may yet be further arrests: "We can guess who this puppeteer is because of the slogans of the so-called Ukrainian Choice" (Interfax, March 22). The inference to draw from this is that Viktor Medvedchuk, the official interlocutor between presidents Vladimir Putin and Petro Poroshenko relating to the swapping of captives, may be expected to become the SSU's next priority.