Armenia Gears Up for 'Future Wars'
Publication: Eurasia Daily Monitor Volume: 15 Issue: 51
By: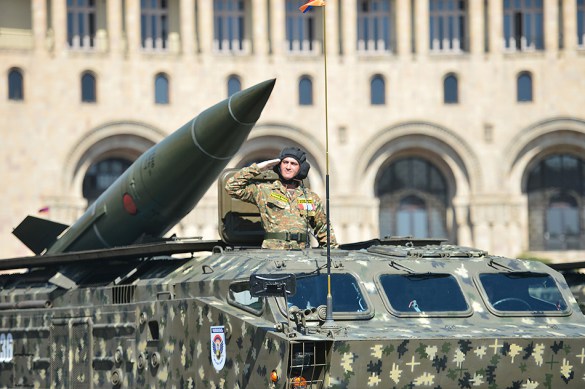 In mid-March, the Armenian Ministry of Defense (MoD) released an 18-page strategic document entitled "2018–2024 Modernization Program for the Armenian Armed Forces." The document lays out a framework for boosting technological innovation in the defense and security sector, raising the moral resiliency of Armenian troops, and preparing them for the challenges of modern warfare. It is designed to provide strategic guidance for the "long-term fundamental adaptation process" of the Armed Forces to hone and enhance their military prowess (Mil.am, March 16).
The adopted "Modernization Program" touches on a wide range of spheres, including military diplomacy, good operative governance, military-industry upgrades and arms procurement policy. It also regulates the military's engagement with the civilian sector and non-military contested spaces, such as the cyber, radio-electronic and information domains. Pointedly, the document identifies Azerbaijan as an imminent security threat to Armenia.
Furthermore, it acknowledges that besides being the "main guarantor of Armenia's national security," the Armenian Armed Forces will continue to serve as the critical security guarantor for the population of Artsakh (Karabakh). It estimates that a breakthrough in the negotiation process over the final status of Karabakh, mediated by the Organization for Security and Cooperation in Europe's (OSCE) Minsk Group is "less likely." Indeed, the document does not rule out an "abrupt resumption of hostilities" that could escalate "into a full-scale war" and spill over from the Karabakh region onto Armenian territory.
In parallel to releasing the "Modernization Program," Armenian authorities reportedly launched a process to revise the country's National Security Concept, which has not been modified since 2007 (Armenpress.am, March 21). Notably, this year, Armenia will be completing its transition from a presidential to a parliamentary republic.
In assessing the value of the newly adopted program, MoD spokesperson Arcrun Hovhannisyan stressed that for the first time ever, an Armenian strategic document calls for boosting non-linear defense and security capabilities in the contested cyberspace and information domains. He added that "the document is as characteristic example of our resolve to pursue a new armed forces concept whereby our local military-industrial complex will meet approximately 25 percent of our domestic needs." Hovhannisyan concluded that the plan will ready Armenia for waging wars of the future (Author's interview, March 29).
At first glance, the plan laid out in the "Modernization Program" appears overly ambitious for economically weak, landlocked Armenia. Yerevan seeks to adopt modern warfare methodology in conjunction with the effective consolidation of its human resources and knowledge bases. In particular, Armenia wishes to boost the IT and science sectors of its economy and spend no less than 4 percent of its GDP on defense and security. Another key objective in the document is to adopt efficiently synchronized command, control and communications for the military and integrate them into a single information space. Presumably, this will require the procurement of advanced components related to command, control, computers, communications, real-time surveillance, reconnaissance, navigation and precision strike. The intensive four-day fighting between Armenian and Azerbaijani troops, which occurred in April 2016 across the Line of Contact (LoC) in Artsakh, provided a new impulse in Yerevan to accelerating the testing and adoption of these systems. Relatedly, last year, Armenian President Serzh Sargsyan pointed to the installations of surveillance and early-warning systems on the border in order to reduce the prospect for future hostilities (Panarmenian.net, December 15, 2017).
In addition to advocating for a more robust "system of analysis, foresight and [reliance on] scientific resources" to improve the military, the document highlights how a "lessons learned" approach can help to augment the results of Armed Forces transformation (Mil.am, March 16, 2018).
Despite Moscow's tense stand-off with the West and international isolation (see EDM, April 2), the new Armenian strategic program nevertheless cements the country's loyalty to Russia. It restates Armenia's pivotal reliance on Russia's regional security architecture as well as espouses its full-fledged alliance with Russia under bilateral and multilateral dimensions, including within the Collective Security Treaty Organization (CSTO), leaving almost no room for strategic-level engagement with other actors.
Concerning the so-called "Nation-Army" concept set forth by Defense Minister Vigen Sargsyan in September 2016 (see EDM, October 31, 2016), the "Modernization Program" document restates its importance to future reform of the Armed Forces. The concept's chief function is to facilitate additional opportunities for society's proactive involvement or and cooperation with the defense sector.
The document explicitly accuses Azerbaijan of "instigating" a regional arms race. But it stresses that Armenia's policy is to focus on the actual effectiveness of its procured armaments instead of simply matching the numbers of weapons systems wielded by its regional rival. In this context, during a meeting with senior military officials, President Sargsyan declared, "We are and will be capable of effectively containing the adversary if necessary," adding, "this does not mean just preventing an attack," but also Armenia taking "counter-actions at any moment so that [Azerbaijan] will no longer wish to violate the obligations and duties of the agreement signed in 1994–1995" (1in.am, March 16).
Clearly, Yerevan is still considering how to conceptualize pre-emptive actions under the "Active Deterrence" system the MoD had put forward just before the four-day war with Azerbaijan broke out in spring 2016. The "Modernization Program" addresses this concept by devoting an entire section to it while listing the principal strategic functions of the Armed Forces. Although this yields substantial insights into Yerevan's strategic vision on how deterrence mechanisms will be applied at both the tactical and strategic levels, it fails to precisely define which Conventional Deterrence paradigm it best fits under. Nevertheless, analysis of the document's content suggests that, at least at this stage, Armenia hews most closely to a classic "deterrence-by-punishment" approach underpinned by capabilities to carry out pre-emptive strikes.
The "Modernization Program" also stresses that strategic containment involves not only threatening to shift combat operations to an adversary's territory, but also deterrence via diplomatic and non-military means. Highlighting the emergence of contested battlespaces, the document proposes coordinating "informational and cyber resources to foster psychologic actions" as well as developing radio-electronic warfare and boosting domestic cyber capabilities to neutralize the adversary's analogous structures.
As for technical modernization and arms procurement policy, the Armed Forces strategic planning document calls for reinforcing Armenia's precision-guided ballistic missile as well as long-range artillery capabilities with "modern equipment to permit carrying out disproportional combat punishment actions." The goal is the ability to execute "accurate long-range strikes deep inside enemy territory" in order to hit command-and-control systems as well as essential military-economic infrastructure. But it is unclear whether Armenia will have the resources to achieve it.