Armenia Gears Up for New Nuclear Plant Construction
Publication: Eurasia Daily Monitor Volume: 9 Issue: 31
By: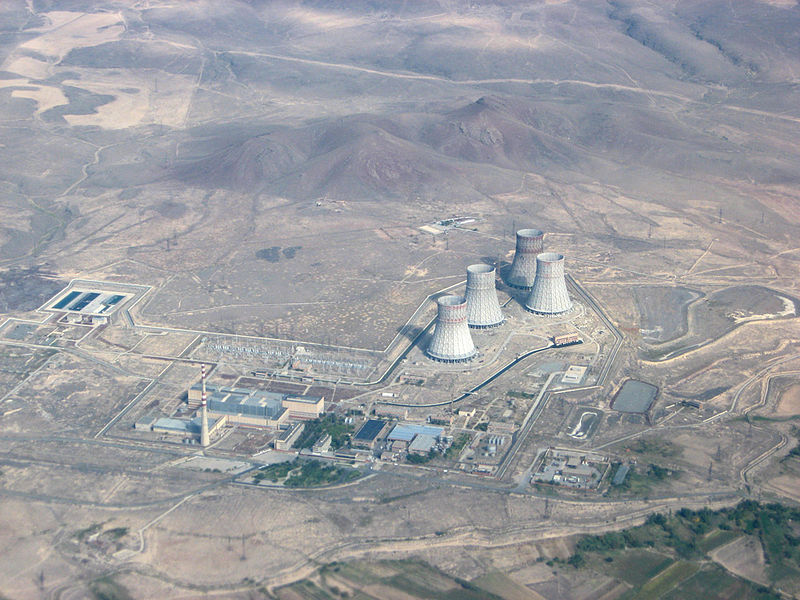 Armenia's government seems to be pressing ahead with its ambitious plans to replace the aging nuclear power station at Metsamor, with a new plant meeting modern safety standards. Having secured Moscow's support for and participation in the project, the government is now actively looking for other foreign investors that would finance at least half of its construction worth an estimated $4.5 billion.
Sergei Kirienko, the head of Russia's Rosatom state nuclear energy corporation, highlighted the crucial Russian involvement with a February 7 visit to Armenia. Kirienko inspected the Metsamor plant and the adjacent site of the future facility before holding talks with President Serzh Sargsyan and other Armenian officials. He told journalists afterwards that the new plant could be up and running by 2020. "We have quite a lot of time as the plant's construction, including all preparatory work, will take roughly six years," the former Russian prime minister said. He added that Yerevan should complete these preparations (which include a thorough seismic assessment of the site) this year and order the first equipment purchases in 2013 (www.panarmenian.net, February 7).
"The process of the nuclear plant's construction has already begun," Armen Movsisian, the Armenian Minister of Energy and Natural Resources, announced in late December 2011, adding: "Building does not just mean taking a pickaxe and digging the ground. That makes up only about 30 percent of the whole project." The construction work will get underway "by the middle of 2013," Movsisian said (www.armenialiberty.org, December 22, 2011).
The project's implementation will determine just when Yerevan will close the existing Metsamor plant that generates about 40 percent of Armenia's electricity. The plant's sole functioning reactor was brought to a halt following a catastrophic 1988 earthquake, but reactivated in 1995 to end severe power shortages in the country. The United States and the European Union have pressed successive Armenian governments to decommission the Soviet-built reactor, saying that it is inherently unsafe. The authorities in Yerevan have dismissed these concerns. They announced in 2005 that Metsamor will be shut down only by 2017, in time for the planned construction of the new plant.
But Sargsyan indicated last December that Metsamor will operate beyond that time frame in the increasingly likely case of "a delay in the introduction of the new [nuclear] power-generating unit." Addressing local and foreign scientists advising him on nuclear safety, he insisted that continued reliance on atomic energy is vital for Armenia's landlocked location and its resource-poor energy security (Statement by the presidential press service, December 6, 2011).
The delay reflects Yerevan's failure so far to attract funding for the project. With Armenia's annual state budget worth less than $3 billion, foreign investment was always the only realistic way to finance it. Russia, which played a key role in Metsamor's re-launch in 1995, showed interest in doing that from the outset. Movsisian said in December 2011 that Rosatom is ready to invest up to half of the sum required for construction. Kirienko spoke of a 25 percent Russian share in the project in Yerevan. "We can also discuss larger options but that should be the subject of relevant agreements," the Rosatom chief added (Regnum, February 7).
The issue apparently featured prominently during Sargsyan's October 2011 meeting with Russian President Dmitry Medvedev in Moscow. "We are continuing discussions on this project and, I hope, will work out an optimal scheme for developing cooperation in the area of atomic energy," Medvedev said during the talks (www.kremlin.ru, October 25, 2011).
The Russian and Armenian governments already set up in late 2009 a joint venture tasked with building the new plant's nuclear reactor. The Armenian side approved at that time the overall design and main technical parameters of the reactor to be purchased from Russia. With a projected capacity of just over 1,000 megawatts, it would be more than twice as powerful as the functioning Metsamor reactor. The two governments also signed in August 2010, during Medvedev's visit to Armenia, an agreement on "technical and financial cooperation" in the project's realization.
The Armenian government has expressed its desire to have Western energy companies build other plant facilities, notably nuclear safety control systems, or at least supply equipment for them. The inter-governmental US-Armenia Joint Economic Task Force discussed such a possibility during a November 2010 meeting in Yerevan. "We are interested in having US companies participate [in the nuclear project,] if possible," Daniel Rosenblum, a senior US State Department official, said after the meeting (www.armenialiberty.org, November 16, 2010). This may have been one reason why Washington financed a $2 million feasibility study on the project conducted in 2008.
Armenia has also tried to attract such interest from France, another key nuclear energy player. Sargsyan discussed the issue with French President Nicolas Sarkozy during the latter's October 2011 visit to Yerevan. Sarkozy said in this context that a team of French nuclear specialists will travel to the South Caucasus state soon to "try to assist Armenia in the sphere of atomic energy" (Armenian Public Television, October 7).
As part of its efforts to promote the new plant, Yerevan also planned to organize a conference for potential foreign investors in April 2011. But it was postponed indefinitely because of the nuclear disaster in Japan that had negative implications for the global nuclear industry. "We are continuing negotiations on attracting other investors," Sargsyan said in December 2011. His energy minister, Movsisian, likewise spoke of ongoing talks with "candidates from different countries for the remaining 50 percent" share in the project. However, neither specified concrete companies or provided further details of those talks.