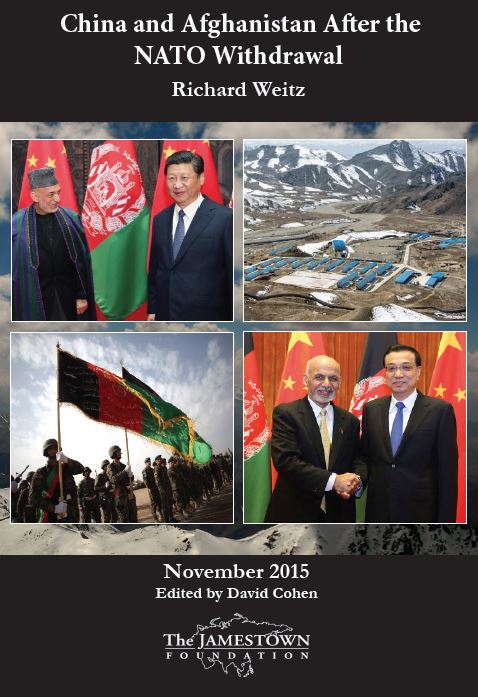 China and Afghanistan After the NATO Withdrawal
By Richard Weitz
Available for Free Download at the Bottom of the Page
Chinese policymakers have conflicting sentiments regarding the planned military withdrawal of the United States and its allies from Afghanistan. PRC officials have expressed their commitment to collaborate with the international community to promote political stability, social progress and economic development in Afghanistan. They want Chinese firms to secure access to Afghanistan's natural resources and build the economic infrastructure needed to bring them to China. At the international level, Chinese officials support having the Shanghai Cooperation Organization (SCO), the United Nations and other multinational organizations play some role in Afghanistan. But the Chinese government has declined to contribute combat forces or logistical assistance to the NATO-led International Security Assistance Force in Afghanistan (ISAF), and has refused to commit to support any NATO-led follow-on force. Beijing's reluctance to side openly with NATO in Afghanistan reflects a fear of antagonizing the Taliban, which could retaliate against China's growing economic interests in Afghanistan and perhaps again stir up trouble among China's Muslim minority.
Chinese commentators have shown scant interest in sending military forces to support or replace the current NATO mission or increasing their own economic aid levels to compensate for declining Western assistance. Yet while PRC policymakers naturally wish to maintain their low profile in Afghanistan, such an option is vanishing. They are now considering how to keep Beijing's costs and commitments modest while preventing the emergence of a dangerous security and institutional vacuum. Excluding a complete Taliban defeat, China's preferred outcome is a negotiated peace settlement among the Afghan government, the Taliban and the other Afghan combatants, supported by Afghanistan's neighboring countries and the great powers. These international partners would agree to preserve Afghanistan's neutrality from foreign military alliances and collectively contribute to the country's political development and economic reconstruction. This scenario would establish a more favorable environment for PRC investment in Afghanistan, reduce some sources of regional terrorism and narcotics trafficking, and facilitate use of Afghanistan's territory as part of the Afghan-Pakistan-Central Asian "Silk Road" connecting China's trade and investment with the rest of Eurasia and Europe.
*To download a copy of this free report, please click on the PDF link below.